GATE 2021 Topper Interview: Rajat Gupta, AIR 8 (ME) - The Indian Institute of Technology announced GATE 2021 topper list for all 27 papers. Rajat Gupta from Rajasthan bagged AIR 8 in GATE mechanical engineering paper. Having appeared for GATE twice earlier, Rajat keeps a positive mindset and believes in spontaneity. From an average engineering student to one of the GATE 2021 toppers, this Rajasthan lad suggests the future aspirants to balance the fun of student life and studies for a content future. In an interview with Careers360, Rajat Gupta shares his journey from GATE 600+ ranker in 2019 to GATE 2021 topper.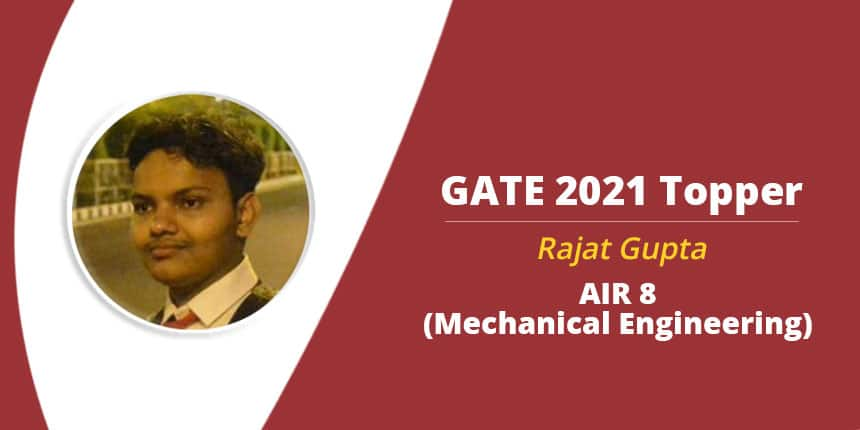 GATE 2021 Topper Interview: Rajat Gupta, AIR 8 (ME) - 'Failure teaches more than success'
Excerpts of GATE 2021 topper interview with Rajat Gupta (AIR 8 ME)
Careers360 - Congratulations for your performance in GATE 2021. Tell us something about yourself; Where have you done your engineering from?
Rajat - I completed my BTech from Sardar Vallabhbhai National Institute of Technology (NIT) Surat in 2019. I took a drop year in 2020 and joined MTech at IIT Delhi in 2021 in Thermal Engineering.
Careers360 - What was the GATE Paper you appeared in? What rank did you get in GATE 2021? What is your GATE score and how many marks did you secure out of 100 in GATE paper?
Rajat - I appeared for the GATE ME paper (Mechanical Engineering). I got AIR 8 this time with a GATE 2021 score of 945 and 89.94 marks out of 100. Unlike previous attempts, I had dropped 5 questions in GATE 2021, yet happened to land among the top 10 rank holders.
Careers360 - Is this your first attempt or did you attempt GATE earlier?
Rajat - I did appear twice before the GATE 2021 attempt. In GATE 2019, I got AIR 614 and AIR 223 in GATE 2020. Now in GATE 2021, I got AIR 8.
Careers360 - What was the reason you appeared for GATE 2021? Pls elaborate.
Rajat - The main reason was to appear for PSU recruitment for all three GATE attempts. In the previous year, there were not many options in PSUs due to the ongoing COVID-19 pandemic and lockdown.
Careers360 - Have you applied to any PSUs recruiting through GATE? Which ones?
Rajat - I have applied in a few PSUs including NMDC through GATE 2021. I applied through GATE 2020 score in NMDC and NPCIL and also in SAIL through GATE 2019.
Q: When did you start your preparation? How did you prepare for the GATE exam ? How many hours did you put in per day as per the stage of preparation?
Rajat - I started GATE preparation in 2018 with a crash course. In 2019, I was pursuing BTech and was an average student to be frank. I did not try for college placement at that time. By the semester 7 of BTech, I was completely focussed on studies, and used to visit the library as well. During regular coaching in 2020, I used to study for almost 10 hours a day. I would sleep by 11-11:30 pm and wake up by 6 am regardless of any festivals or other days. While pursuing MTech, I would take up some mock tests in the evening and also watch youtube videos to strengthen new topics introduced in GATE 2021 syllabus. Every night, I would take up GATE previous year papers.
Careers360 - Have you taken any coaching? How did it help?
Rajat - I took up a crash course for my first GATE attempt. Got proper coaching for second attempt but for GATE ES paper. For now, I preferred self study while already pursuing MTech.
Careers360 - Can you share any preparation strategies with our readers? When should one start their preparation for GATE? How to schedule study time and make timetables?
Rajat - I believe that in the beginning of engineering, students should enjoy their life for almost 2-3 years to make up for future memories. Careers will always be maintained if you have the capability. I have always been an average student but managed to focus on studies when the time was right. Everyone has their own capability. One thing that was part of my routine was to note down the topics to be covered the next day and make sure to complete a day's tasks before calling it a day. Students should distribute their syllabus aas per the time left for GATE exam and keep boosting yourself with the targets so achieved.
Careers360 - How important do you feel GATE mock tests are and why? Is it true that if one solves the previous year question papers, there is a good chance of cracking the exam successfully?
Rajat - They are important of course. When I was starting with the GATE syllabus, I used to take up subject wise test series and used to solve previous year GATE questions. With just 2-3 months left, I used to take up a full test of 3 hours. Bagging a top 10 AIR, previous year questions are a must. And also for those who wish to crack the exam, previous GATE papers play a vital role. One more thing candidates can try is to leave the previous 2 year questions for a month before exam and then take up other papers before. This will make them realize their standing and chances of cracking the GATE exam.
Careers360 - Which books did you follow for GATE preparation? Pls name some very important must read books for GATE.
Rajat - Books are relevant for those who have been focussed on GATE preparation from the very beginning of their BTech. I personally did not follow any books at all but coaching notes. With less time, GATE books may prove to be more of a waste of time.
Careers360 - Which are the topics one should focus more on? Kindly give us some details
Rajat - Most of the times, students take Mathematics and General Aptitude sections lightly. The candidates should respect the 15 marks and take them seriously devoting enough time understanding the question while attempting.
Careers360 - What was the toughest aspect in your GATE preparation?
Rajat - I had prepared really hard for GATE 2020. I was preparing and performing well in ES but railways vacancy was withdrawn leaving just 10-12 seats for General quota (Mechanical). Due to all this, my GATE 2020 attempt didn't go well and the rest was taken over by the pandemic. One more thing was during first attempt, there were more expectations and by the GATE 2021 attempt, there was a downfall with reduced expectations only from family and friends. This was a bit tough and the downfall has to be tackled with a positive attitude.
Careers360 - Name some important Topics that you feel are a must read for any student attempting the GATE exam?
Rajat - There are no important topics and all the topics are important. So rather than looking for something important, take the GATE syllabus as wholesome and prepare accordingly.
Careers360 - How did you relieve study pressure?
Rajat - My family has been very supportive and thus, I never experienced any pressure. I had left social media to avoid any wastage of time during preparation.
Careers360 - How should you schedule answering the GATE exam – which section to attempt first and which next? Did you have any strategy? Kindly share your exam experience with us.
Rajat - One should be relaxed while appearing for GATE exam and keep zero expectations. Give enough time to each section whether it is easy or tough, deal with the lengthy questions later.
Careers360 - Any advice for the future aspirants?
Rajat - The only thing to be conveyed to future GATE aspirants is to stay chilled and keep your focus on studies. There should be some fun memories for coming years. Downfalls are also a part of life and they teach more than success. You will perform well on a lucky day.
Rajat - I took the GATE 2021 exam for PSUs.