Ankita Modi, GATE 2021 topper, AIR 14 Biomedical believes that when a person plans a proper strategy based on his strong and weak points, success is definitely achieved. Self belief and focus towards the goal helped her to become one of the toppers of GATE 2021 exam. Talking about her preparation strategy, Ankita started preparing for the GATE exam in 2018 when Biomedical was not conducted as a separate paper. So, she started her preparation with previous year's Electronics and Instrumentation paper. During an interaction with Careers360, Ankita Modi talks about her preparation journey. Read the detailed interview of GATE 2021 Topper Interview, Ankita Modi, AIR 14 (BM).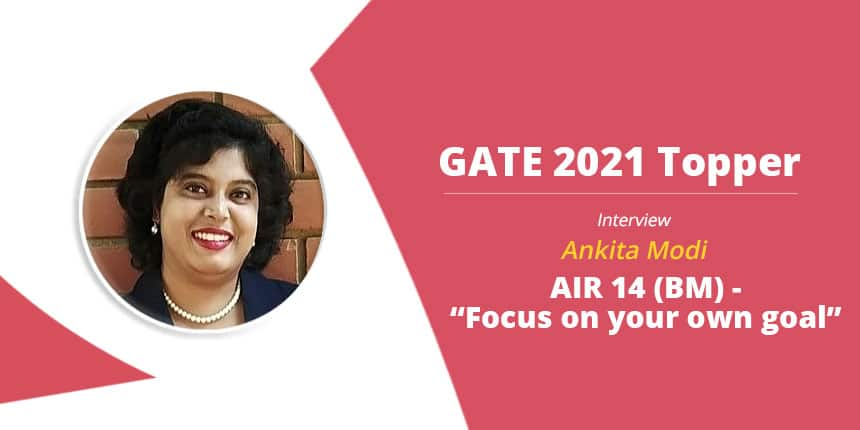 GATE 2021 Topper Interview, Ankita Modi, AIR 14 (BM)- "Focus on your own goal"
Careers360: Tell us something about yourself; Where have you done your engineering from and in which branch?
Ankita: I am Ankita Modi, 4th year student in the Department of Bio Medical Engineering, MIT, MAHE.
Careers360: What was the GATE Paper you appeared in? What rank did you get in GATE 2021?
Ankita: I appeared for BioMedical (BM) Engineering paper and secured AIR 14 in BM GATE 2021.
Careers360: Was GATE 2021 your first attempt?
Ankita: GATE 2021 is my first attempt.
Popular Online Engineering Courses and Certifications
Careers360: What was the reason you appeared for GATE 2021? Pls elaborate.
Ankita: I always wanted to study in the premier institutes for our country. IISC and IITs have an International reputation mainly for their high research and academic excellence. Research facilities, laboratories, research guides, scientists, professors, colleagues everyone involved with IISC and top IITs have been the reason for the academic and scientific reputation that India holds in the International rankings.
I have always looked forward to evidence based quality research that adds on value to our current research developments. In lots of mediocre Indian colleges, we observe lots of emphasis given to produce numerous research papers. In an attempt to do so, we start focusing more on the quantity of research papers and works rather than working on quality research. Many times, we don't even have a clearly defined objective to do our experiments. This isn't the right way that students should be guided. We are hardly guided over the application part of our studies, which is very important.
IISC and IITs are known to do quality research that focuses on clearly defined research objectives that adds on value to our society. It's very disheartening to see people complaining about Indian education system in comparison to other countries. Every country has their own problems. We need to acknowledge that and work towards improving our own education and research culture. If we ourselves, being Indians, don't work for our own country, who else do we expect to work for us?
I went to University of Belgrade for research via IAESTE. In India, I have been involved with my research on Nosocomial Infections and Carbon Nano Dots. I had been a TEDx Manipal speaker on my research on Nosocomial Infections. Having experienced both the Indian and abroad research cultures, I wanted to work under guidance of some of the best Indian scientists and researchers to uplift the research and academic excellence of our country. Most of the top scientists are involved with IISC and IITs and it has always been my dream to work under their mentorship. GATE is the doorway to seek admission to these premiere institutes of our country and I am blessed to seek that rank.
Careers360: Have you applied to any PSUs recruiting through GATE? Which ones?
Ankita: No, I haven't applied to any PSU. I am already placed via my college placement cell. I had completed my specialization training on SAP SD as offered by my company. As GATE 2021 was my first attempt, I was really not sure of anything. That was the reason I sat for campus placements and got placed. After seeking my GATE results, I intend to continue my studies in BioMedical Engineering.
Careers360: When did you start your preparation? How did you prepare for the GATE exam? How many hours did you put in per day as per the stage of preparation?
Ankita: It was in my second year (2018) that I started looking forward to my GATE preparation. At that point of time, we didn't have Bio Medical Engineering as a separate paper for GATE. So I looked at previous years Electronics and Instrumentation paper. I started solving the general aptitude questions and a few questions from the maths section related to the topics we completed that time. I took my open elective in Sensor Technology which is one of the chapters in GATE Instrumentation syllabus. I was preparing but we didn't have a proper syllabus or paper mainly focused in Bio Medical Engineering that time. It was in 2020, that GATE introduced a new paper in BioMedical Engineering. This was a great relief to us. But again our problem was that we didn't have previous year question papers or any coaching institute or seniors in this field to help us with our preparation.
As we had been searching various websites like careers360 and others, we started getting more ideas about the reference books and guidance.
I made sure to revise my class notes and reference books to be clear on my concepts. I focused more on the questions that were asked previously. I constantly looked for questions asked in Electronics and Instrumentation papers as few of our subjects in Bio Medical Engineering are common to these branches. This gave me an idea about the preparation level we are expected to have while we appear for the examination.
I didn't have any specific time duration as such. But I had been involved with my studies and research as much as I could have been involved. Everything I studied throughout my UG, definitely helped me in understanding and developing my concepts. All researches and technical activities in my UG added on to my knowledge and motivation to continue with Bio Medical Engineering GATE preparation.
Careers360: Have you taken any coaching? If yes- From where? How did it help?
Ankita: No, I haven't been involved with any GATE Coaching institute. I prepared everything on my own with help of my class notes, books, various websites and previous year question papers. My HOD, professors, research guides, family and friends always helped me in my studies, built on my concepts and encouraged me to pursue my dreams.
Careers360: Can you share any preparation strategies with our readers? When should one start their preparation for GATE? How to schedule study time and make timetables?
Ankita: I would suggest GATE aspirants to start preparation from their second year itself. First, download the GATE syllabus and check how much of the GATE syllabus is covered under your university syllabus, in case you are preparing all by yourself as I did in my case. If few topics from certain chapters aren't covered by your university, mark them for self-study.
Go through the previous year GATE question papers and mock tests. This will give you an idea on the standard of questions and level of preparation you are expected to have by the organizing team.
As your semester gets over, solve the questions on the topics you studied in that semester from the previous year's GATE paper and mock tests. If you need help, feel free to seek help from professors, friends, and other branch students. I must say my ECE and EEE friends helped me a lot in solving the electronics, signal and circuit questions which I always found bit difficult than theory based direct questions.
Keep note on everything you solve and highlight important points that would help you in your revision. As you revise more and more, your notes will shrink.
In the last 6 months before your examination, once again go through all previous year papers and note the number of questions asked from each topic. Design your revision approach based on the weightage of the chapters in the examination. As Biomechanics, Sensor and Bioinstrumentation has more questions in the paper, I started revising from those topics.
For the fact 2021 was the second time, Bio Medical Engineering had a paper of its own for GATE examination, I solved previous year questions from electronics and instrumentation paper. If you are solving other branch question papers, ensure that you solve only the questions involving topics as mentioned in Bio Medical Engineering GATE syllabus. Solving other branch papers actually helped me.
Careers360: How important do you feel mock tests are and why? Is it true that if one solves the previous year question papers, there is a good chance of cracking the exam successfully?
Ankita: GATE mock tests are very important. You have to solve previous year question papers to understand what you are expected and how to go on with that. Unless you realize your competition level, how will you be able to compete?
First see previous year question papers. You might not be able to solve all the questions. This is absolutely fine. Solve whatever you can solve and mark the unsolved questions to seek help from your professors, friends or after you study more on that topic. As time goes on, keep solving your unsolved question and clarify all your doubts.
Careers360: Which books did you follow for GATE preparation? Please name some very important must read books for GATE
Ankita: Some of the best books for GATE preparation for Biomedical are:
Solved examples from BS Grewal

Bio instrumentation from RS Khandpur

Fundamentals of BioMedical Engineering from GS Sawhney

Introduction to Biomedical Engineering from Domach, few topics from Morris Manu,

Van Valkenburg, Ganesh Rao for network analysis

Jacob Milliman for Integrated electronics
I have gone through many books as prescribed by my university. Most of these books are written very extensively. Go through the topics as prescribed in GATE syllabus. And focus more on solving the questions. During my UG days, I focused more on making notes from class room teaching. This helped me a lot in my preparation and understanding the concepts. Be serious with your academics and classroom learnings. If you focus on your classes properly, you can save a lot of time that you can invest into solving questions.
Careers360: Which are the topics one should focus more on? Kindly give us some details
Ankita: In my opinion, the Bio Medical Engineering paper had half concept based theory questions and half numerical type questions. I had always felt the conceptual application based theory questions scoring. It's either you know the concept or you don't know it. So I would suggest Bio Medical aspirants to definitely prepare on Biomechanics, Biomaterials, Human anatomy and physiology, Medical Imaging Systems, Electrical circuits, Sensors and Bioinstrumentation. Questions from these topics are very scoring based on theory.
Ensure you have proper speed when you solve electrical circuit questions. You will get numerical type questions from biomechanics too. The questions on Biomechanics can be solved if you have a concept of the subject. Biomechanics, sensors and bioinstrumentation have lots of weightage in the paper.
There will be a mix of questions in the electrical circuits and electronics part. Some questions can be solved based on certain methodology or formulas while some will be a little bit tough where we need to think. You can easily bag marks while solving current in a loop, voltage across a source type questions. Don't miss out on them. Topics like signals and systems, analog and digital electronics, control system require you to put in more effort while solving numerical. In maths, linear algebra, probability and statistics, differential equations, linear regression and correlation were scoring.
Careers360: What was the toughest aspect in your GATE preparation?
Ankita: Staying consistent and motivated to study new topics along with revision of the previous topics are the toughest aspects in GATE preparation. As I had been a regular UG student, I had my own university examination, research, project, assignments. Although everything I did in my UG was related to Bio Medical Engineering itself, we require little bit extra effort to solve GATE standard questions which are very conceptual and application based.
Ensure you surround yourself with positive and motivating people who help and guide you in achieving your dreams. Do take regular breaks and off from studies as required. Don't just prepare on only 1 topic or subject continuously for a very long time. If you do so, chapters become monotonous and you may start losing interest.
Try to recreate the examination setting and solve question paper sitting for 3 hours ensuring your calculation efficiency. As a person, I am always very excited about everything. It has been the most difficult thing for me to actually sit with the subject and study for long hours. Morning hours somehow helped me in this. Maybe some positivity is there in that cold breeze where we feel a very positive spark and enthusiasm to do our work.
Careers360: Name some important topics that you feel are a must read for any student attempting the GATE exam?
Ankita: Biomechanics, Biomaterials, Human anatomy and physiology, Electrical circuits. Sensors and Bioinstrumentation in core BioMedical Subjects. You will have lots of questions from Biomechanics, sensors and bioinstrumentation. You can't afford to leave those chapters. In Maths, study linear algebra, probability and statistics, differential equations, linear regression and correlation as they are scoring.
Careers360: What did you do for leisure? Any specific activities that helped you unwind?
Ankita: I have been the Technical Secretary, Student Council, MIT, Convener, Tech Tatva 2020 (National level Technical fest) and Innovation Coordinator, Innovation Council, MAHE. These were many responsibilities I had been entrusted with and somehow I kept myself motivated working for the betterment of our student community. I had won various hackathons, technical competitions, conferences and paper presentations. All these motivated me a lot to pursue my dreams.
Apart from technical and research stuff, I had been involved with singing and dancing. I love travelling and exploring new places, cultures, and learning from every single gift of nature and its creation. I love cooking a lot. Cooking tasty and healthy food is something that would rejuvenate my heart and soul anytime anywhere.
Careers360: How should you schedule answering the GATE exam – which section to attempt first and which next? Did you have any strategy? Kindly share your exam experience with us.
Ankita: At first I attempted all the aptitude questions. Questions in aptitude section are the easiest and most scoring. One can easily score a 15 without much preparation for that section. So I would suggest solving them first and secure the maximum marks from that section at first go.
Second, I chose to answer the MCQs which were theory based. Few of the MCQs will be direct questions which you can answer correctly only if you know your subject. Few of the MCQs will make you think a little bit but you can answer them if you know the theory.
Third, I answered the MSQs where I took special care to ensure that I selected all the right options to get marks. You will get marks only if all the options selected by you are correct in this section.
Fourth, I answered the MCQs that were numerical based. There had been questions on Thevenin circuits, loop currents and other basic electronics and instrumentation subjects. One of the problems that I faced while I was calculating loop current was that we weren't provided with any scientific calculator for GATE examination. We had only a virtual basic calculator. So the current values that I used to get easily after entering my loop equations in my scientific calculator during my university examinations had to be calculated manually during my GATE examination. Many a times, I didn't get the exact answer as given in the options. So I chose the option nearest to the answer I calculated.
Fifth, I solved a few MCQ questions based on the elimination process. A few of the questions were very tough and I wasn't sure of the answers. I started thinking on the options that should not be appropriate. In MCQs, we have 1 benefit that the correct answer is there in one of the options. If we think wisely, we can actually figure it out. However, this approach involves a lot of risk too. If our answers go wrong, we face negative markings. While I approached a few questions using this strategy, I ensured that I had a valid reason to eliminate the other options and was 70-80 % sure of my response.
Lastly, I solved the NAT questions. These questions require you to solve the entire question and come out with your answer. No options will be provided under this section. Few of the NAT questions were easy as they were formula based which you can easily calculate. Advantage of solving NAT questions is that you aren't penalized on your incorrect responses.
In the last half an hour, I went through my entire response sheet twice to ensure I haven't selected any wrong option out of nervousness or excitement.
Careers360: What did you feel was a tough thing for you in the GATE exam?
Ankita: The nervousness, fear, anxiety and panic that comes before and during the examination is something that I find a little bit difficult to handle. This happens more when you have actually prepared for the examination. I definitely try to meditate, close my eyes, stop studying or do anything. Despite all these efforts, somewhere I was worried. Question paper point of view, I found the signal and system questions to be little bit tough and it requires us to put in more efforts in that direction.
Careers360: Any advice for the future aspirants?
Ankita: I have always believed that a person who knows everything might not always be the winner. It's the one who plans a proper strategy based on his strong and weak points turns out to be the winner.
Have a proper defined reason to prepare for GATE. It shouldn't be based on the fact someone else did something. Focus on your own goal, believe in yourself, stay motivated and focused throughout. Hard work guided through a proper direction will surely bear fruit one day.
Also, Read
GATE 2021 Topper Interview, Navneet Gangwar, AIR 4 (CS)- "Be an early bird"