GATE 2021 Topper Interview: Amrit Layak (AIR 13 TF) - IIT Bombay has released the GATE 2021 result at its official website on March 19. Along with the declaration of the result, the exam conducting authorities have also released GATE 2021 toppers. Amrit Layak has secured AIR 13 in Textile Engineering and Fibre Science. Amrit has secured 73.33 marks with a GATE score of 845. He started his preparations in second year of graduation and this was his first attempt. Currently, Amrit is pursuing his B.Tech in Textile Technology from Government College of Engineering; Textile Technology, Serampore. Careers360 interacted with him to know his preparation strategy, best books for the GATE exam. Read GATE 2021 topper interview of Amrit Layak (AIR 13 TF) to know his wonderful journey.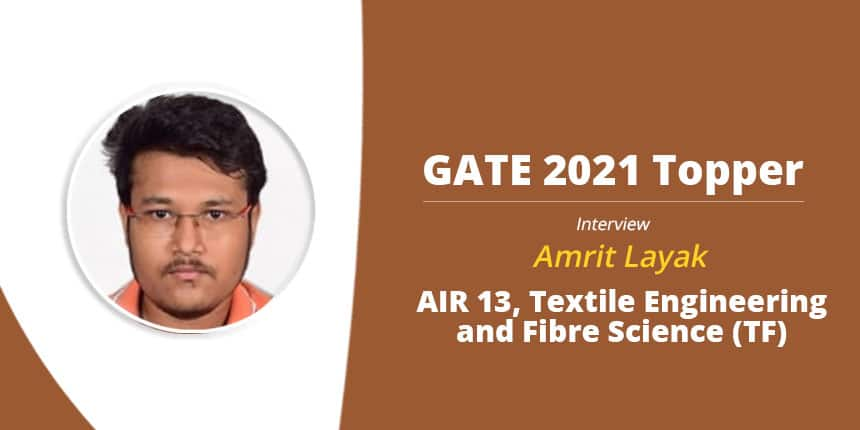 GATE 2021 Topper Interview, Amrit Layak, AIR 13 TF - "Strategize Your Preparation"
Careers360: Tell us something about yourself; Where have you done your engineering from and in which branch?
Amrit Layak: I am Amrit Layak. I live in Serampore, Hooghly West Bengal, my hometown is in Bankura and I am currently pursuing B.Tech in Textile Technology from Government College of Engineering; Textile Technology, Serampore. I did my class 10 th from St. Joseph's Convent Higher Secondary School, Chittaranjan, WB and my class 12 th from SKS Public School, Mangalpur,Raniganj,WB.
Careers360: What was the GATE Paper you appeared in? What rank did you get in GATE 2021? What is your GATE score and how many marks did you secure out of 100 in GATE paper?
Amrit Layak: I appeared for the Textile Engineering and Fibre Science paper in GATE 2021. I secured All-India Rank -13 in GATE 2021. My GATE score is 845 and I secured 73.33 marks out of 100.
Careers360: Is this your first attempt or did you attempt GATE earlier?
Amrit Layak:This was my first Attempt.
Careers360: What was the reason you appeared for GATE 2021? Pls elaborate.
Amrit Layak: I wanted to pursue higher studies and this was clear for me from the beginning of my college i.e from 1 st year and due to that I wanted to study in the premier institutes of our country and then I came across and heard about GATE through which I can get into the colleges that's why I attempted GATE 2021.
Careers360: Have you applied to any PSUs recruiting through GATE? Which ones?
Amrit Layak: I have not applied to any PSUs as of now.
Careers360: When did you start your preparation? How did you prepare for the GATE exam? How many hours did you put in per day as per the stage of preparation?
Amrit Layak: I knew from the very beginning that I have to give GATE so I studied my course curriculum of college very properly from the very 2 nd year but I started my preparation full- fledged, 5 months before gate 2021 and during that time I joined Exponential Career Campus.
I used to study 4-5 hours initially and when exams came near I used to study about 7-8 hours daily.
Careers360: Have you taken any coaching? If yes- From where? How did it help?
Amrit Layak: As I said, I joined Exponential Career Campus which is founded by GATE 2016 AIR-1 Sachin Gupta. The Live Classes taken by Sachin Sirhelped me a lot during the final stage of my preparation wherein I came to know about the topics which I was weak and not confident about. Sachin sir also helped me in honing my numerical solving ability which is a key factor in the GATE exam since it has a good amount of weightage. From the Manchester Test Series by Exponential Career Campus I was able to track my preparation. And so, all in all the coaching helped me in getting such a good rank.
Careers360: Can you share any preparation strategies with our readers? When should one start their preparation for GATE? How to schedule study time and make timetables?
Amrit Layak: The preparation strategy varies from person to person but I would say that a clear plan jotted down in a piece of paper and following those strategies day in day out can get you to a very good rank. A consistent effort is what you need to crack any exam you aspire for.
I would say starting from the 3rd year is great since you have your basics clear by then and you can thus start preparing for GATE. The scheduling of your study time and making time tables is a thing which depends on person to person. Make proper study timings, follow your plans for that day, be productive in your study routine, study whenever you want to or you feel like there is no hard-and-fast rule in study routines and time tables. Make a time table which suits you the most and stick to that, follow that routine everyday and rest everything will follow.
Careers360: How important do you feel mock tests are and why? Is it true that if one solves the previous year question papers, is there a good chance of cracking the exam successfully?
Amrit Layak: I think mock test are very helpful in preparing for any competitive exams, since with mock test you are able to identify your strong and weak topics and thus you can rework on them. Yes, solving previous years GATE questions is a great help since it gives a clear idea about the exam pattern and type of questions asked and definitely, solving PYQ's will give an benefit in cracking the GATE exam.
Careers360: Which books did you follow for GATE preparation? Pls name some very important must read books for GATE
Amrit Layak: Some books and resources for GATE exam which I followed are:
Online Resources:
● Attended Live Classes by Sachin sir which cover complete GATE syllabus
● NPTEL
Books:
1. Textile Fibres by Gordon Cook
2. Fibre Science & Technology – SP Mishra
3. Spinning- W Klein
4. Weaving- Mark Robinson
5. Textile Testing- J.E Booth
Careers360: Which are the topics one should focus more on? Kindly give us some details
Amrit Layak: One should focus seriously on Mathematics and Aptitude, and from technical, one should definitely focus on Spinning, Testing, Processing.
Careers360: What was the toughest aspect in your GATE preparation?
Amrit Layak: Preparing for the processing part was a bit difficult for me.
Careers360: Name some important Topics that you feel are a must read for any student attempting GATE exam?
Amrit Layak: Textile Fibres, Spinning, Testing, Textile Fibres, and one should solve numerical since These have more weightage in GATE Paper.
Careers360: What did you do for leisure? Any specific activities that helped you unwind?
Amrit Layak: I love listening to AudioStories, songs. I like reading books as well. I love watching sports, especially cricket.
Careers360: How should you schedule answering the GATE exam – which section to attempt first and which next? Did you have any strategy? Kindly share your exam experience with us.
Amrit Layak: I was confident with my technical part so I started with that then I moved to maths and aptitude, after finishing that I revisited the entire paper 2 times to complete the left-out problems and try them out which I left in my initial go. That was my strategy for attempting the paper and again I would say this depends on person to person. Now that's where attempting mock tests help you a lot to build a paper attempting strategy that suits you the most and that's it, find what is suitable for you and stick to that strategy in the exam.
Now one more thing I would like to add here what I experienced in GATE 2021 is that in the paper 1 mark and 2 mark questions were jumbled up and which was quite new for me since I pre-planned that I will attempt 2 mark questions and numerical before and then jump to 1 mark questions which was not possible for me this year so I was bit panicked in the beginning but I managed to be calm and then attempted the paper throughout consecutively and so make plans accordingly for yourself.
Careers360: What did you feel was a tough thing for you in the GATE exam?
Amrit Layak: I think the Mathematics section was a bit tough in the GATE exam.
Careers360: Any advice for the future aspirants?
Amrit Layak: I think proper strategy, proper planning, keeping your basics clear and building your concepts are very important for any aspirant for GATE exam. Study mathematics and
aptitude very properly since it will give you and edge over others and just believe in yourself and follow routines day in day out, be persistent as well as consistent in the entire preparation stage and you will be able to wonder!!!! . All the best.