GATE 2020 Topper Interview, Anshuman Dubey, AIR 23 AP- Smart hardwork is the key to GATE
GATE 2020 Topper Interview - Anshuman Dubey GATE 2020 Topper, AIR 23 in Architecture and Planning: There are many who target at something and put in all the effort achieving it, but rare are those who can explain every bit of that effort and success mantra to the world. Such is this gem from Mirzapur, Anshuman Dubey who secured AIR 23 in GATE 2020. This was his second attempt, while in the first attempt in 2015 he had obtained AIR 22 and was a GATE topper. When approached for GATE 2020 topper interview by Careers360, Anshuman explained it all as to how one should strategize, what books should be referred, what topics have to be focussed upon, etc. Future aspirants of Architecture and Planning may checkout the GATE 2020 topper interview with Anshuman Dubey (AIR 23) and know the do's and don'ts for clearing the GATE exam.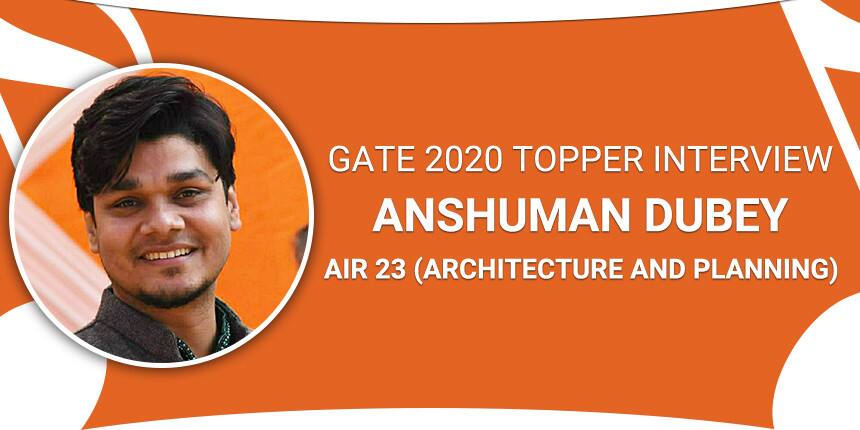 Excerpts from Interview:
Careers360 - Tell us something about yourself; Where have you done your engineering from and in which branch?
Anshuman - I have done my basic schooling (till class 10) from Lions School, Mirzapur. Then I moved to Kota for JEE preparation and further studies. I completed my bachelors (B.Arch) in 2015 from Government college of Architecture, Lucknow and cleared GATE with a rank of 22 in the same year. I completed M. Tech Infrastructure Design and Management from IIT Kharagpur in 2017. Currently I am working as an Assistant Professor and preparing for further studies as well.
Careers360 - It must have been difficult to cope up with job and preparation simultaneously?
Anshuman - One surely has to manage things well, but yes, if your concepts are clear, then things become a bit easier. As this was my second time with the GATE exam, I had a decent idea as to where to study from and how to approach the exam.
Careers360 - What was the GATE Paper you appeared in? What rank did you get in GATE 2020? What is your GATE score and how many marks did you secure out of 100 in GATE paper?
Anshuman - I appeared for Architecture and Planning and secured AIR 23 with a GATE score of 804 and 61.67 marks.
Careers360 - What was the reason you appeared for GATE 2020? Pls elaborate.
Anshuman - The reason behind appearing for the exam was PSU recruitment through GATE as well as for PhD (research). As I had been looking for research and already have completed my Masters, so there are numerous options in PSUs also. However, I've both the options, I would prefer to go for my PhD for research.
Careers360 - Have you taken any coaching? If yes- From where? How did it help?
Anshuman - No, I did not take coaching classes for any of my attempts as I was in the final year during my first attempt in 2015 and this time as well I was into a job. I feel that self study is more important for this exam and that those students who run after coaching somewhere underestimate their own potential.
Careers360 - Can you share any preparation strategies with our readers? When should one start their preparation for GATE? How to schedule study time and make timetables?
Anshuman - Well, coming to strategy, one should first know as to what type of questions are being asked in the exam (know the trend of questions asked in GATE). Once this understanding is achieved, then the questions must be approached individually. So if you have previous year question papers, analyze the topics asked repeatedly. Since the B. Arch syllabus is too vast, reading a single book will take up as much time as a normal student will take to prepare for the GATE exam. What I did was first understood the paper and applied the same strategy. Most people make a mistake while practising that they solve a question, get the answer and proceed to next, while skipping the rest of 3 options of the MCQ which should definitely be explored. This applies to questions like books and their authors, one should check them all as the GATE question papers are usually interlinked.
Coming to individual papers as the Architecture syllabus is much vast, In Structures paper (one of the toughest according to Architecture students), whatever questions have been asked previously, practise them by applying the appropriate formula because questions do take a roundabout where the common formula is used. However, the History of Architecture is a bit difficult, and students can refer to the book by G. K. Hiraskar that can help command over certain chapters. Talking about Services subject, there are certain sections that are asked in GATE which have to be on tips as questions are asked in detail including those of standards and building codes. Chapter 4 and 5 of the National Building Course are a must inclusive of fire fighting. There are certain easy sections that are at times missed out by students like that of project management, one such is aptitude section with 15 questions where students get inclined towards the technical aspect which if focussed practically can get a score of 13/15.
Careers360 - How important do you feel mock tests are and why? Is it true that if one solves the previous year question papers, there is a good chance of cracking the exam successfully?
Anshuman - As mentioned earlier, I strategized my preparation around previous 25 years' question papers. My suggestion for future aspirants is that make a collection of these papers and practise them for at least 3-4 times, so that nobody can restrict them of cracking GATE exam. That's why I don't at all believe in any of the GATE mock test papers or other sample papers from coaching centres.
Careers360 - Which books did you follow for GATE preparation? Pls name some very important must read books for GATE.
Anshuman - As I have prepared more from the internet, I can not suggest many books. But for the History of Architecture, I referred to a book by G. K. Hiraskar (Imp chapters include Roman and Greek Architecture, Sanchi Stupa, architectures of Maurya and Gupta period).
Careers360 - Which are the topics one should focus more on? Kindly give us some details.
Anshuman - Starting with History, one should study Hindu architecture, period in which certain temples were built, in what architectural style and what are the particular features used, etc., not forgetting the Islamic architecture. Coming to Acoustics, reverberation time, absorption coefficient, auditorium design are some of the repeating topics. Questions asked in Water Supply include single and double stack system, valves types, types of traps, i.e. intercepting traps, etc. and how water supply takes place. In Services, inclination angle of escalator, calculation of lift timing, what lift suits what kind of building, are asked focussing upon mechanical aspects. Then comes Firefighting where standards are asked as to what should be the distance between building and fire exit, whether there is wet system or dry system, what sprinkler is used. In Structures, bending movement is asked, simply supported and cantilever beams are often asked.
Careers360 - What did you do for leisure? Any specific activities that helped you unwind?
Anshuman - I am much involved in sports like cricket, badminton, table tennis, etc. I have the hobby of writing poetry, sketching and painting as well.
Careers360 - How did you schedule answering the GATE exam – which section to attempt first and which next? Did you have any strategy? Kindly share your exam experience with us.
Anshuman - What I did during my attempt was taking questions in one go, specifically the theoretical ones. I started with the first question in order regardless of one question taking 5 seconds and some other question taking more than a minute. I marked the questions seemingly difficult or time consuming for the second round (after I was done with the quick ones in the first go). One should avoid being arrogant with any question that this much time has already been devoted to a particular question so I will surely attempt it, as there are higher chances that they will go wrong with the answer. Take risk with questions only if you can afford it (if you are confident with at least 60+ answers). Always attempt the exam targeting the top 5-10 ranks, then there are chances of ending up among top 50. If only qualifying the exam remains the motive, things may not go as planned.
Careers360 - What did you feel was a tough thing in GATE 2020?
Anshuman Dubey - This time there were more numerical questions as compared to theoretical ones. As per my observation, IIT Delhi and IIT Madras usually set a paper higher in standard in concern with difficulty level. Overall, this year the GATE question paper seemed the toughest as compared to the previous years.
Careers360 - What are your future plans in your career?
Anshuman - I want to pursue PhD in Architecture for which I am yet to figure out if it should be in Management or other as there are numerous options to decide. I have IITs, IIM and IISC Bangalore as the three options to choose from for pursuing PhD.
Careers360 - Any advice for the future aspirants?
Anshuman - All I would like to suggest is keep your basics clear and not to get confused in this competitive world. The most important part is played by self study which one should go for and analyze themselves accordingly. Make a checklist of topics asked and those covered simultaneously. Skip the topics that deem extremely difficult to solve and first focus upon those seemingly easy and scoring, and don't at all ignore the aptitude section. Stay positive and surrounded with people already preparing for the GATE exam which will also boost for healthy exam preparation. Stay a bit isolated avoiding social events as this leads to waste of crucial time.
Questions related to GATE
Showing 15334 out of 15334 Questions