GATE 2019 Toppers Interview Aakash Verma AIR 7 ME "Keep Your Goals High and Confidence Higher"
Constant hard work and a never ending zeal to achieve his goals finally paid off for Aakash Verma as he secured 962 marks out of 1000 GATE 2019. GATE 2019 topper Aakash Verma became the talk of the town when he secured AIR 7 in Mechanical Engineering exam in GATE 2019. Hailing from Hajipur town of Bihar, GATE topper Aaksh Verma completed his BT-MT dual degree in Mechanical Engineering from IIT Kanpur in 2018. This was Aakash's first attempt at GATE and he appeared for the entrance examination basically to strength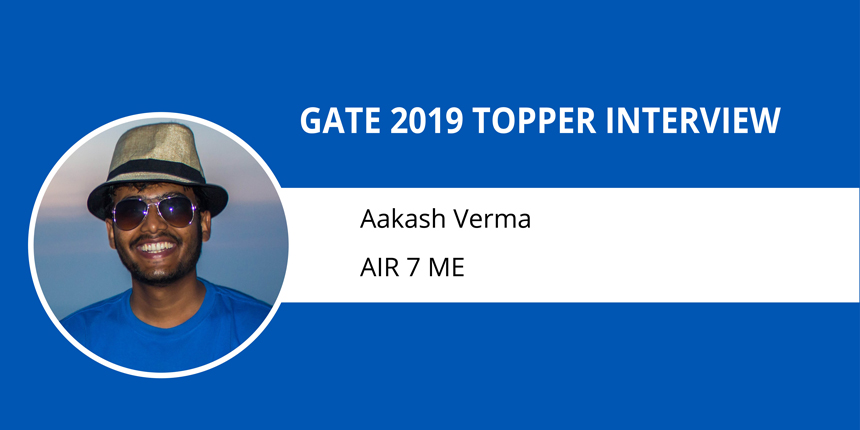 en his preparation for ESE. Aakash says the main reason for his success in GATE 2019 is because of his focus on clearing concepts first and then moving on to the numericals. Aakash likes listening to music in his leisure time and also finds time to watch one movie in one or two weeks. The topper shared about his experience and preparation in an exclusive interview with Careers360, here are the excerpts from the interview.
Careers 360: Tell us something about yourself; Where have you done your engineering from and in which branch? 
Aakash: I belong to the town of Hajipur in Bihar. I did my graduation (BT-MT dual degree) in Mechanical Engg from IIT Kanpur in 2018. I was also a part of Institute Football team. Apart from my graduation, I also did an internship at Texas A&M University (TAMU) in 2016.
Careers360: What was the GATE Paper you appeared in? What rank did you get in GATE 2019? What is your GATE score and how many marks did you secure out of 100 in GATE paper?
Aakash: I appeared in ME paper Afternoon session on 2nd Feb,2019 . I secured AIR 7 in GATE 2019. My gate score is 962/1000 and normalized marks are 91.01 out of 100.
Careers360: Is this your first attempt or did you attempt GATE earlier?
Aakash: This is my first attempt at GATE. I did not need it for Mtech at IIT Kanpur because my CPI was higher than 8.0 which automatically qualified me for the monthly stipends without having to appear for GATE.
Careers360:  What was the reason you appeared for GATE 2019? Please elaborate.
Aakash: I came to Delhi to prepare for Engineering Services Examination (ESE) as it is my main target. But, the syllabus of GATE and ESE are almost similar. In fact, preparing for ESE prepared me for GATE as well. Prelims of ESE focusses mainly on theory (not this time though) and GATE on numericals. This way I was able to cover both aspects at the same time. GATE allows to apply for PSUs like IOCL, ONGC, HPCL, etc. The work profile is really good. I did not sit for campus placements since the job profile of core companies did not attract my attention; neither did the package. The seniors at IIT Kanpur also were not satisfied with their jobs. On the other hand, PSUs offer a very good starting salary as well as facilities
Careers360:  Have you applied to any PSUs recruiting through GATE? Which ones?
Aakash: I have applied for NTPC and BARC till now. I will be applying for IOCL, ONGC, HPCL and some other PSUs that I am yet to decide. I want to join ONGC/IOCL.
Careers360:  When did you start your preparation?  How did you prepare for the GATE exam? How many hours did you put in per day as per the stage of preparation? 
Aakash: I started my preparations in August. Although, I started serious preparations from September end and became even more serious from October, the time when GATE and ESE applications come out. I used to study around 8-10 hrs regularly and took a break after every 2.5 hrs – 3hrs. For GATE and ESE both, my approach was to first understand the concepts very carefully. I spent a good amount of time on simpler concepts. Having a good grasp over concepts helped me to solve all kinds of question with ease. Whenever, there was a tricky question, I could spot it at the first/second glance. I was also able to eliminate extra data , which is sometimes given just to create confusion. I was also able to understand the question from all aspects because of the conceptual clarity. Many students focus more on numericals and not on concepts. They think the more questions I can solve, the clearer my concepts will become. But from my experience, focussing more on concepts and then on solving numericals helped me in much better way. I only solved the GATE question bank once, and in the first attempt I was able to solve almost all the questions. There were some questions I made mistakes in the beginning, but they were mostly in units or calculations. Some concepts were new and I learnt them as I practised my way through the question bank. 
Careers360:  Have you taken any coaching? If yes- From where? How did it help?
Aakash: Yes, I joined MADE EASY in July end at their Delhi Centre. The class notes are very comprehensive and selected from reliable sources. I also attended some classes for subjects that I did not have a good grasp over in my college. I used to study the class notes and MADE EASY theory books and did not feel any need to refer to any book for GATE. 
Careers360: Can you share any preparation strategies with our readers? When should one start their preparation for GATE? How to schedule study time and make timetables?
Aakash: I would say start as early as you can. I used to focus on concepts first, then solve some solved examples and  then furtther I moved on to solve numericals. While studying a topic/subject, I first took a look at the overall coverage. This gave me an overview about the topics and helped me develop interest even in the boring topics. I clarified the concepts first and whenever a doubt popped up, I looked up at NPTEL or Google. While solving numericals, I used to be careful with units and values/data. I did not follow a fixed time table or schedule for long and frequently changed my schedule with time. However, one thing I consistently did was to study 8-10 hrs regularly. Sometimes in a week, I watched a movie or two. At other times, when I felt too tired, I extended my sleep to even 10 hrs. I studied with full focus and whenever I felt I am not able to concentrate before the 2.5-3 hrs mark, I took a break and adjusted the schedule accordingly. I used to make targets for the next day and week and kept serious track of the progress. At the end of the day, I analysed the reasons hindering the completion of goals and tried to overcome them next week.
Careers360:  How important do you feel mock tests are and why? Is it true that if one solves the previous year question papers, there is a good chance of cracking the exam successfully?
Aakash: Mock tests give an idea of the real test environment and software, but only if one takes them seriously. I could not give any mock test as preparing for both ESE and GATE simultaneously did not allow me much time to take tests. I could not even give one full test for GATE. However, I solved previous year questions for GATE after ESE prelims , which was on 6th of Jan, 2019. I had planned to solve the GATE question bank in those 3 -4 weeks time, allotting one day for smaller topics(engineering mathematics) and 2-3 days for bigger ones(like manufacturing). In those 3-4 weeks I did not revise the concepts as I had already done so 3-4 times for ESE prelims. I went ahead to solve the question bank. 
I would say if you are able to solve most of the questions (90-95%) with a very good accuracy, then you won't have problems in the final exam and  you can definitely secure a good rank like me.
Careers360:  Which books did you follow for GATE preparation? Please name some very important must read books for GATE
Aakash: I did not use any book for GATE. I referred only to the class notes and theory books of MADE EASY.
Careers360:  Which are the topics one should focus more on? Kindly give us some details
Aakash: Manufacturing (or Production: All topics combined), Strength of Materials (Mechanics of Materials), Engg. Mathematics and Reasoning and Aptitude together comprise around 40-50 marks out of 100. Then, I would say Thermodynamics, Fluid mechanics, Heat transfer and Theory of Machines usually make up around 30-35 marks of the paper. Lesser number of questions are asked from Machine Design, RAC, Operations Research and Engineering Mechanics.
Careers360:  what was the toughest aspect in your GATE preparation?
Aakash: I missed my college life in the beginning. I had a hard time adjusting to the competitive environment here. I even thought of going back and apply for a PhD. 
Careers360:  Name some important topics that you feel are a must read for any student attempting GATE exam? 
Aakash: According to my experience Manufacturing, Engineering Mathematics, Reasoning and Aptitude (Do not take it lightly), Strength of Materials, Thermodynamics, Fluid Mechanics, Theory of Machines and Heat Transfer are the most important topics for GATE preparation.
Careers360:  What did you do for leisure? Any specific activities that helped you unwind?
Aakash: I used to listen to music, watch a movie in a week or two. I kept in touch with some of my friends. I found naps to be very beneficial for long hours of study. 
Careers360:  How should you schedule answering the GATE exam – which section to attempt first and which next? Did you have any strategy? Kindly share your exam experience with us.
Aakash: From the few tests that I gave online and also from what I observed while solving questions, I would say that attempt the familiar and easy questions first, then move on to the questions you found tough in the first go. In the final exam also, I followed the same, I first solved the easy questions which I was able to solve in the first go. I marked the ones I found tough (some became tough due to the nerves) and attempted them in the second go. I was able to solve most of the questions by then. There were some questions I finished in the third attempt and before the time was over, looked again if any question was left and looked at the responses carefully. 
Careers360:  What did you feel was a tough thing for you in the GATE exam?
Aakash: I had to check some answers twice or thrice because of insufficient online test practice. The questions were tricky but the concepts and practice did their job.
Careers360:  Any advice for the future aspirants?
Aakash: To future aspirants I would like to say, focus on concepts first and then solve numericals carefully. Study to learn rather than to qualify an exam. This will make long hours of study fun. Give online tests and practice the virtual calculator. Do not undermine any topic if you wish to be at the top. Believe in your hard work and do not give up. Remember your goals and the future that will follow when these goals are achieved. Keep a fresh mind while studying. ALL THE BEST and GOOD LUCK !!!!
Questions related to GATE
Showing 14445 out of 14445 Questions