GATE 2019 Topper Interview Shivam Saxena (AIR -96 ME)-"Self study is key to success"
GATE Topper Interview 2019 - GATE topper 2019, Shivam Saxena scaled a new high as he secured AIR 96  in GATE-Mechanical Engineering(ME) paper. GATE 2019 topper Shivam Saxena did his Mechanical Engineering from Moradabad Institute of Technology, Uttar Pradesh. Mechanical Engineering is one of the most popular streams in engineering, so when Shivam Saxena obtained the AIR 96 in GATE 2019 (ME), it was definitely a moment to appreciate because it was his third attempt. Saxena, who is GATE topper 2019, appeared in the exam for the first time when he was in the final year but he didn't qualify and got 4000 rank in the second attempt. The moment Shivam received the GATE 2019 paper, he found it a little bit easy. "As I was eyeing PSUs and they offer jobs to only those with rank 1 to 200, my target was to give my best and fall into this category", he said. According to Shivam Saxena, self-study is the key to success than preparing in the coaching centres. Read the complete interview to know about the interesting and success story of Shivam Saxena who is GATE 2019 topper.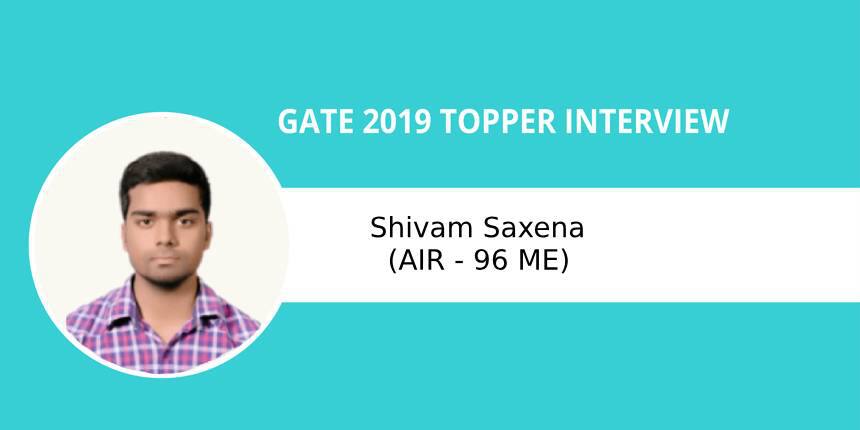 Latest: GATE 2019 Result available now
Latest: Check GATE 2019 Cutoff for all subjects
Careers360: Tell us something about yourself; Where have you done your engineering from and in which branch? 
Shivam Saxena: I am Shivam Saxena. I have done my mechanical engineering from Moradabad Institute of Technology.
Careers360: What was the GATE Paper you appeared in? What rank did you get in GATE 2019? What is your GATE score and how many marks did you secure out of 100 in GATE paper?
Shivam Saxena: I appeared for the morning session of Mechanical engineering. I got 96 rank in gate 2019. My score is 888 and I got 84.18 marks.
Careers360: Is this your first attempt or did you attempt GATE earlier?
Shivam Saxena: No, it's my third attempt. First I gave when I was in final year then I could not qualify then in the next one I got around 4000 rank.
Careers360: What was the reason you appeared for GATE 2019? Please elaborate.
Shivam Saxena: My aim is joining PSU so I appeared in gate 2019. Because I didn't get good enough rank in my previous attempt so I gave it again to fulfil my aim.
Careers360: Have you applied to any PSUs recruiting through GATE? Which ones?
Shivam Saxena: So far I have applied in 4 PSU ( many PSU haven't activated their application link). As of now, I have applied in IOCL, NTPC, Vizag Steel, BARC
Careers360: When did you start your preparation?  How did you prepare for the GATE exam? How many hours did you put in per day as per the stage of preparation?
Shivam Saxena: I joined coaching for my gate 2018, but I was not able to perform well in it. So for gate 2019, I did self-study. I took the help of Ace academy material and online test series of Ace academy as well as Made easy. As far as the number of hours is concerned I would say its not about the number but the quality of the study. Smart work is necessary for the exam like GATE. But if one wants to know my schedule then I spent 4 hours while commencement of classes, and around 9-10 hours during self-study. 
Careers360: Have you taken any coaching? If yes- From where? How did it help?
Shivam Saxena: I joined the classroom course at Ace academy after my college is over. It helps in building concepts and it guided me the approach I should follow for various questions.
Careers360: Can you share any preparation strategies with our readers? When should one start their preparation for GATE? How to schedule study time and make timetables?
Shivam Saxena: For future aspirants, I would say if you can afford coaching then do join because they not clear your concepts but also guide you in the right path. But if you want to do the self-study then I would recommend you to use reference book for both theory and numerical but you have to very selective of the syllabus in these books. Also try to solve a variety of numerical plus gate previous years are mandatory.
Start with easier subjects like Heat Transfer, Machine Design so that u can have confidence that u can do it. Allot your study time as per your convenience but try to make daily, weekly and monthly targets. And be honest with yourself.
Careers360: How important do you feel mock tests are and why? Is it true that if one solves the previous year question papers, there is a good chance of cracking the exam successfully?
Shivam Saxena: Mock Tests play a huge role in preparation because they not only create the same environment as u will going to face in the real exam but also serve the purpose of analysing ur weak areas and also u will be facing a different variety of questions. Yes, previous year questions are necessary but not sufficient. They tell u the past trend of questions but it seems like nowadays gate is changing its trend a little so better to be prepared for worst.  
Careers360: Which books did you follow for GATE preparation? Please name some very important must-read books for GATE
Shivam Saxena: I used only Ace academy Material along with previous year questions and test series question.
Careers360: Which are the topics one should focus more on? Kindly give us some details
Shivam Saxena: As far as Mechanical Engineering is concerned, topics which you should focus more are true stress and strain from SOM, Kinematics of links, Cams from TOM, non-conventional machining of Production, Mathematics (don't take it for granted), Convention from Heat Transfer
Careers360: what was the toughest aspect of your GATE preparation?
Shivam Saxena: Toughest aspect was to increase accuracy while solving problems.
Careers360: Name some important topics that you feel are a must read for any student attempting GATE exam? 
Shivam Saxena: Mathematics and General Aptitude should not be taken lightly, they can make a huge difference.
Careers360: What did you do for leisure? Any specific activities that helped you unwind?
Shivam Saxena: I used to watch one movie after 2 weeks. So that I can relax and after that, I get back to study with full focus.
Careers360: How should you schedule answering the GATE exam – which section to attempt first and which next? Did you have any strategy? Kindly share your exam experience with us.
Shivam Saxena: I attempt the technical part first and then aptitude. First, I did all the question which are clicking me at once. After that, I attempted those question which I couldn't solve at first. One thing u should be remembered while writing the exam that does NOT panic if you are not able to solve a question at first just skip that question and solve the further question with full focus. 
Careers360: What did you feel was a tough thing for you in the GATE exam?
Shivam Saxena: The toughest thing in gate exam is u cannot lose a single mark, because it will put you out of the race.
Careers360: Any advice for the future aspirants?
Shivam Saxena: My advice will be that you should not quit any stage of preparation. Believe in yourself. I have seen many good students quit in between by just seeing bad marks in test series, so never give up. Anyone can crack GATE.
Questions related to GATE
Showing 15328 out of 15328 Questions