GATE 2018 Topper Interview Shishir Kumud (AIR 18-IN) - "Make good notes and have a good hold on your basics"
"Work hard, Play hard"! This quote perfectly describes Shishir Kumud who has secured 18th rank in GATE 2018 Instrumentation Engineering (IE). Starting off his preparation from his 3rd year in college, the boy hailing from Raebareli has never given a break in his studies and constantly worked  on his strategies. Along with his preparation, Shishir has taken care to keep his mind relaxed with sports and music. In his interview with Careers360, Shishir explains why he opted for GATE examination, what motivates him and his future plans.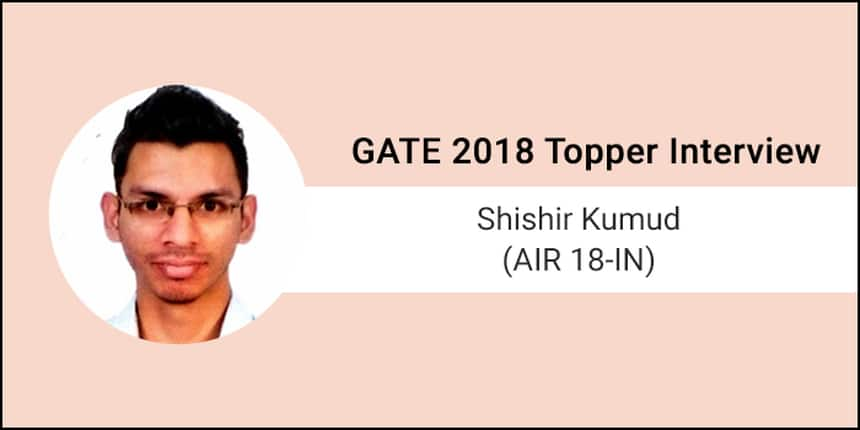 Careers360: Tell us something about yourself; Where have you done your engineering from and in which branch?
Shishir Kumud: My name is Shishir Kumud and I am originally from Raebareli (U.P). Currently, I am living in Korba (Chhatisgarh). I am pursuing my bachelor's degree from SGSITS Indore in Electronics and Instrumentation engineering branch.
Careers360: What was the GATE Paper you appeared in? What rank did you get in GATE 2018? What is your GATE score and how many marks did you secure out of 100 in GATE paper?
Shishir Kumud: I appeared for Instrumentation Engineering (IN) paper in GATE 2018. I secured 18th rank in that paper. My GATE Score was 844 and my marks were 83.33.
Careers360: Is this your first attempt or did you attempt GATE earlier?
Shishir Kumud: Yes, this was my first attempt at the GATE examination.
Careers360: What was the reason you appeared for GATE 2018? Please elaborate.
Shishir Kumud:  I always had interest in technical fields and that was the first and foremost reason. Apart from that, my father is also working in a PSU so he asked me to just check if I was interested in that paper.
Careers360: Have you applied to any PSUs recruiting through GATE? Which ones?
Shishir Kumud: Yes, I have applied to many PSU's like NTPC, HPCL, IOCL and I am still waiting for ONGC.
Careers360: When did you start your preparation?  How did you prepare for the GATE exam? How many hours did you put in per day as per the stage of preparation?
Shishir Kumud: I started my preparation from my 3rd year of college. I joined Engineer's Circle coaching in Indore for the preparation. At the early stages, I used to put in 4 hours for study and half an hour for the revision of notes that I studied that day in the coaching. But then I realized that I need to put in more working hours so I increased my hours of study to 6-8 and sometimes it even touched 10 hours. For almost 1.5 years I only slept for 3-5 hours and this is the reason I had enough time to balance my academics and my activities.
Careers360: Have you taken any coaching? If yes- From where? How did it help?
Shishir Kumud: Yes I joined Engineer's Circle coaching in Indore. The coaching has a really good set of faculties and even the staff members are very supportive and really flexible with timings. At the end of my coaching I had a good bunch of notes that I could study.
Careers360: Can you share any preparation strategies with our readers? When should one start their preparation for GATE? How to schedule study time and make timetables?
Shishir Kumud: For the preparation strategy, I would advise to just make good notes and have a good hold on your basics i.e your basic concepts should be very strong. Actually there is no ideal time for starting the preparation for GATE. But if you start even 6 months before GATE examination and you are fully focused on GATE then I don't think there will be any problem and you would easily score 80+ marks. It is not necessary to make timetables because following that has always been a difficult task especially for me.
Careers360: How important do you feel mock tests are and why? Is it true that if one solves the previous year question papers, there is a good chance of cracking the exam successfully?
Shishir Kumud: Mock tests of GATE are the most essential part of your preparation because practicing offline is a different thing and practicing it online with some time boundaries is a whole set of different experience . Definitely solving previous papers is very important because you get to know the pattern of the exam and you know which subjects to focus more and which to not. 
Careers360: Which books did you follow for GATE preparation? Please name some very important must read books for GATE
Shishir Kumud: I just solved the coaching booklets and the previous question papers and joined 2-3 test series for a good practice.
Careers360: Which are the topics one should focus more on? Kindly give us some details
Shishir Kumud: For instrumentation branch I would suggest Control Systems, Analog Electronics, Digital Electronics and Sensors and Transducers. These subjects can easily give you 35-40 marks and you will be left with easy subjects to tackle which gives you a head start from others.
Careers360: What was the toughest aspect in your GATE preparation?
Shishir Kumud: A time comes after some rigorous studying that you get frustrated and you just don't want to study at all. Keep calm in that phase and take some time off and then you will have some confidence and you can rebuild on where you left off.
Careers360: What did you do for leisure? Any specific activities that helped you unwind?
Shishir Kumud: I love music and without it I was not able to study and I also love to play Football and Table Tennis. Apart from that, I went out with my friends for movies and hangout in some cool cafes and restaurants.
Careers360: How should you schedule answering the GATE exam – which section to attempt first and which next? Did you have any strategy? Kindly share your exam experience with us.
Shishir Kumud: Yes, I attempted the technical part first and then the aptitude section because I had practiced that strategy in the mock test series, but it is up to you, whatever you are comfortable with you should go with that.
Careers360: What did you feel was a tough thing for you in the GATE exam?
Shishir Kumud:  I could feel the pressure from the start of the exam and if you can handle that thing then you would excel otherwise you have to think about options. That 3 hours can change your life and you just don't have to think about that in those 3 hours.
Careers360: Any advice for the future aspirants?
Shishir Kumud: Doing smart study and not just hard work can get anyone past this examination. Do not ruin your life on the basis of whatever results you are getting while preparation, good times will definitely come and embrace your life.
Questions related to GATE
Showing 15328 out of 15328 Questions