GATE 2018 Topper Interview Paarth Gupta (AIR 7- CS) - "Focus on only one exam at a time, and give it your all."
Computer science engineering is one of the most popular engineering disciplines in engineering, so when Paarth Gupta clinched the AIR 7 in GATE 2018 CS, it was definitely a moment to cherish. A final year student at Shri Mata Vaishno Devi University, Katra Jammu, Paath began his prepartion for the exam 9 months in advance. And it was all about self-study, as he didn't take any coaching to crack GATE. Success though is not new for Paarth, who also topped his batch in college. When Careers360 got in touch with Paath to congratulate him on his success, and to pick his brains as to how a student should prepare for the entrance exam, he had his own unique take. For example, he is of the view that candidates should follow their own style and start their preparation with the subjects one likes most. Go through the rest of the article to read what other gems of wisdom Paarth has to share.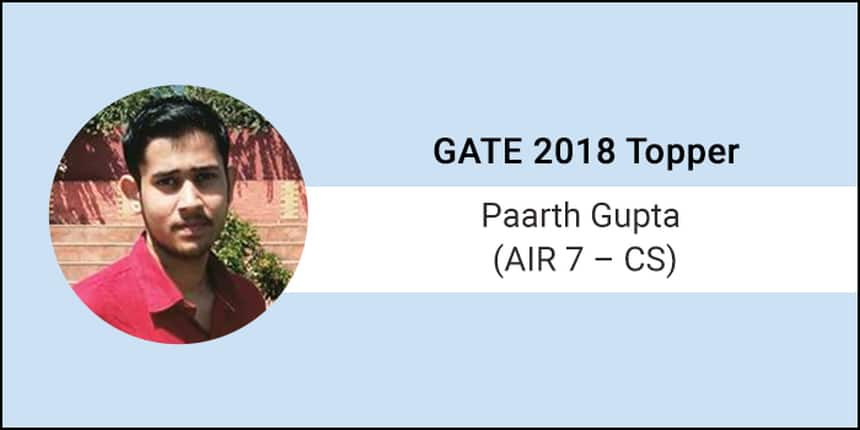 To Watch Video on GATE 2018 Topper Nikita Yadav's Preparation Strategy - Click here
Excerpts of the interview
Careers360: Tell us something about yourself. Where have you done your engineering from and in which branch?
Paarth Gupta: I am Paarth Gupta, a final year Computer Science Engineering (CSE) student at Shri Mata Vaishno Devi University, Katra Jammu.
Careers360: What was the GATE Paper you appeared in? What rank did you get in GATE 2018? What is your GATE score and how many marks did you secure out of 100 in GATE paper?
Paarth Gupta: I appearing in CSE paper in GATE 2018. My rank is AIR 7, and score is 981 out of 1000. Marks out of 100 is 78.
Careers360: Is this your first attempt or did you attempt GATE earlier?
Paarth Gupta: Yes, this was my first attempt.
Careers360: What was the reason you appeared for GATE 2018? Pls elaborate.
Paarth Gupta: I enjoyed studying, and put in a lot of hard work in the four years of my engineering. In fact, I was the batch topper of my college as well. Such success inspired me to prepare for gate.
Careers360: Have you applied to any PSUs recruiting through GATE? Which ones?
Paarth Gupta: Right now I have applied for IOCL only.
Careers360: When did you start your preparation? How did you prepare for the GATE exam ? How many hours did you put in per day as per the stage of preparation?
Paarth Gupta: I gave myself 9 months to prepare for the GATE exam. I followed the course given by Ravindra Babu Ravula sir. On an average, I studied for 5 hours for the first 6 months and then increased it to 7-8 hours in the last 3 months.
Careers360: Have you taken any coaching? If yes- From where? How did it help?
Paarth Gupta: No, I did not took any coaching as I was a final year student. But I got the course of RavindraBabu Ravula sir. The course was very suited for self-study. He is a brilliant teacher, clears all the doubts.
Careers360: Can you share any preparation strategies with our readers? When should one start their preparation for GATE? How to schedule study time and make timetables?
Paarth Gupta: My suggestion is start preparing for the exam at least one year in advance, and study according to style that suits the individual, for example some like studying in the morning while others prefer studing at night. Start with the subjects that you like the most. While making the time table, it is also important that sufficient time is kept for refreshment.
Careers360: How important do you feel mock tests are and why? Is it true that if one solves the previous year question papers, there is a good chance of cracking the exam successfully?
Paarth Gupta: Mock Tests are really important as they give you an idea of the type of questions that you can expect in the gate exam. Yes, it is advisable that the candidate goes through the previous years' GATE questions as the pattern is more or less the same; this year though the exam was completely different and did not help much.
Careers360: Which are the topics one should focus more on? Kindly give us some details
Paarth Gupta: If someone is targeting for a good rank then it is preferable to target all the subject but Operating System, Algorithms, TOC, Digital are likely to have comparatively easy questions. So it is recommended that candidates try to have a 100% accuracy when attempting them.
Careers360: What was the toughest aspect in your GATE preparation?
Paarth Gupta: My toughest phase in my preparation was to maintain my Rank 1 spot in university and to prepare for gate simultaneously.
Careers360: Name some important topics that you feel are a must read for any student attempting GATE exam?
Paarth Gupta: Decidability problems in TOC are becoming more and more common. A good number of questions on basic algorithms are also asked.
Careers360: What did you do for leisure? Any specific activities that helped you unwind?
Paarth Gupta: As I was staying in a hostel, whenever I was free I used to go out with my friends. It was good way to rewind and relax.
Careers360: How should you schedule answering the GATE exam – which section to attempt first and which next? Did you have any strategy? Kindly share your exam experience with us.
Paarth Gupta: I didn't follow any specific strategy, but it is advisable to follow one's instincts. While you are giving the mock tests you can follow different techniques and find out which one suits you.
Careers360: What did you feel was a tough thing for you in the GATE exam?
Paarth Gupta: I gave a lot of full length test and I completed most of them in 2 hours' time, but GATE 2018 exam took 2hr and 50 minutes to complete. So, I would say it was lengthy as I did't got time to revise.
Careers360: Any advice for the future aspirants?
Paarth Gupta: My advice to everyone is always the same, only focus on one thing. Whether it be GATE or CAT or any other exam. Just make up your mind and give all of your time to that particular exam. This technique can change your life.
Questions related to GATE
Showing 15339 out of 15339 Questions