GATE 2018 Topper Interview Nitin Butola, (AIR 14, ME) -"Success is a combination of hard work and practice"
Hailing from a small town, Nitin Butola has big dreams to chase. After rigorous efforts starting June 2017, Nitin reached a step closer to fulfilling them on March 16 when the GATE results were announced. After securing an AIR of 14 in GATE 2018 in the one of the most competitive engineering branches - Mechanical Engineering, Nitin can now be sure of a PSU call which was one of the main reasons behind his GATE attempt. Having completed his graduation from NIT Uttarakhand, Nitin appeared earlier in GATE in 2017 where he did not not get a satisfactory rank. A firm determination in the right direction and proper guidance at the right time helped Nitin climb the ladder of success. Read the excerpts of Nitin's exclusive interview with Careers360 and know his success mantras as well as preparation tips below.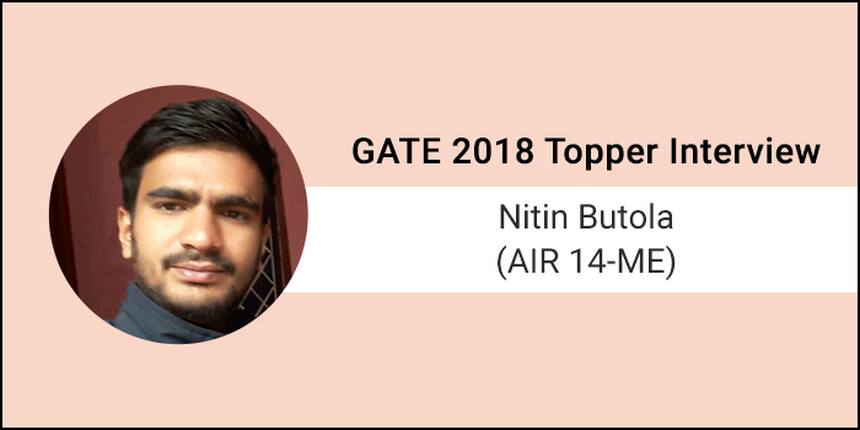 Careers360: Tell us something about yourself; Where have you done your engineering from and in which branch?
Nitin Butola: I come from a small town called Rudraprayag in Uttarakhand. I have done my B.Tech in Mechanical Engineering branch from NIT Uttarakhand.
Careers360: What was the GATE Paper you appeared in? What rank did you get in GATE 2018? What is your GATE score and how many marks did you secure out of 100 in GATE paper?
Nitin Butola:  I appeared for Mechanical Engineering paper in GATE 2018. I secured an AIR of 14 in the entrance exam. My GATE score is 937 out of 1000 and I got 90.24 marks out of 100.
Careers360: Is this your first attempt or did you attempt GATE earlier?
Nitin Butola: No, this is my second attempt. I secured an AIR of about 9000 in GATE 2017.
Careers360: What was the reason you appeared for GATE 2018? Please elaborate.
Nitin Butola: My main goal is to work in a leading PSU and for that I need to have a good rank.
Careers360: Have you applied to any PSUs recruiting through GATE? Which ones?
Nitin Butola: Yes, I have applied to PSUs such as IOCL, BHEL, NTPC, BPCL to name a few.
Careers360: When did you start your preparation? How did you prepare for the GATE exam ? How many hours did you put in per day as per the stage of preparation?
Nitin Butola: I started my preparation from June 2017. This time, I was clear about my weaknesses and worked out a strategy to secure a good rank. My main focus was on test series and solving as many questions as I could. After each test, I used to analyse my mistakes and then revise that subject. I studied for 8 hours daily.
Careers360: Have you taken any coaching? If yes- From where? How did it help?
Nitin Butola: Yes, I joined Made Easy. Taking coaching did help me. It kept a kind of check on my schedule which I couldn't have managed if I would have opted for self-study. Coaching helps to keep track of your performance in terms of the syllabus as well as get a grip on how much you have covered and how much you need to still do. All coaching cenytres give a precise schedule. If you follow that and work accordingly, you can score well.
Careers360: Can you share any preparation strategies with our readers? When should one start their preparation for GATE? How to schedule study time and make timetables?
Nitin Butola: To crack GATE, 6 to 8 months of hard work is enough. I would suggest to join any test series to boost your rank. Most important, try and stick to your daily plan.
Careers360: How important do you feel mock tests are and why? Is it true that if one solves the previous year question papers, there is a good chance of cracking the exam successfully?
Nitin Butola: Previous year's papers are important but test series and mock tests are equally mandatory. They generally don't repeat the same questions so you have to practice new questions either from books or mock tests.
Careers360: Which books did you follow for GATE preparation? Please name some very important must read books for GATE
Nitin Butola: It was only my coaching material that helped me. I did not actually refer to anything else.
Careers360: Which are the topics one should focus more on? Kindly give us some details.
Nitin Butola: In GATE, every topic is important because in a branch like Mechanical, there is high competition so, every mark is important. It is important to focus on previous year questions and test series as they help a lot in preparation.
Careers360: What was the toughest aspect in your GATE preparation?
Nitin Butola: The toughest aspect was to keep myself self-motivated the entire time of my GATE preparation. One can easily get demotivated; therefore, one has to look for ways to motivate oneself.
Careers360: Name some important Topics that you feel are a must read for any student attempting GATE exam?
Nitin Butola: As I said, every topic is important. Practicing questions and giving a lot of mock tests help in exam as the bottom line is that you will have to solve questions correctly to achieve a good rank. 
Careers360: What did you do for leisure? Any specific activities that helped you unwind?
Nitin Butola: I used to listen to the poem 'Rasmirathi' by Ramdhari Singh Dinkar on Youtube. It kept me motivated during my preparation.
Careers360: How should you schedule answering the GATE exam – which section to attempt first and which next? Did you have any strategy? Kindly share your exam experience with us.
Nitin Butola: I solved 2 marks questions first from technical part and then moved to 1 mark questions which are relatively easy and take less time and at last attempted the aptitude part.
Careers360: What did you feel was a tough thing for you in the GATE exam?
Nitin Butola: The virtual calculator was a bit challenging. I would advise that everyone should thoroughly practice with the virtual calculator during preparation.
Careers360: Any advice for the future aspirants?
Nitin Butola: I would say that in exam only hard work matters. If you practice well, you will find questions in the exam relatively easy to answer which relieves pressure and boosts your confidence. Practice as much as you can till the day of the exam.   
Questions related to GATE
Showing 15339 out of 15339 Questions