GATE 2018 Topper Interview Mohammad Saajid Hauq (AIR 52 - EE) - "Stay focused and don't deviate from your goal"
Mohammad Saajid Hauq, an alumnus of NIT Uttarakhand credits his mother for being the motivating constant during his GATE preparation that saw him secure an All India Rank of 52 in the exam. His unwavering focus on the exam has brought him closer to his dream of getting placed in a leading PSU. Here, he speaks to Careers360 about his strong preparation for what is his second GATE attempt, schedule he followed peppered with advice for future aspirants. Read on…
Stay up-to date with GATE News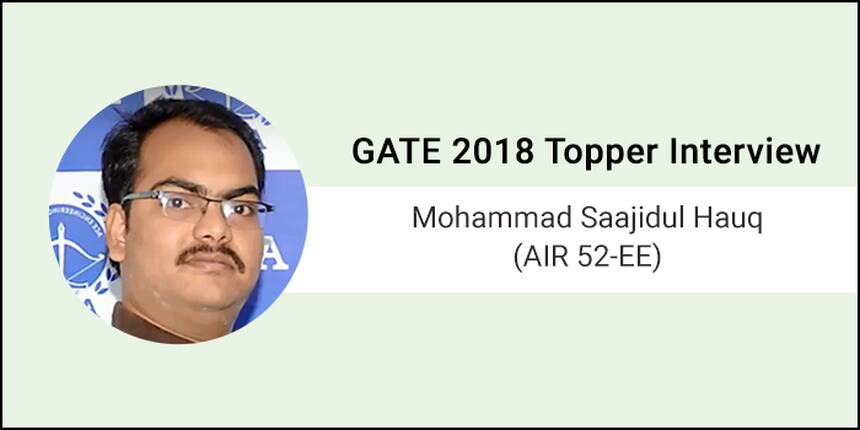 Careers360: Tell us something about yourself; where have you done your engineering from and in which branch?
Mohammad Saajid Hauq: I have done my B.Tech from NIT Uttarakhand. I passed out in 2017. I basically belong to Vijayawada, Andhra Pradesh.
Careers360: What was the GATE Paper you appeared in? What rank did you get in GATE 2018? What is your GATE score and how many marks did you secure out of 100 in GATE paper?
Mohammad Saajid Hauq: I appeared in GATE 2018 Electrical Engineering. I secured AIR 52. My GATE 2018 score is 892 and I obtained 78.33 marks out of 100.
Careers360: Is this your first attempt or did you attempt GATE earlier?
Mohammad Saajid Hauq: This is my second attempt. In 2017, I did not even qualify. Then, I was busy with my project work and I did not have time for GATE. I also didn't know much about the exam at that point of time.
Careers360: What was the reason you appeared for GATE 2018? Pis elaborate.
Mohammad Saajid Hauq: My main aim is to work in a leading PSU like IOCL, PGCIL etc. For that I need to have a good GATE rank. So, I constantly worked to achieve it.
Careers360: Have you applied to any PSUs recruiting through GATE? Which ones?
Mohammad Saajid Hauq: Yes, I have applied to PSUs such as IOCL, NTPC, VIZAG STEEL, BHEL, BARC and more.
Careers360: When did you start your preparation? How did you prepare for the GATE exam? How many hours did you put in per day as per the stage of preparation?
Mohammad Saajid Hauq: I started my preparation from mid June 2017. As, I was starting my preparation for the first time, I had to build from scratch. So, I started preparing subject wise in depth for about 3 months. The trick here is to make sure that you give subject wise mock test after completing each subject. This should be done in parallel to your learning so that you can remember the subject for a long duration. Initially, I used to study for about 6 hours. I simultaneously attended GATE coaching classes till the last week of August. After that I shifted to studying from 6 to 10 hours with a short nap of one hour in the mid afternoon.
Careers360: Have you taken any coaching? If yes- From where? How did it help?
Mohammad Saajid Hauq: Yes, I have taken coaching from Ace Academy Vijayawada as I had to prepare from a basic level. Their teaching was in depth and this helped a lot. There were also doubts clearing sessions. I credit a portion of my success to them.
Careers360: Can you share any preparation strategies with our readers? When should one start their preparation for GATE? How to schedule study time and make timetables?
Mohammad Saajid Hauq: Everyone should have their own preparation strategies as it paves the path to a good performance in the entrance exam. It is person dependent and not really common for everyone.
My GATE strategy went as follows:
Engineering Mathematics: This is pretty scoring. So I completed it in the first month and kept on practicing throughout my GATE preparation so that I didn't forget anything that I learnt.
GATE strategy
S.No

Name of the Subject (Including GATE Previous Year Problems)

Time Spent

(Every Weekend- subject wise test 1 and 2)

1.

Signals and system – All topics and problems that you can find.

1-week

2.

Digital electronics

1-week (on week ending subject wise test 1 and 2) and revision of signals and system

3.

Transformers (From basics) (Study the concept and assimilate carefully)

1-week including revision of ss and de (as "ss" would take hardly 2- hours now)

4.

Control System

1-week revision of transformers

5.

Induction machines

1- week revision of "de" and " transformers

6.

Power electronics Part-1

4-days (including revision of control system)

7.

Network Theory (very important)

1-week

8.

Network Theory only transient analysis part

3- days

9.

 

revision of all subjects till today (for about 3 days)

Note: If diligently followed, you will be in a position to remember each and every chapter studied till now.

 

10.

DC-Machines

3- Days

11.

Power Systems -1

1-Week (Revision of dc machines)

12.

Synchronous Machines

4-days

13.

Power electronics -2

1-week (revision of synchronous machines)

14.

Power System-2

1- week

15.

Power System -3

3-days

16.

Power System-4

3-days

17.

Measurement Electrical

3-days

18.

Measurement Electronics

2-days

After this i have done revision from first to till now (each subject a lot 4 hours max)

19.

EMF

4-days

20.

Micro Processor

3-days

21

Analog

4-days
The above mentioned is basically covering the most important portions of the syllabus.
The most crucial part of your preparation comes next
November

Revision of one subject in one day

Writing the basic full length subject wise test the other day

December

Revision of one subject in one day

Writing the advanced full length subject wise test the other day

January

Full length mock test after every 3 days (mean while practice previous year gate problems)

February

Be cool and prepare just Maths and short notes of subjects
Careers360: How important do you feel mock tests are and why? Is it true that if one solves the previous year question papers, there is a good chance of cracking exam successfully?
Mohammad Saajid Hauq: Mock tests and solving the previous year GATE problems are the heart of the preparation and a good chance of cracking the exam successfully. You see you get to know what the exam pattern is like, you understand time management.
Careers360: Which books did you follow for GATE preparation? Pis name some very important must read books for GATE
Mohammad Saajid Hauq:The standard textbooks are good. I followed the Ace Academy notes as they were elaborate. For doubts, I referred to C.L.Wadhava and PS Bhimbra etc.
Careers360: Which are the topics one should focus more on? Kindly give us some details
Mohammad Saajid Hauq: Well, don't neglect Maths. Like I said earlier, its scoring. Apart from that, one should touch all topics. There is nothing like more important or less. A question may come from anywhere.
Careers360: What was the toughest aspect in your GATE preparation?
Mohammad Saajid Hauq: The toughest aspect during GATE preparation was to focus and not deviate. It's hard to motivate oneself to get going. At such times, I would remind myself that if I put in hard work for these next few months, I would reap the benefits and fulfill my dream. So the effort is worth it. Only you should push to reach there. 
Careers360: What did you do for leisure? Any specific activities that helped you unwind?
Mohammad Saajid Hauq:My afternoon nap was something that helped. I would sleep every afternoon for around one and a half hours but not more. It allowed me to start again with a fresh mind and the tiredness would disappear. So I would recommend that.
Careers360: How should you schedule answering the GATE exam -which section to attempt first and which next? Did you have any strategy? Kindly share your exam experience with us.
Mohammad Saajid Hauq: If you are stressed out during the exam, chances are you may not do well. So try to avoid that. I attempted the aptitude questions first and then one mark questions. Last I went for the 2-mark questions.
This method allows one to be immersed in the exam and then the stress will drop once the answers roll out.
Careers360: What did you feel was a tough thing for you in the GATE exam?
Mohammad Saajid Hauq: My first advice would be to not to think that you have to solve each and every question. I did plan the exam but ended up doing some silly mistakes. I also thought to solve all the questions but couldn't so I got tensed.
It's okay not to know some, not to get time to answer some. I know after all the hard work, that would be tough but you stand better chances of scoring when you do most of them right rather than go wrong in this quest of answering everything.
Careers360: Any advice for the future aspirants?
Mohammad Saajid Hauq: Build you conceptual and technical base well. If the foundation is strong, you can build further. Surround yourself with positivity and motivate yourself. My mother is my strongest motivator and she kept me going. So lean on someone like that if you need to. Always share your learning – you will only improve yourself. Last but not least – Do not deviate from your goal; focus hard and don't stop till you reach there.
Questions related to GATE
Showing 16221 out of 16221 Questions