GATE 2018 Topper Interview Kunal Saurav AIR 66 (EE) - "Hard work has no alternative"
The afternoon of March 16 brought long due satisfaction and happiness to the hard work and struggle of Kunal Saurav with the announcement of GATE 2018 result. Kunal secured an AIR of 66   in his GATE EE paper. Hailing from Araria district of Bihar, Kunal has completed his graduation in Electrical Engineering from NIT Uttarakhand and dreams to work in a leading PSU. Kunal dedicates his success to his family who were his constant supporters. He believes that hard work has no substitute and hence should not be compromised with. According to him, one must figure out a strategy while preparing and appearing for GATE to succeed. In an exclusive interview with Careers360, Kunal shares the books he read while preparing for GATE, his study schedule, exam day strategy, importance of practicing mock tests and more. Read to know.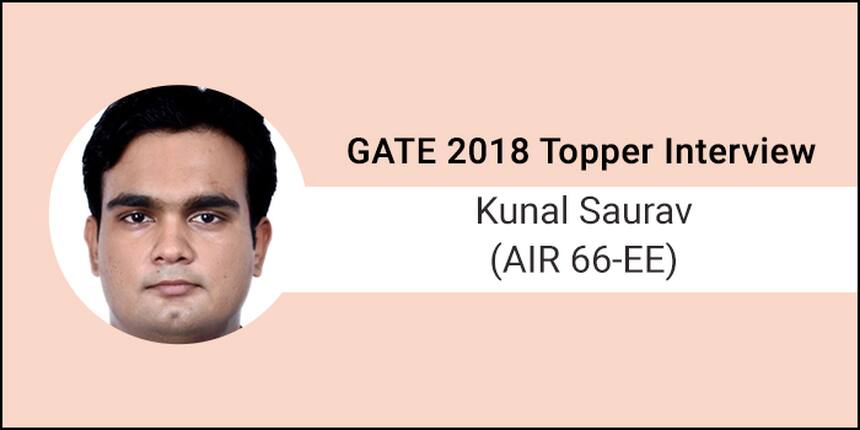 Careers360: Tell us something about yourself; Where have you done your engineering from and in which branch?
Kunal Saurav: I come from a small town called Araria in Bihar. I have done my B.Tech in Electrical and Electronics branch from NIT Uttarakhand.
Careers360:  What was the GATE Paper you appeared in? What rank did you get in GATE 2018? What is your GATE score and how many marks did you secure out of 100 in GATE paper?
Kunal Saurav: I appeared for Electrical Engineering paper in GATE 2018. I secured an AIR of 66 in the entrance exam. My GATE score is 885 out of 1000 and I got 77.67 marks out of 100.
Careers360:  Is this your first attempt or did you attempt GATE earlier?
Kunal Saurav:This is my second attempt. I secured an AIR of 688 in GATE 2017.
Careers360:  What was the reason you appeared for GATE 2018? Pls elaborate.
Kunal Saurav:My main goal is to work in a leading PSU and for that I need to have a good rank.
Careers360:  Have you applied to any PSUs recruiting through GATE? Which ones?
Kunal Saurav: Yes, I have applied to PSUs such as IOCL, BHEL, NTPC, PGCIL, HPCL, SAIL and more.
Careers360:  When did you start your preparation?  How did you prepare for the GATE exam? How many hours did you put in per day as per the stage of preparation?
Kunal Saurav:I started my preparation from June 2017. This time, I was clear about my weaknesses and worked out a strategy to overcome them to secure a good rank. My main focus was on test series and solving as many questions as I could. After each test, I used to analyse my mistakes then revise that subject. I did this about 3 times for each subject. I tried to study for 8 hours daily but my effective study hour were only 6 hours per day.
Careers360:  Have you taken any coaching? If yes- From where? How did it help?
Kunal Saurav:Yes, I had enrolled for a summer GATE crash course in Ace Academy, Hyderabad for GATE 2017. It helped me a lot by giving me knowledge about the complete GATE syllabus. After that, all depends on how much you practice the various questions.
Careers360:  Can you share any preparation strategies with our readers? When should one start their preparation for GATE? How to schedule study time and make timetables?
Kunal Saurav: To crack GATE, one should start early say April. Balance your study between tough and easy subjects. Give 3 hours daily to the tough ones and do the easy subjects also on same day so that you don't feel bored and clear your all doubts and weak areas. I am sharing the time table which I followed during my preparation days.
GATE Study Time Table
| | | |
| --- | --- | --- |
| Types | Topics | Marks |
| Easy Topics | Network Theory, Control System, Digital Electronics, EMT | 25-30 marks |
| Medium Topics | Signal System, Engineering Mathematics, Aptitude, Analog Electronics, Measurement | 40 marks |
| Tough Topics | Power Electronics, Power System, Electrical Machine | 30 marks |
For test series I followed this month wise strategy:
| | | |
| --- | --- | --- |
| S.No | Month | Strategy |
| 1 | June | (Part Test) daily then revision |
| 2 | July | (Subject Test) then revision one day after |
| 3 | August | (Subject Test) then revision one day after |
| 4 | September | (Mock Test) then revision one day after |
| 5 | October | (Mixed Test) Revision |
| 6 | November | (Mock Test) every 3 to 4 days followed by revision |
| 7 | December | Only Revision |
| 8 | January | (Mock Tests) every 3 days |
Careers360: How important do you feel mock tests are and why? Is it true that if one solves the previous year question papers, there is a good chance of cracking the exam successfully?
Kunal Saurav:GATEmock tests are very important. They are the way through which you can test and analyse yourself. I think all rankers scoring between 1-500 ranks have the knowledge but the only difference in their performance comes from practicing of test series. The previous year's question papers will tell you how the paper this year will be. These papers will give an idea for your approach towards new questions that will be asked in the paper, since the concepts will be same.
Careers360: Which books did you follow for GATE preparation? Pls name some very important must read books for GATE.
Kunal Saurav:I used to study from my class notes only. However, I referred to the following books when I had doubts in certain topics.
| | |
| --- | --- |
| S.No. | Books |
| 1 | Power System (C.L.Wadhwa) |
| 2 | Power Electronics (P.S.Bhimbra) |
| 3 | Electrical Machine (P.S.Bhimbra) |
| 4 | Analog Electronics (Boylestad) |
Careers360: Which are the topics one should focus more on? Kindly give us some details.
Kunal Saurav:Power System, Electrical Machine, Power Electronics, Signal And System are some important topics as conceptual questions are asked from these topics. Practice questions for Network Theory And Control System as these are easy and scoring subjects.
Careers360: What was the toughest aspect in your GATE preparation?
Kunal Saurav:The toughest aspect was to keep myself self-motivated the entire time of my GATE preparation as it was based on self-study. One can easily get demotivated and therefore look to ways to motivate themselves.
Careers360: Name some important Topics that you feel are a must read for any student attempting GATE exam?
Kunal Saurav:In GATE, all subjects are important. You can't ignore any subject, if you want to secure a good rank. However, Engineering Maths, Control System, Network Theory, Aptitude are easy and scoring. That's why you must check and practice these topics.
Careers360: What did you do for leisure? Any specific activities that helped you unwind?
Kunal Saurav:Iused to listen to my old childhood songs to relax myself.
Careers360: How should you schedule answering the GATE exam – which section to attempt first and which next? Did you have any strategy? Kindly share your exam experience with us.
Kunal Saurav:GATE is about strategy. This year, the exam focus was more on accuracy, time management and concepts.I started with 2 marks technical questions first and completed them in one and half hours as NAT questions demand time. I then switched to non-technical 2 marks questions in between to give myself some time to think. Thereafter, I attempted 1 mark questions, and completed the remaining non-technical questions.
Careers360: What did you feel was a tough thing for you in the GATE exam?
Kunal Saurav:The tough thing to manage in GATE is time. I could do technical 1 mark questions in 30 minutes only due to mismanagement. One must try not to leave any question. They should start off rather go through the whole question paper and attempt the questions they know.
Careers360: Any advice for the future aspirants?
Kunal Saurav: I would say if you are determined to achieve something and you have the potential then don't bother about other things. Make a planned strategy, clear your concepts, practice questions, and give lots of mock tests. There is no alternative to hard work as it is the one factor that will only lead you to success.
Questions related to GATE
Showing 15338 out of 15338 Questions