GATE 2018 Topper Interview Arpita Biswas (AIR 44, CH): "Believe in yourself and success is yours"
With the announcement of GATE 2018 result, all the corners of the country are glorifying the achievements of the meritorious ones who have come out on top. In such a hustle-bustle where mostly male candidates have come out in flying colours it is indeed a positive sign to see the girls come on top too. Careers360 caught with Arpita Biswas, a Kolkata girl who fetched an All India Rank (AIR) 44 in GATE Chemical Engineering branchmaking her parents proud. A final year student of NIT Warangal, Arpita has worked hard to get a position amongst the top 50 in a GATE paper that has a substantial number of students appearing for it. During her interaction, Biswas shared her GATE journey, experience on attempting paper for the first time, preparation travails and tips that make her crack the exam successfully.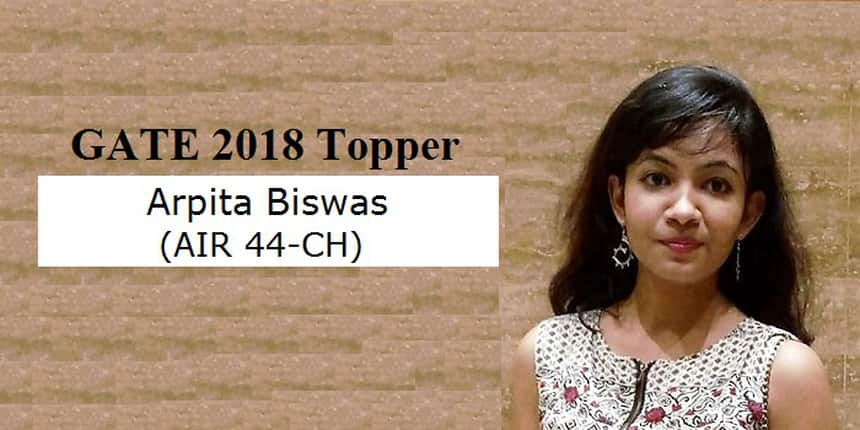 [Want to Know Which Colleges, Specialization and PSUs to Apply on the basis of your GATE 2018 Scores? Click here]
Careers360: Tell us something about yourself; Where have you done your engineering from and in which branch?
Arpita Biswas: I am Arpita Biswas from Kolkata. I am in the final year of B.Tech Chemical Engineering at NIT Warangal.
Careers360: What was the GATE paper you appeared in? What rank did you get in GATE 2018? What is your GATE score and how many marks did you secure out of 100 in GATE paper?
Arpita Biswas: I appeared for GATE Chemical Engineering and got an AIR of 44. My GATE score is 817 and I scored 72 marks out of 100.
Careers360: Is this your first attempt or did you attempt GATE earlier?
Arpita Biswas: Yes,this was my first attempt at GATE.
Careers360: What was the reason you appeared for GATE 2018? Please elaborate.
Arpita Biswas: The reason why I appeared for GATE 2018 is that clearing the exam opens up lot of career options for any student, whether it is in terms of jobs at the reputed PSUs , BARC or for higher studies in IISc , IITs, NITs and various foreign universities accepting GATE scores. My reason to write GATE 2018 was to grab a job at one of the leading PSUs.
Careers360: Have you applied to any PSUs recruiting through GATE? Which ones?
Arpita Biswas: Yes, I have applied for HPCL and IOCL this year. ONGC, GAIL are yet to open their applications. So I shall be applying to them too.
Careers360: When did you start your preparation? How did you prepare for the GATE exam ? How many hours did you put in per day as per the stage of preparation?
Arpita Biswas: I started my preparations from the onset of my fourth year of engineering.GATE 2018 preparation is a step-by-step process; at first a thorough and proper analysis of the syllabus is to be done to understand the task on hand. Then I studied the topics from the prescribed text books, NPTEL study materials and prepared my own notes on the side. A thorough and proper analysis and solving all the previous year questions was another major step. Then, I started taking GATE 2018 mock tests and test series from December. I just compiled all important formula and concepts from all the subjects in one notebook to revise daily. It was this short notes that saved my time and helped me to revise well.
Careers360: Have you taken any coaching? If yes, from where? How did it help?
Arpita Biswas: No, I did not take any coaching. Self-study is my strength and I did well on the basis of that .
Careers360: Can you share any preparation strategies with our readers? When should one start their preparation for GATE? How to schedule study time and make timetables?
Arpita Biswas: I followed a step-by-step strategy. A rigorous study preparation for 4-6 months can help a student do fairly well in this exam. It is important to be regular and steady in your efforts. As GATE syllabus is pretty vast with many subjects/topics to cover, it is important to study all of them but more important is to keep revising them from time to time. That's why a timetable is very useful and necessary. I used my weekends for revision of all the subjects' notes and for mock tests while my weekdays were for subject-wise study.
Careers360: How important do you feel mock tests are and why? Is it true that if one solves the previous year question papers, there is a good chance of cracking the exam successfully?
Arpita Biswas: Mock tests are very important as they give a real time idea of where we stand in our preparation. They also help in time management, getting used to the exam pattern, mode of exam. One important advantage is getting well acquainted with the virtual calculator. Mock tests also help us rectify our mistakes and refine our preparation.
Careers360: Which books did you follow for GATE preparation? Please name some very important must read books for GATE.
Arpita Biswas: NPTEL is a good place to check the reference books for all subjects. Some common books I referred to are
Important must read books for GATE
| | |
| --- | --- |
| Books By | Topic refereed for |
| JP Holman | Heat Transfer |
| Mc Cabe -FPM and MO | Unit Operations of Chemical Engineering |
| BK Dutta | Principles of Mass Transfer and Separation Processes |
| Fogler | Essentials of Chemical Reaction Engineering |
| JM Smith | Introduction to Chemical Engineering Thermodynamics |
| Ram Prasad | Chemical Engineering For Gate Principles Solved Problems & Objective Type Questions |
| M.Subbu | An Insight into Chemical Engineering |
Careers360: Which are the topics one should focus more on? Kindly give us some details.
Arpita Biswas: The main subjects that are to be covered are
| | |
| --- | --- |
| Subject | Topics to be covered |
| Mass Transfer (Mainly Part 2) | The separation operations |
| Chemical Reaction engineering | Reactor sizing and conversion calculations |
| Heat Transfer | Steady state heat transfer,heat transfer equipments, newtons law of cooling |
| Fluid and Particle Mechanics | Fluid statics, flow measurement devices, particle dynamics |
| Thermodynamics | Laws of thermodynamics, solution thermodynamics, degree of freedom analysis. |
Careers360: What was the toughest aspect in your GATE preparation?
Arpita Biswas: Covering the vast GATE 2018 syllabus was the toughest aspect for me.
Careers360: What did you do for leisure? Any specific activities that helped you unwind?
Arpita Biswas: Music, spending time with friends helped me unwind the stress.
Careers360: How should you schedule answering the GATE exam – which section to attempt first and which next? Did you have any strategy? Kindly share your exam experience with us.
Arpita Biswas: I actually attempted the Chemical Engineering section at first, and left about half an hour for the GA section.
Careers360: What did you feel was a tough thing for you in the GATE exam?
Arpita Biswas: The syllabus and portions, remembering all the concepts, avoiding silly mistakes were the things I felt tough.
Careers360: Any advice for the future aspirants?
Arpita Biswas: I feel the first and most important step to success is to believe in yourself; next a strategic, steady hard-work and determination can help you achieve your goals. All the best!
Questions related to GATE
Showing 14546 out of 14546 Questions