GATE 2017 Topper Interview Ameya Dravid (AIR 2 BT ) - Sustain your determination to succeed and you can!
It is a dream for most of the GATE aspirants to make their way to the IITs and IISc Bangalore, the country's renowned institutes widely coveted for admissions. It is this dream turned passion which inspired Ameya Dravid, to secure an All India Rank of 2 in GATE 2017 Biotechnology. Ameya who is a final year student of B.Tech at VIT University feels that one should not give up when the chips are down. In a candid chat with Careers360, he tells us about the challenging aspects of his GATE preparation, difficulties faced during the exam, the books he consulted, the topics he feels should be given more emphasis during preparation and more. Read on to know about his GATE preparation journey.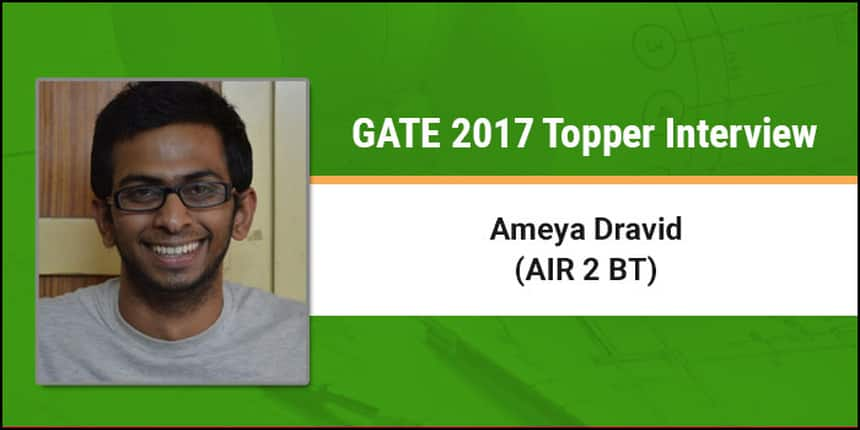 Related Posts:
Careers360: Tell us something about yourself; Where have you done your engineering from and in which branch?
Ameya Dravid: I am from Pune and doing my engineering from VIT University in Biotechnology. Currently, I am in the final semester.
Careers360: What was the GATE Paper you appeared in? What rank did you get in GATE 2017? What is your GATE score and how many marks did you secure out of 100 in GATE paper?
Ameya Dravid: I appeared for GATE Biotechnology in 2017. My All India Rank is 2. I scored 948 and my GATE marks out of 100 are 84.02.
Careers360: What was the reason you appeared for GATE 2017? Please elaborate your reasons.
Ameya Dravid: The GATE exam allows the opportunity to study at the premier institutes in the country like the IITs and IISc, Bangalore. I understand technology very well and I felt that I had a good chance of clearing GATE exam as compared to GRE. So I appeared for the exam.
Careers360: Have you applied to any PSUs recruiting through GATE?
Ameya Dravid: Till now I have not applied to any of the public sector units.
Careers360: When did you start your preparation?  How did you prepare for the GATE exam ? How many hours did you put in per day as per the stage of preparation?
Ameya Dravid: I started my GATE preparation towards the end of second year of my B.Tech. Initially, I was not very organised then. So my study for four hours per day was not very productive. It was later that I started preparing on a very serious note and put in more effort to understanding the concepts. A week before the GATE 2017 exam, I was studying for almost fifteen hours.
Careers360: Have you taken any coaching? If yes- From where? How did it help?
Ameya Dravid: I did not join any coaching for the GATE exam. My teachers at VIT mentored me throughout the period of my GATE preparation and I felt that was enough for me. However, I had registered for practice tests from GateForum.
Careers360: Can you share any preparation strategies with our readers? When should one start their preparation for GATE? How to schedule study time and make timetables?
Ameya Dravid: Since, I like studying at night, I used to schedule four hours before going to bed for GATE preparation. My timetable for preparation given below in the table:
Hourly division of GATE Preparation
| | | |
| --- | --- | --- |
| S.No | Hour | Particulars |
| 1. | First Hour | Solve the papers and make note of those topics which I am not able to grasp |
| 2. | Second Hour | Tried to solve the questions on those topics which I found difficult till the time I got correct answers and developed conceptual clarity.  |
| 3. | Third Hour | Read extensively about different topics from various  websites, articles and books |
| 4 | Fourth Hour | Revised what I studied the previous day |
Careers360: Name some important topics that you feel are a must read for any student attempting GATE exam?
Ameya Dravid: The topics which I found most important are given below:
List of Topics
| | |
| --- | --- |
| S. No | Topics |
| 1. | Antibodies and Cells of Immune System. |
| 2. | Cell growth and reaction kinetics |
| 3. | Resistance in Plants(yes, you have to memorise the lists of herbicides) |
| 4. | Basic integration and differentiation |
| 5. | Basics of Vectors and Matrices |
| 6. | Flatfile formats in Bioinformatics |
| 7. | Antibiotic resistance mechanisms |
Careers360: Which books did you follow for GATE preparation? Please name some very important must read books for GATE.
Ameya Dravid: The books that I consulted for GATE 2017 are given below.
Topic Wise Names of Books
S.No

Topic

Name of the book and Author

1.

Cell Biology

Molecular Cell Biology by lodish and Baltimore

2.

Molecular biology

Molecular biology of the gene-James Watson

3.

Bioprocess

(i) Bioprocess Engineering principles(Pauline Doran

(ii)Bioprocess Engineering(Schuler & Kargi)

4.

Immunology

Immunology(Kuby)

5.

Microbiology

Microbiology(Prescott) and Microbiology(Pelczar)

6.

Genetic engineering

Gene cloning and DNA analysis(T.A Brown) and Principles of Gene manipulation(Primrose & Twyman)

7.

Mathematics

Advanced Engineering Mathematics(Erwin Kreyszig)

8.

Plant Biotech

Plant Biotech(Slater)
Careers360: How important do you feel mock tests are and why? Is it true that if one solves the previous year question papers, there is a good chance of cracking the exam successfully?
Ameya Dravid: It isequally important to take up mock tests and solve the GATE question papers from previous years. Mock tests help you stay focussed and help you to push your limits. The mock tests are normally tougher as compared to the actual papers. Solving GATE sample papers will help you to gauge the pattern of the actual GATE paper. The trick to crack the paper is no secret. One must take up the mock exams at regular intervals to know the level of one's preparation.
Careers360: What was the toughest aspect in your GATE preparation?
Ameya Dravid: Starting the preparation for GATE exam was the tough aspect. When I began preparing for GATE 2017, I was not performing well in my academics and was not very confident about my preparation. Once I gained momentum, everything was fine.

Careers360: What did you feel was a tough thing in the GATE exam?
Ameya Dravid: The General Aptitude questions were tricky and you can lose marks if you do not pay attention.
Careers360: How should one schedule answering the GATE exam – which section to attempt first and which next?
Ameya Dravid: The strategy that I followed for cracking the GATE exam is mentioned below :
1. 2 marks questions on Numerical Answer Type (NAT)- Firstly, I solved these questions as they are scoring and there is no negative marking
2.Match the columns: If you are able to find answers to even 2 fields, you will be able to get the answer and one field if you are lucky.
3.1 mark questions on NAT: It is the same reason as the first one as the objective is to score maximum marks
4.MCQ: I attempted both 1 and 2 marks questions.
5.Maths and General aptitude.
Careers360: What did you do for leisure? Any specific activities that helped you unwind?
Ameya Dravid: I used to read and learn new stuff from the internet. This is used to break the monotony and rejuvenate my mind. On other occasions, I watched, F.R.I.E.N.D.S. and Breaking Bad.
Careers360: Any advice for the future aspirants?
Ameya Dravid: There will be times during your  preparation when you will feel you have reached your saturation point as you are multitasking and juggling college, GATE preparation all at one go. You also must win the battle between laziness and hard work. The choice is always up to the you. It depends on how badly you want to accomplish your goal. Once you are able to achieve your goal, you can enjoy other aspects which you had missed. All the best!
Read Also
Stay tuned to engineering.careers360.com for more news and updates on GATE 2017.
Questions related to GATE
Showing 15328 out of 15328 Questions