GATE 2016 Topper Interview - Amit Srivastava (AIR 20, ME) - Consistency, Hard Work and Persistency are the keys to success


GATE 2016 Results declared on March 18, 2016 brought forth many smiles to candidates who had worked very hard with an intention to do well in this largest online post graduate engineering entrance exam of the country. Amit Srivastava who appeared for GATE 2016 in Mechanical Engineering is one such student whose hard work paid off with an all India Rank of 20 in GATE 2016 ME Paper.


Stay up-to date with GATE News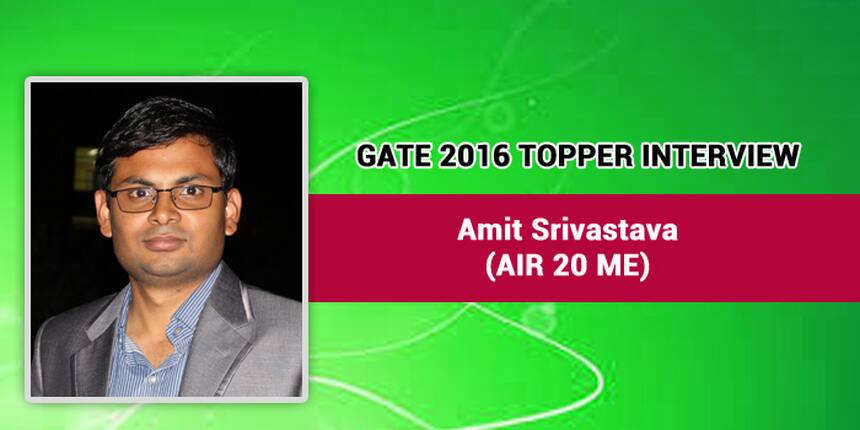 Related Posts:
A B.Tech in Mechanical Engineering from IIIT-DM Jabalpur, Amit talks about how Consistency, Hard Work and Persistency are the keys to his success. Read on to know about how he started preparing for GATE 2016, books referred by him, difficulties faced during the preparation and advice to future aspirants..
Careers360: Tell us something about yourself? Where have you done your engineering from and in which branch?
Amit Srivastava: My name is Amit Srivastava and I am basically from Jaunpur, Uttar Pradesh. I have done my schooling from Allahabad. My father Mr. U.C. Srivastava is a loco pilot in Indian Railways. I have done my B.Tech from IIIT-DM Jabalpur in Mechanical Engineering with a CPI 9.3.
Careers360: What was the GATE Paper you appeared in? What rank did you get in GATE 2016? What is your GATE score and how many marks did you secure out of 100 in GATE paper?
Amit Srivastava: I appeared for Mechanical Engineering Paper (Code ME) in GATE 2016 and secured an All India Rank of 20. My GATE 2016 score is 939 and GATE 2016 marks are 87.38 out of 100.
Careers360: What was the reason you appeared for GATE 2016? PSU or further studies? Please elaborate your reasons.
Amit Srivastava: GATE provides a wonderful opportunity for both - further studies and jobs in PSUs. I am looking forward to join a leading PSU.


Careers360: If PSU, have you applied to any?  If yes, which ones?
Amit Srivastava: I have applied in almost all the top PSUs. Actually in an exam like GATE, you cannot predict your rank no matter how much you are prepared and how well you have written the exam. I have applied in NTPC, GAIL, ONGC, IOCL, BPCL, BHEL to name a few.


Careers360: When did you start your preparation?  How did you prepare? How many hours did you put in daily as per the stages of preparation?
Amit Srivastava: I started my preparation from the final year of my graduation. I started with my college notes and slowly switched to other available resources. Here I would like to point out that your grasp of the basic concepts of your subject should be clear because no matter how many questions you may solve the next one may be new to you. Therefore if you are good with your basics, you can derive the answer rather than know it.
I feel about 5-6 hours/day is a decent time that one should put in for GATE preparation.


Careers360: Have you taken any coaching? If yes - from where? How did it help?
Amit Srivastava: Yes, I have taken coaching from MADE EASY, Delhi. Coaching does help to a certain extent but my belief is that at the end of day, what matters is your own effort. Coaching helps you to maintain regularity in your studies as you need to pay attention to what is taught in class and revise the topic that is to be taught in the class etc.  
Careers360: The virtual calculator is the new feature introduced this year? How was your experience with it? Do you think it is necessary that students should practise with it to get acquainted with its working as most of the engineering students are used to the good old calculator?
Amit Srivastava: Shifting to a new thing is always difficult, also, we all have a tendency to resist change. The Online calculator is a new feature; a little different but can be mastered with a little practice. This will come only if you spend some time with it. When you are solving questions at your home or room, try to use the virtual calculator instead of the old conventional physical one and within weeks you would be in a comfort zone with it.
Careers360: What did you do for leisure?
Amit Srivastava: I usually listened to old Bollywood songs of Rafi, Kishore, Mukesh, etc. and poetry of Gulzaar. I also watched a handful of old b/w Bollywood movies and some Malayalam movies of Nithya Menon and Fahad Fazil.
Careers360:  GATE 2016 saw a substantial amount of numerical questions asked when compared to previous years. Were you prepared for this eventuality? How did you prepare for the numerical questions considering that they require speed in calculating the solutions?
Amit Srivastava: Yes, I expected this and was prepared for the numerical based questions. The trick I feel is to try and solve the simpler expressions manually. This gives you speed. I would advise sparse usage of the virtual calculator for such easy questions. I have seen that most of us solve each and every step on the calculator, copy it on the paper and then spend a lot of time on it. We make errors while copying the calculations too. So drop this practice; use the calculator to the minimum required and derive the final expressions on the paper thereby reducing your scope of error. You see NAT questions are the test for accuracy and need careful handling.
Careers360: Can you share any preparation strategy with our readers? How to schedule study time and make timetable?
Amit Srivastava: I feel that timetable does not work out as we follow it for a day or two and then we start making excuses and neglect to follow it. So, I didn't make any kind of timetable. One thing that I did each day before going to bed was to analyse my work for the day. With this I figured where I was wasting time and plugged those areas. The best part of this exercise if done properly is that you realise where you need to put efforts, what you should avoid doing in short reducing the time wasted. I started moving in the right direction by utilizing my time productively in my preparation.
I feel that self-study is better than group study. The analysis can be done within a group as you then get to discuss your doubts, figure out solutions and sometimes get a new perspective to the topic but definitely to get to the point, you need to study by yourself.
Careers360: How should one schedule answering the GATE exam – which section to attempt first and which next?
Amit Srivastava: It varies from person to person. My take on this is - always start from the section you think is easiest and you are confident in. If you are good in English, then by all means start with it; and if you are good in aptitude, then go for it first. The reason for this is that a good start builds your confidence. Therefore if the starting 3-4 questions go good, it gives you the much needed initial impetus and you can get going.
In my case, I started from the Aptitude section, then went on to tackle the technical objective followed by English and then approaching the subjective, which does not need much calculation. Last came the leftover questions and a quick revision.
A small advice here - do not spend too much time on lengthy questions as even numerical based questions in GATE are formula based or can be solved in 4-5 lines.
Careers360: Name some important topics that you feel are a must read for any student attempting GATE exam?
Amit Srivastava: Every topic is important. If one can, one should complete a majority of GATE Syllabus if not the whole thing. Some Important Topics that are a must read for Mechanical Engineering:
| | |
| --- | --- |
| TOM | QRR, Velocity Diagram, Magnification ratio and transmissibility |
| SOM | Basic bending moment and torsion equations |
| Industrial | Exponential Smoothing, Critical Path |
| Fluid Mechanics | Velocity of flow over pipe and plate, Boundary layer thickness |
| Manufacturing | Types of casting and defects, Rolling maximum reduction in one pass, merchant circle diagram |
| Thermodynamics & IC Engine | Otto and diesel cycle, p-v and t-s diagram |
| HMT | Effectiveness of HeX, finding intermediate temperature on wall |
Careers360:  Since all the GATE exams are online now, how mandatory is it for students to practice online and how frequently?
Amit Srivastava: It is important to take online exams as it gives you an edge over other students as you become familiar with GATE exam pattern. I think if you appear for an approximate of 20-25 tests, it should suffice for the complete course of preparation.


Careers360: What did you find challenging in GATE exam?
Amit Srivastava: Generally when you come across a question which you consider as your strength and you are struck, it is difficult to leave that question and move forward. I too came across this situation during my GATE 2016 exam.


Careers360: How important do you feel mock tests are and why? Is it true that if one solves the previous year question papers, there is a good chance of cracking the exam successfully?
Amit Srivastava: Previous years' question papers are important to solve as about half of the questions are of the same pattern or repeated with minute changes. It gives you a benefit of 10-15 marks. The advantages of appearing for a Mock Test is that it relieves you of any exam fear and helps to release the tension as you become familiar to the GATE exam environment.
Careers360: Which books did you follow for GATE preparation?
Amit Srivastava: Books are useful but only for reference in case of some standard topics. Some of the books that I referred to are:
| | |
| --- | --- |
| Topics | Authors |
| TOM | SS Rattan |
| Thermodynamics | Shontaag, Wiley Publication |
| Fluid | RK Bansal |
| Industrial and HMT | Notes of any coaching centre would be sufficient |
| Manufacturing Science | P.N Rao |
| MD | VB Bhandari |
One of the most important things to do is to check and solve the last few year GATE Question papers, especially the ones after the year 2000. Selective study should be done after marking the areas from where questions are being asked.


Careers360: Any advice for the future aspirants?
Amit Srivastava: Consistency, Hard work and Persistency are the keys to success. Be positive, confident and loyal in your effort.
All the best!
Keep tuned to engineering.careers360 for more Toppers' Interviews, Preparation Strategies, Books and more for GATE 2016. 
Questions related to GATE
Showing 16208 out of 16208 Questions