GATE 2015 Topper - Suhit Sinha AIR 10 in Computer Science Engineering


GATE 2016 is less than 4 months away and will be held January 30 &31, 2016 as well as February 6 & 7, 2016. Careers360 bring another interview with Suhit Sinha who scored AIR 10 in Computer Science engineering in GATE 2015. Suhit prepared for GATE 2015 while being employed full time at a leading MNC. Carefully scheduling and adhering to his study plan, Suhit Sinha tasted success in GATE 2015 thus fulfilling his dream of studying further from IIT Bombay. Read more about Suhit's preparation strategies and how he worked his way to being one of the toppers in GATE 2015.
Stay up-to date with GATE News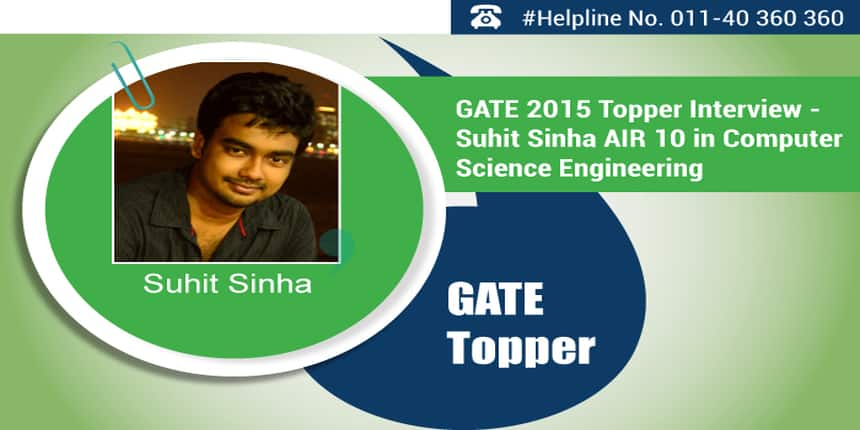 Related Posts:
Careers360: Tell us something about yourself; where have you done your engineering from and in which branch?
Suhit Sinha: I have done my engineering from Kalyani Govt. Engineering College, one of the government colleges of West Bengal, in Computer Science and Engineering.


Careers360: what was the GATE Paper you appeared in? What rank did you get in GATE 2015? What is your GATE score and how many marks did you secure out of 100 in GATE paper?
Suhit Sinha: I appeared in Computer Science paper in Gate 2015 and secured GATE AIR 10. I scored 77.67 marks out of 100. This score was normalized to 77.62. I appeared for the exam in 2nd slot.


Careers360: What was the reason you appeared for GATE 2015? PSU or further studies? Pls elaborate your reasons.
Suhit Sinha: I was working in an IT Service MNC while appearing for GATE 2015. My reason for writing GATE 2015 was solely to pursue higher studies in one of the premier institutes India, i.e. IITs or IISC Bangalore. IITs provide the best platform to an engineer to pursue his future endeavour and this is what attracts me the most. Be it quality of studies, facilities or getting high end jobs, IITs are the best of them all.


Careers360: If PSU, have you applied to any and which ones?
Suhit Sinha: I was more or less sure of not joining any PSU jobs; but I applied for IOCL only and got a call for interview from their side.  I attended the interview for experience sake. Few days back, I got the final joining offer from them but I will not be joining them.


Careers360: When did you start your preparation?  How did you prepare? How many hours did you put in per day as per the stage of preparation?
Suhit Sinha: As I said earlier, I was employed when GATE 2015 was announced. So I had to study only after my office hours. Therefore, I started my preparation from the very beginning of November, 2014. I tried to put some extra effort on weekends. During the weekdays, I tried to study as much as I could. One of the points I would like to mention here is that group studies helped me a lot. I can say, it clears a lot of doubts very quickly.


Careers360: Have you taken any coaching? If yes- From where? How did it help?
Suhit Sinha: No, I haven't taken any coaching for GATE 2015. I had only taken mock test for the purpose of GATE 2015. It helped me to get an idea of the GATE interface and also helped me to know where I stood with my current preparation at that point of time.


Careers360:  GATE 2015 saw a substantial amount of numerical questions asked when compared to previous years. Were you prepared for this eventuality? How did you prepare for the numerical questions considering that they require speed in calculating the solutions?
Suhit Sinha: I had not prepared for numerical questions separately. Instead I solved all the questions in detail during my practice. This helped me while solving the numerical questions asked in the GATE 2015 exam. Also the mock tests had given me a rough idea about the amount of questions I could expect in the GATE paper.


Careers360: Can you share any preparation strategies with our readers? How to schedule study time and make timetables?
Suhit Sinha: Few points I want to emphasize on are,
Start your preparation early, at least 4 months before exam.

Read whatever you can in detail. Questions can be asked from anywhere.

Don't go over any topic casually or skim over it. There can be questions from that part itself.

Make sure to practice the previous GATE papers in detail. It will give an idea about the GATE paper.
Careers360: How should one schedule answering the GATE exam – which section to attempt first and which next?
Suhit Sinha: I attempted my GATE paper as follows:
I Started with the 1 mark questions in CS and then went to the 2 mark questions. I attempted the Aptitude part at the end.

It may vary from person to person and is completely up to the person appearing for the exam. You should go with what you are comfortable with.
Careers360: Name some important Topics that you feel are a must read for any student attempting GATE exam?
Suhit Sinha: For Computer Science paper, I think Automata, Networking, Operating Systems, Digital Electronics, Data Structure, DBMS and Maths are the main scoring areas. These topics have a large share of questions in each year's GATE paper. Specially don't miss the maths part. Its easy to score from this area and also have 15 marks in GATE which may become a deciding factor.


Careers360:  Since all the GATE exams are online now, how mandatory is it for students to practice online and how frequently?
Suhit Sinha: I think CS students should be quite comfortable with the online thing. However, a prior idea regarding the interface will help a student tackle the exam hours comfortably. Known things always help to calm your nerves.
Careers360: What did you feel was a tough thing in the GATE exam?
Suhit Sinha: I think there were a few more than expected questions from software engineering in this year's paper. Also, a few questions from Computer Architecture and networking were tough.
Careers360: How important do you feel mock tests are and why? Is it true that if one solves the previous year question papers, there is a good chance of cracking the exam successfully?
Suhit Sinha: Coming to the 2nd question first, yes I think if you solve previous year GATE papers thoroughly then there is a good chance that you will crack the exam more easily. Of course this has to be after studying the whole syllabus by yourself.


Now coming to the first question, it's good to take a mock exam before the GATE exam to get a rough idea of how the exam works and where you stand with your preparation. But except that, it will not impact in a huge way.
Careers360: Which books did you follow for GATE preparation?
Suhit Sinha: Books I studied are as follows:
Topics

Authors

Digital Electronics

Salivahanan

Architecture

Moris Mano

Automata Theory

NPTEL lectures by Kamala Krithivasan

Data Structures

NPTEL Lecture by P. P. Chakroborty

Data Structures & Algorithms by R.S. Salaria

C

Dennis Ritchie

Data Communications and Networking

Behrouz A. Forouzan

DBMS

Henry F. Korth

Normalization and indexing by Shamkant B. Navathe

Maths

Higher Engineering mathematics by B.S. Grewal

Advanced Engineering Mathematics by Erwin Kreyszig

Compiler

Aho,  Ulman
Careers360: .Any advice for the future aspirants?
Suhit Sinha: If you really dream about coming to IITs then it should not be too difficult to put 4-5 months of hard effort. I am currently in IIT Bombay and believe me it's a place you can dream of. You will get everything you can imagine over here.


My only advice to all the aspirants is that study each and every thing minutely. Don't just read it because you have to; instead cover each topic in detail. Try to cover your syllabus and dedicate the last month to only solve the questions of previous GATE papers.
We at Careers360 would love your inputs, suggestions to bring more useful articles to the fore. Drop all your comments on the exclusive GATE section at https://www.engineering.careers360.com/forums/gate/official-new-changes-in-gate-2016-ask-doubt-query-here

Must Read:
GATE 2015 Topper – Ravi Shankar Mishra AIR 1 in Computer Science Engineering
GATE Expert Interview- Mr.Aniruddh Pratap Singh (Faculty Made Easy Group)
Questions related to GATE
Showing 16208 out of 16208 Questions