BVP CET Syllabus 2023 - Download Latest Syllabus PDF
BVP CET Syllabus 2023 - The concerned authorities at Bharati Vidyapeeth (Deemed University) will release the BVP CET 2023 syllabus. Candidates interested in pursuing engineering at the institute will have to appear in BVP CET exam. The question paper for B.Tech course shall be divided into two parts with questions from topics as reflected in the syllabus of BVP CET 2023.
Latest Updates for BVP CET
Stay up-to date with BVP CET News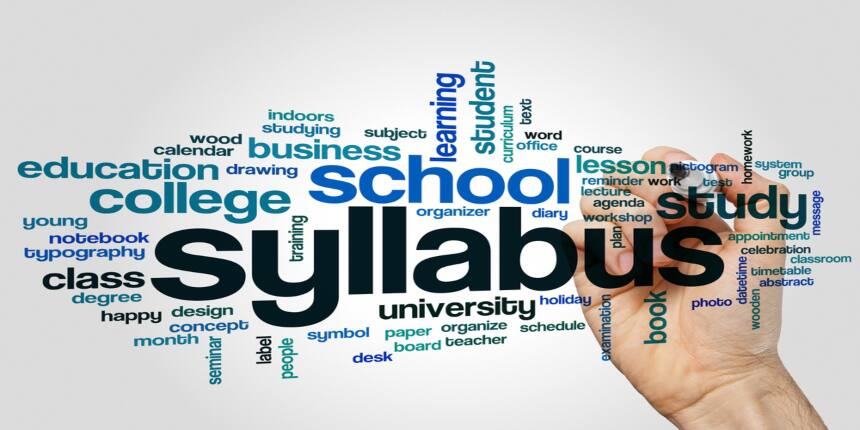 Candidates appearing in the entrance examination for upcoming session are always advised to go through the BVP CET syllabus 2023 before they gear up their preparation. The authorities frame the question paper in such a way that all the questions are stuck within the paradigm of BVP CET official syllabus. Candidates may check out the complete article below and find the BVP CET syllabus 2023 along with the exam pattern for the exam.
BVP CET 2023 Syllabus
Candidates who are going to appear in the upcoming session of BVP CET may check out the topics to be emphasized upon. Given below are subject specific topics for both Mathematics and Physics as these two are the only subjects asked for in BVP CET entrance test for engineering aspirants.
BVP CET Physics Syllabus
The following topics shall be covered in BVP CET syllabus under Physics:
Physical World and Measurement

Kinematics

Laws of Motion

Work, Energy and Power

Motion of Systems of Particles and Rigid Body

Gravitation

Properties of Bulk Matter

Thermodynamics

Oscillations and Waves

Electrostatics

Current Electricity

Magnetic Effects of Current and Magnetism

Electromagnetic Waves

Optics

Dual Nature of Matter and Radiation

Atoms and Nuclei

Electronic Devices
BVP CET Mathematics Syllabus
The following topics shall be covered in BVP CET syllabus under Mathematics subject:
Trigonometry

Determinant

Sets, Relations and Functions

Logarithm

Complex Numbers

Quadratic

Equations

Sequences and

Series

Permutations and Combinations

Mathematical Induction and Binomial Theorem

Limits & Continuity

Differentiation

Applications of

Derivatives

Integration

Application of integral

Differential equations

Boolean Algebra

Mathematical Logic

Matrices

Plane Coordinate Geometry

Vectors

Three Dimensional Geometry

Linear Programming

Statistics
BVP CET Exam Pattern
The authorities releases the BVP CET 2023 exam pattern along with the official brochure for the session. However, based on the previous trends, candidates may find the pattern of question paper in the table below:
66666666666666666
BVP CET Exam Pattern
Particulars

Details

Mode of Exam

Online Computer Based Test

Medium of Exam

English

Duration of Examination

3 hours

Sections in Question Paper

Two sections - Physics and Mathematics

Type of Questions

Objective (Multiple Choice Questions)

Total Number of Questions

200 questions

Marking Scheme

1 mark for every correct response.

No negative marking for incorrect answer
Frequently Asked Question (FAQs) - BVP CET Syllabus 2023 - Download Latest Syllabus PDF
Question: Who shall release the syllabus for BVP CET 2023?
Answer:
The concerned examination authorities at Bharati Vidyapeeth shall release the BVP CET syllabus 2023.
Question: How many subjects are there for BVP CET B.Tech entrance?
Answer:
There are two sections for BVP CET B.Tech test, namely Mathematics and Physics.
Question: Will there be topics from class 12 only for Physics?
Answer:
No, there will be topics from both class 11 and 12 for the Physics section.
Question: Is BVP CET syllabus much broader for B.Tech?
Answer:
No, the topics covered under BVP CET 2023 syllabus for engineering resemble those which have already been studied by candidates during class 11 and 12.
Questions related to BVP CET
Showing 350 out of 350 Questions