GATE 2018 Topper Interview Harsh Nagar AIR 2 (AG) – "Focus on accuracy & strengthen numerical calculations"
GATE 2018 Topper Interview – Winston S. Churchill once said, "Success is not final; failure is not fatal: It is the courage to continue that counts." This axiom comes true in case of Harsh Nagar, who has bagged an All India 2nd Rank in GATE 2018 Agricultural Engineering (AG) Paper. Though it was not easy for Harsh to crack GATE, however one of the most crucial elements of his preparation was consistency from beginning to end. Never for a day, has Harsh missed his preparation from his day to day life and this consistency is what brought him fruitful result. An avid singer (Who's busy with his live concerts during leisure period), Harsh Nagar wants to pursue M.Tech in Industrial Engineering from IIT Bombay, his dream institution. In a conversation with Careers360, he shares his preparation strategy, and what all must be kept in mind while preparing for the entrance exam. Read excerpts from the interview.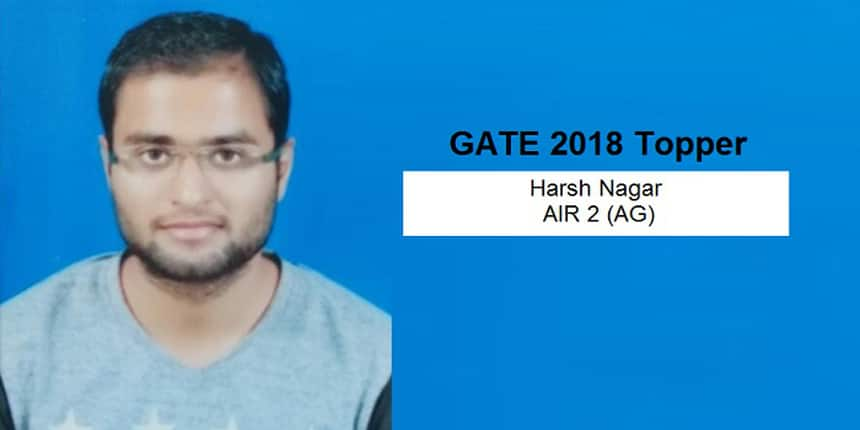 [Want to Know Which Colleges, Specialization and PSUs to Apply on the basis of your GATE 2018 Scores? Click here]
Careers360: Tell us something about yourself; where have you done your engineering from and in which branch?
Harsh Nagar: I am pursuing my B.Tech (Final Year) in Agricultural Engineering from College of Agricultural Engineering, Jawaharlal Nehru Krishi Vishvidyalaya, Jabalpur (MP). I belong to Kota, Rajasthan. My Father is a Doctor and Mother is a house wife.
Careers360: What was the GATE Paper you appeared in? What rank did you get in GATE 2018? What is your GATE score and how many marks did you secure out of 100 in GATE paper?
Harsh Nagar: I appeared in GATE Agricultural Engineering (AG) Paper. My Rank is 2 and I managed to score 950 out of 1000. Apart from this, I could secure 47.67 marks out of 100.
Careers360: Is this your first attempt or did you attempt GATE earlier?
Harsh Nagar: Yes, this is my first attempt.
Careers360: What was the reason you appeared for GATE 2018? Pls elaborate.
Harsh Nagar: I have taken GATE 2018 to pursue M.Tech from IIT Bombay in Industrial Engineering. Actually, I have a dream to begin my own start-up wherein I can do something or start something for the farmer community.
Careers360: Have you applied to any PSUs recruiting through GATE? Which ones? 
Harsh Nagar: No, I have not applied in any PSU. Though I am interested in PSUs, however, as far as my knowledge is concerned, there are hardly any PSUs which offer recruitment opportunities to candidates from Agricultural Engineering. So, I don't think there is any scope for me at PSUs.
Careers360: When did you start your preparation? How did you prepare for the GATE exam? How many hours did you put in per day as per the stage of preparation?
Harsh Nagar: I started my preparation when I was in my third year. I have prepared almost for a year. As there is hardly any coaching available for Agricultural Engineering, I have prepared for GATE on my own and sometimes in groups with friends. I would study for 2-3 hours a day, but maintained consistency throughout the year.
I feel short questions must not be ignored and simple and familiar questions must be attempted first, without feeling bogged down with the questions one does not know. My strength is my numerical base. So, I did not face much difficulty in GATE 2018. Out of the 65 questions, I have attempted 49.
Careers360: Do you think that coaching is important? Can't one do without coaching?
Harsh Nagar: In my view, coaching is not important. I and many of my friends have taken no coaching. You can crack GATE with self study also.
Careers360: How important do you feel mock tests are and why? Is it true that if one solves the previous year question papers, there is a good chance of cracking the exam successfully?
Harsh Nagar: There are no mock tests for Agricultural Engineering. However, I have practised last 10 years question papers of GATE which I feel are very important. Though I feel the pattern of the questions in the actual paper is different, but previous years question papers help a lot.
Careers360: Which books did you follow for GATE preparation?
Harsh Nagar: Some of the important books which I studied for my GATE preparation are:
Concept of Agricultural Engineering by Mohanty Das

Mathematics by Made Easy

Soil & Water Conservation by VVN Murty

Farm Machinery by Three Authors (popularly known by this name)
Careers360: Please name some very important topics one should focus more on? Kindly give us some details.
Harsh Nagar: Some of the important topics to focus on are:
Irrigation Engineering

Heat and Mass Transfer

Food

Farm Machinery

Mathematics  
Careers360: What was the toughest aspect in your GATE preparation?
Harsh Nagar: I didn't find any challenge in preparation or in the exam as my numerical base is strong. Also, one must practise the GATE calculator well before the exam so that he/she is familiar to use that in the paper.
Careers360: What did you do for leisure? Any specific activities that helped you unwind?
Harsh Nagar: I am a learned singer, so in my leisure time, I look forward for opportunities where I can sing. I participate in forums and live concerts in Kota and Jabalpur.
Careers360: How should you schedule answering the GATE exam – which section to attempt first and which next? Did you have any strategy? Kindly share your exam experience with us.
Harsh Nagar: You must take the simple-to-do and easy questions first and leave the difficult questions for the last.
Careers360: Any advice for the future aspirants?
Harsh Nagar: Your calculation must be accurate and numerical base must be strong.
Questions related to GATE
Showing 14546 out of 14546 Questions