IIT JEE - Choice Filling Guidelines through JoSAA
Clearing JEE Main or JEE Advanced is just the first step to gaining admissions at the NITs or IITs. In the order of things, it is the IITs that take the cake with almost all aspirants wanting and aiming for a seat there. After clearing the entrance exam, the next crucial step is the choice filling through JoSAA for IIT or NIT seats. It is here that your success will depend on the choices that you make; steps that you take to reach your goal of studying at the IITs. One wrong step and you could lose a good seat that would otherwise have been yours. One of the most crucial steps in the entire JEE system is the choice filling through JoSAA. Since the choices to be filled in are unlimited, it is crucial that you do some homework about which programmes you may easily be eligible based on the cutoffs, the various choices that you should take so that you get a good seat and how best to avoid pitfalls in this exercise. Careers360 brings forth the IIT JEE Choice filling guidelines through JoSAA to help you in one of the most important exercises for your admissions to the IITs or the NITs. 

Latest: As per orders passed by the High Court on July 2 all seat allotment, document verification and seat acceptance have been put on hold till appropriate notice is released. Keep checking for more updates.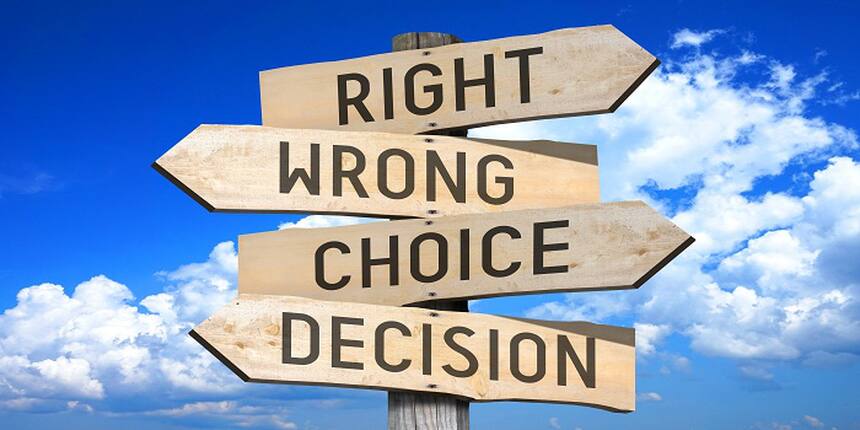 JoSAA 2018 seat allocation Round 2 result released
JoSAA is the Joint Seat Allocation Authority that oversees the admissions of all the aspirants who have cleared JEE Main or JEE Advanced to the 23 IITs, 31 NITs, 24 IIITs and 22 CFTIs. The common counselling is based on the ranks obtained by the students in the entrance exam and seat allotment is on the ranks plus the choices made by the students in terms of seats preferred by them. JoSAA application was available from June 15, 2018.
IIT JEE- choice filling for JoSAA is one of those important steps which can make or break your prospects of a bright future. Over the years, there have been many instances where students who have worked very hard to get a seat at IIT/NIT or other top colleges, have made mistakes during choice filling and missed their prospects of studying at desired IIT in a course of their choice. This article aims to clear the misconceptions about choice filling, looks at factors that have to be kept in mind during the JoSAA choice filling and the homework to be done before applying to JoSAA.
IIT JEE – What is JoSAA Choice Filling?
All students who are eligible for a seat at the IITs, NITs, IIITs or the CFTIs will have to fill their choice of seats and courses in the order of preference. There is no restriction on the number of choices to be filled in by the students. The allocation will be done on the basis of the choices filled by the applicants and the ranks obtained by them. So the top rankers will get the first choice followed by the others all in the order of the ranks and choices filled.
IIT JEE - How is JoSAA choice filling done?
All eligible candidates, who qualify for JEE Main or JEE Advanced examination will have to register themselves for JoSAA to fill the choices. After registration the candidates will have to fill and lock their college & course choices. According to the eligibility, candidate gets the list of colleges and courses to choose from. According to preference and the ranks, the candidate will be allotted the seat. Post seat allotment result announcement, the candidates will have to report at their closest reporting centre for document verification. After verification and payment of seat acceptance fees, the candidates will be able to visit their allotted institute for confirmation of admission.
Factors to keep in mind for JoSAA Choice Filling
It is important for you as a candidate to do some homework before the start of the registration and choice filling through JoSAA. This is crucial as you need to plan exactly what you wish to apply for and how best to get it. While it is desirable to have certain course and institutes in mind, it is also best to keep alternatives on hand so as not to lose a good seat just in case if the preferred ones don't work out.
Factors you should keep in mind while making your list of choices for IIT JEE
1. Read the JoSAA business rules and get yourself familiar with the rules of allotment on the official website of JoSAA. A sequence of allotment is followed and that is clearly given. It specifies how the allotment is done and in which order. Know it well to understand the system.
Sequence of Seat Allotment in JoSAA
Sl. No.

Candidate's category tag

Rank list(s) in which the candidate appears

Sequence of SEAT CATEGORIES for allocation

1

OBC-NCL-PwD

CRL

CRL-PwD OBC-NCL

OBC-NCL-PwD

1. OPEN

2. OPEN-PwD

3. OBC-NCL

4. OBC-NCL-PwD

2

OBC-NCL-PwD

CRL-PwD OBC-NCL

OBC-NCL-PwD

1. OPEN-PwD

2. OBC-NCL

3. OBC-NCL-PwD

3

OBC-NCL-PwD

CRL-PwD OBC-NCL-PwD

1. OPEN-PwD

2. OBC-NCL-PwD

4

SC

CRL SC

1. OPEN

2. SC

5

SC

SC

1. SC

6

SC-PwD

CRL

CRL-PwD SC

SC-PwD

1. OPEN

2. OPEN-PwD

3. SC

4. SC-PwD

7

SC-PwD

CRL-PwD SC

SC-PwD

1. OPEN-PwD

2. SC

3. SC-PwD

8

ST

CRL ST

1. OPEN

2. ST

9

ST

ST

1. ST

10

ST-PwD

CRL

CRL-PwD ST

ST-PwD

1. OPEN

2. OPEN-PwD

3. ST

4. ST-PwD

11

ST-PwD

CRL-PwD ST

ST-PwD

1. OPEN-PwD

2. ST

3. ST-PwD
2. Take a look at the cutoff namely opening and closing ranks for the past one or two years of seats allotted through JoSAA. The cutoffs for IITs are separate and Cutoffs for NITS, IIITs as well as CFTIs are separate. Compare your rank and seat offered. Now prepare a list of the choices you have based on the past trends. Also put in your preferences if they are close to what you may get. Maybe the chances are slim but you should not let them go.
3. To be on safer side multiply your rank with 1.10 and prepare a list of courses and colleges that you could get.
4. A golden rule to remember is - a course should be given preference over the institute. For example, if your preferred course is Electrical Engineering which you can get at IIT Madras and IIT Kharagpur; you can also get Electronics Engineering at IIT Kharagpur. In such a case, you should opt for EE at IIT Madras because the chances of admission there is to one course while in IIT Kharagpur, you have a chance at admissions to two courses.
5. The criteria to be followed always is - Course of your interest followed by Institute of your interest.
6. Another important measure is the track record of the institute in placements. Placement records, reputation of the institute, Annual Ranking and other relevant information for each institute of your choice must be gathered before you do the actual choice filling.
7. Fill as many choices as possible. Your preferences should be based on the desired courses and institutes.
8. Most important, you should avoid filling undesirable choices. Fill only that choice which genuinely interests you else you may end up with a course which is of the least interest to you.
9. If possible, try toget connected with someone who is already studying or have studiedin those institutes. The social media is one good place to get going with this especially Facebook or Quora. Getting feedback from students or alumni of any institute would be the best possible help & guidance for choice filling exercise.
Ready Reckoner for IIT JEE Choice Filling through JoSAA
It is advisable that you prepare a list of courses and institutes which you desire to get into. The JoSAA Seat matrix is given by the authorities. Use that as the base. Know how many seats are available and in which courses as well as which institutes. Compare the fee, placement records and other relevant facilities provided by the institutes. Prepare a preferential list of courses and institutes in advance. Take a printout of that list.
Steps to follow during JoSAA choice filling
The candidates will have to use their JEE Main roll number and password to sign in for JoSAA registration and choice filling. Those who have qualified for JEE Advanced will have to use the JEE Advanced password.
Click on "Online Registering and Choice Filling" on JoSAA Website.

Enter your JEE Main or Advanced Roll Number as applicable and Password to login.

Visit Student's Profile to ensure that all personal details shown are correct.

Modify contact details by clicking "EDIT CONTACT DETAILS". This is if needed and is not compulsory.

When you are finished with editing, click on "SUBMIT CHANGES"

Click on "Choices Available" to view the various programs that are available for you to choose.

All choices are available for those who have qualified in both JEE (Main) and JEE (Advanced).For those who have qualified only in JEE Main, choices are restricted to programs available in NITs, IIITs and Other-GFTIs.

Now click on "Choice Filling & Locking". Fill as many choices as possible to enhance your chances of getting a seat.

Click on Arrange Filled Choices to modify the order of preference.

Click "Choices Interchange" to make changes in the order of preference.

Click "Choice Rearrange" to make changes in preference.

Click on SAVE.

Now close the box to see new preferences.

Now click on "LOCK CHOICE" to make final selection. If you forget to lock the choices, they will not be saved. So ensure you do.

Take a print out.
What happens when IIT JEE choice filling goes wrong?
You must be careful of the fact that you get the most preferred course opted by you during the choice filling. So you must be clear about your choices and have a strict order in which you fill the choices.
There were seven rounds of seat allocation under JoSAA in 2017. Assuming that it will be kind of same this year too, all candidates who are allotted a seat must pay the seat acceptance fee (through e-Challan/SBI Net Banking) and get the documents verified at any reporting centre for provisional seat acceptance.
If you REJECT the seat allotted in 1st round itself, you will not get any seat in the current academic session through JoSAA. In short, you will be out of the JoSAA system.
If you accept the seat allotted in 1st round itself, you have the option of a better seat/course/institute. For that you need to select the option of 'freeze', 'slide' or 'float' the choice of academic program.
You must be very clear about these terms.
Freeze: Candidate accepts the allotted seat and doesn't wish to participate in the further seat allotment rounds.

Sliding: The candidate accepts the allotted seat AND indicates that if admissions are open in a better course in the same institute, he/she is open for it.

Float: Candidate accepts the offered seat AND indicates that if admissions are open in a better/higher preferred institute or course, he/she is open for it.
Dual Reporting: If in a subsequent round, a candidate's allotment changes from NIT+ system to an IIT, the candidate must report once again at an IIT reporting centre, similarly if a candidate's allotment from IIT changes to an NIT+ system, the candidate must report once again at any NIT+ reporting centre. Failure to do so will result in forfeiture of seats allocated in both NIT+ and IIT systems.
Withdraw option:
A candidate, who has already accepted a seat, can withdraw the seat by reporting at the respective reporting centre up to 6th round of seat allocation.
Every one of you must realize that the exercise of choice filling is very important; in fact it is one of the most important ones for your journey from being just one student to being the one studying at an IIT or NIT.
Choice filling which has gone wrong has many adverse implications. One is that you may get a course or institute that you never desired. Second is that even if you have the choice of Float and Slide, you have to pay the acceptance fee and report, re-report at the institute. This costs you time and money.
It is imperative that you choose a course that you like or are interested in. Remember this choice will last you for a lifetime and every other decision pertaining to your career or further study will be based on this. It is seen that students in the lure of an IIT or NIT tag accept any branch that is allotted to them. It has been seen that not all times this has led to a happy situation for some. For instance a student who wanted to study Chemical Engineering at IIT Mumbai got Instrumentation Engineering at some other IIT and settled for it unhappily. Another student who cracked IIT JEE, got AIR-11, studied M.Sc Physics and later pursued research in Advance Physics was very clear in his choices and is a happy person as he loves what he is doing.
Your career depends on the choices that you make. Make an informed, calculated choice.
Good Luck!
Questions related to JEE Advanced
Showing 13163 out of 13164 Questions