GATE 2018 Topper Interview Rohit Sinha (AIR 14) - "Work hard and success is all yours"
Cracking one of the toughest national level engineering exams is an achievement by itself. The deal is more sweetened if one ends up being among the top rankers. Rohit Sinha from IIT Roorkee who appeared for GATE 2018 in Civil Engineering has reason to celebrate. An All India rank of 14 in GATE CE is the result of hard work, dedication and a very strong performance in the entrance test where each and every mark counts. In an exclusive interview, Rohit talks to Careers360 and shares his preparation strategy as well as vital tips to future aspirants. He feels it is important to be consistent during GATE preparation while learning from mistakes made and a never say die attitude to be successful. Read the complete interview below to know more about important preparation tips, books to refer, topics to stress on and more.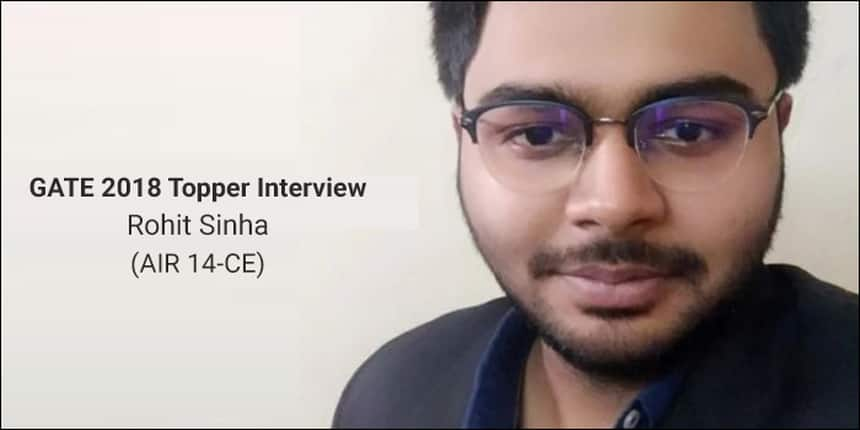 Careers360: Tell us something about yourself; where have you done your engineering from and in which branch?
Rohit Sinha:  I am doing my majors in Civil engineering from IIT ROORKEE (2014-2018). I am from Agra. I love to play piano and guitar in my spare time.
Careers360: What was the GATE Paper you appeared in? What rank did you get in GATE 2018? What is your GATE score and how many marks did you secure out of 100 in GATE paper?
Rohit Sinha: I appeared in the Civil Engineering paper of GATE 2018.  I have scored 86.48 out of 100 and my GATE score is 945.
Careers360: What was the reason you appeared for GATE 2018? Please elaborate
Rohit Sinha: GATE provides one with a plethora of opportunities. It would pave the way for me to get admission in leading institutes for post graduate programmes. Moreover, a number of PSUs are recruiting through GATE.
Careers360: Have applied to any PSUs recruiting through GATE 2018?
Rohit Sinha: I have applied to various Public Sector Units like IOCL, HPCL, PGCIL, NLC etc.
Careers360: When did you start your preparation?  How did you prepare for the exam? How many hours did you put in per day as per the stage of preparation?
Rohit Sinha: I started my preparation from August 18 with self-study. I had purchased postal course from Made Easy and Gate test series as well as from few other institutes. I followed the schedule of test series and gave one week to each subject. I prepared my short notes during this phase.  I had completed studying my major subjects by mid-October.
During the initial phase I used to study for at least two to three hours as there was immense pressure on account of my regular studies at the institute. On top of that, placements were also taking place.
However, I started to study for at least 11-13 hours after this was all done starting December to January.
Careers360: Have you taken any coaching? If yes- From where? How did it help?
Rohit Sinha: I took postal coaching from Made Easy. It helped me to get consolidated study material for the exam. It saved my time as I did not have to go much through standard text books.
Careers360:  Can you share any preparation strategies with our readers? When should one start their preparation for GATE? How to schedule study time and make timetables?
Rohit Sinha: Plan your preparation in three phases:
First Phase:  Study from the notes and books provided by the coaching institutes. Try solving past years GATE sample papers. This should take around 3 months.
Second Phase: Follow the same process as you did in the first stage but make short notes now (not more than 10-12 pages for any subject). Start taking tests and continue to add new points to your short notes.
Third Phase: Start revising the subject notes and move on to full tests. You can schedule and take the tests on alternate days. Also do not forget to keep adding any new concepts or points from the test series to your short notes.
For General Aptitude and Mathematics, preparation can be started around December and give at least 1 to 1.5 hrs every day. There are you-tube channels for Engineering Mathematics and I feel they are more than sufficient to help with preparation.
Careers360: What was the toughest aspect in your GATE preparation?
Rohit Sinha: Maintaining accuracy was tough. GATE is more about accuracy. There is no room for silly mistakes. Even an error of 1 mark is costly and may decrease your rank by 30-50. Throughout the preparation, my main focus was to attempt the questions with good accuracy, even if it meant attempting fewer questions.
Careers360: How important do you feel mock tests are and why? Is it true that if one solves the previous year question papers, there is a good chance of cracking the exam successfully?
Rohit Sinha: Mock tests are very important as they help you draw a clear cut strategy. It helps to develop the speed and accuracy which is of great significance for the GATE exam. To revise a particular topic, practise with chapter tests and subject tests.  It helps to gauge one's level in a particular subject. The full test helps in revising the complete syllabus.
Solving the past year's question papers gives a good idea about the pattern and the level of questions asked in GATE. One thing to note is that questions are not repeated in GATE.  Hence, merely solving past years GATE question papers will not get a good rank. It is necessary to practise by solving previous year's questions but one needs to practise additional questions from other sources as well.
Careers360: Name some important Topics that you feel are a must read for any student attempting GATE exam?
Rohit Sinha: It depends on what one wants from GATE. If one is aiming to get into the PSUs, then no topic can be left.  One will have to cover each and every topic. Moreover, this year the question paper did not follow the conventional trend of giving more weightage to few topics.  Furthermore, there were many questions from topics generally left out by many during the course of their preparation. It is important to cover all the topics and the amount of time spent on the topics could vary.
Careers360:Which books did you follow for GATE preparation? Please  name some very important must read books for GATE
Rohit Sinha: I did not refer to standard books during my preparation as I had already studied from them during my semester exams. Some books that I did refer to are
S.No

Name  of the Book

Name of the author

 1

Highway engineering

Khanna and Justo

2

 

Soil mechanics and foundation engineering

Gopal and Ranjan

 3

Environment 1 and 2

S K Garg

 4

Open channel flow and engineering hydrology

K Subramanya

 5

Fluid mechanics

R K Bansal

 6

Steel

Bhavikati

 7

RCC

Pillai and Menon
I used these books during my semesters and these helped me a lot in building my concepts, which eventually helped me during my GATE preparation. One might refer to these to understand particular concepts or their weak concepts.
Careers360: What did you do for leisure? Any specific activities that helped you unwind?
Rohit Sinha: I was still in college during the course of my GATE 2018 preparation. I used to spend time with my friends, hang out , watch movies etc. I used to play music or read non-fiction books once in a while.
Careers360: What did you feel was a tough thing in GATE 2018 exam?
Rohit Sinha: It was the virtual calculator. I spent considerable time practising it online .It is important to get accustomed to it so that one can hone their speed. One needs to know the procedure of carrying out complex calculations on it so that using it during the main exam is not a problem.
Careers360: How should one schedule answering the GATE exam – which section to attempt first and which next?
Rohit Sinha: I attempted the aptitude section first, gave it around 10-15 minutes.(This section is usually easy)  Next I attempted the one mark technical questions and then the 2 mark questions.
Careers360: Any advice for the future aspirants?
Rohit Sinha: Before starting your preparation draw a timetable and try to follow it strictly. Join a test series early, and do not wait till January. Start attempting subject tests as soon as you complete the topic. Try to learn from the mistakes made in the test series. Don't get demotivated if you are not able to fetch good marks in test series, note down the mistakes and try not to repeat the same mistakes again. Work hard and success is all yours.
Questions related to GATE
Showing 14546 out of 14546 Questions