GATE 2017 Topper Interview Shubham Rana (AIR 27 CE) - Focus on your preparation and success is yours
IIT Roorkee announced the GATE 2017 Result on March 26 and released the score card on March 27. GATE is a tough exam that sees more than 9 lakh students appearing for it every year. Amongst the students successful in their GATE 2017 attempt is Shubham Rana who is a civil engineer from IIT Roorkee. His GATE attempt is the outcome of his interest in working for the public sector. Here, he shares his GATE 2017 preparation strategies, the topics he considers to be important, books that are must reads and other useful tips.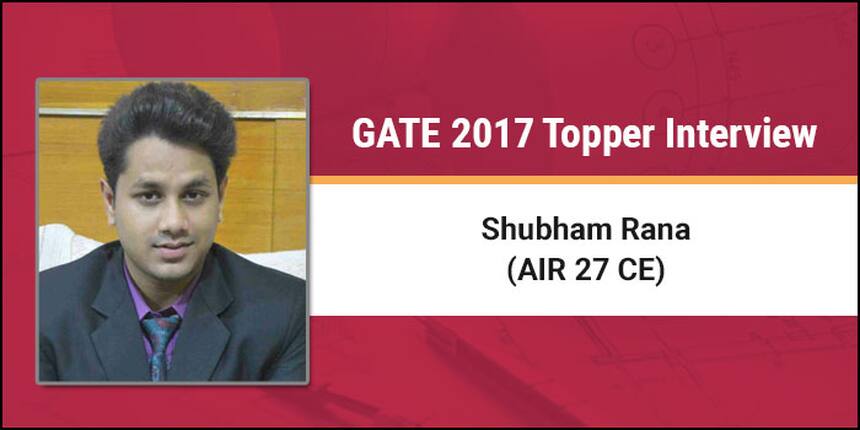 Related Posts:
Careers360: Tell us something about yourself; where have you done your engineering from and in which branch?
Shubham Rana: My name isShubham Rana . I did my schooling from Lucknow and my B.Tech from IIT Roorkee in Civil Engineering (2012-2016 batch) . I am basically from Lucknow, Uttar Pradesh. My family comprises of my father who is a Senior Manager in Bank of Baroda, my mother who is a housewife and my brother who is a doctor.
Careers360: What was the GATE Paper you appeared in? What rank did you get in GATE 2017? What is your GATE score and how many marks did you secure out of 100 in GATE paper?
Shubham Rana: I had appeared in GATE 2017 Civil Engineering - Session 1.  I had secured an All India Rank of 27 in GATE 2017. My GATE Score is 927 and my GATE marks are 83.81 out of 100.
Careers360: What was the reason you appeared for GATE 2017? Please elaborate your reasons.
Shubham Rana:  I wish to work in government sector and that can be possible by joining any of the public sector units (PSUs).  I did get a campus placement with a leading real estate firm but felt that I could fulfill my dreams through GATE. After all many PSUs are recruiting through GATE and a good score will allow me to get a chance. So I didn't take up the placement. Rather I started my GATE preparation immediately.  
Careers360: Have you applied to a PSUs recruiting through GATE?
Shubham Rana: Yes, I applied to many PSUs that have announced their recruitment through GATE 2017 like IOCL, HPCL , GAIL , NTPC ,PGCIL , HAL , NLC etc.  GATE is a very unpredictable exam and while preparing for it, you can't be sure about how you will perform and the rank you will get. So to be on the safe side, I applied to most of the PSUs.
Careers360: When did you start your preparation?  How did you prepare for the GATE exam? How many hours did you put in per day as per the stage of preparation?
Shubham Rana:  I started preparing for GATE examination from June 2016.
As far as my preparation is concerned, I firstly went through the question papers of previous year, analyzed what kind of questions are asked and the difficulty levels of the questions. Then, I segregated the topics I needed to focus and build on. I then went on to start with the standard books and then the coaching material.
In addition to the hours spent at the coaching centre, I used to study for at least three to four hours every day.
Careers360: Have you taken any coaching? If yes- From where? How did it help?
Shubham Rana: I had enrolled in the 'Made Easy' classroom programmes for GATE as well ESE at Lucknow.  The guidance that I achieved at the coaching centre really helped me to get through this examination. My strategy and planning for the examination was as per their guidance.
In GATE, there is no room for silly mistakes. Every silly mistake is costly and can result in changing your rank from 50 to 200.
Careers360: Can you share any preparation strategies with our readers? When should one start their preparation for GATE? How to schedule study time and make timetables?
Shubham Rana: Preparation strategies vary from person to person.
For those in college, it's better to start as early as the second and third year of engineering. Its tough but it's better to start managing your college exams and classes as you get used to the tough schedule.  You must devote at least two to three hours consistently every day.  Use from good study material and start solving as many questions as possible after revising your concepts. This will help you to understand the areas where you need to focus more as well as the subject or topic in which you are weak. 
If you have graduated, then you should start your preparation from May itself and follow the same procedure. However, you should increase the number of study hours to at least four to six per day.
Remember that the scope and syllabus of the examination is mammoth; covering it all is nearly next to impossible. Therefore, it is advisable to go through the GATE 2017 exam pattern, check the type of questions. Another exercise to do is to check the number of questions asked in previous years from that particular topic/ subject to ascertain their weightage.
Careers360: How should one schedule answering the GATE exam – which section to attempt first and which next?
Shubham Rana:  A lot depends on how you have practised in the test series. While taking the mock tests, I preferred solving the aptitude section first and then moved on to the technical section because it seemed less time consuming to me. One should attempt the easy section first so that one can secure some marks and then move ahead. 
Careers360: What was the toughest aspect in your GATE preparation?
Shubham Rana: The toughest aspect was managing time while solving the questions; self-study after attending coaching classes. Ultimately, your result depends on hard work and efforts put by you. I tried to manage my time such that I could revise my daily concepts taught at the coaching centre and then solve questions on that topic. 
Careers360: Name some important Topics that you feel are a must read for any student attempting GATE exam?
Shubham Rana:  A lot of questions are generally asked from Geotechnical, environmental, highway engineering and strength of materials. They cover more than half of the marks in the technical section. Therefore candidates would do well to focus on these topics as GATE mainly follows a set pattern of asking certain number of questions from different topics
In addition, some topics that should also be looked at are
Structure Analysis (Slope deflection or influence Line diagram),

RCC (Prestresses concrete)

Geomatics (Levelling , Compass, Tacheometry).
Careers360: What did you feel was a tough thing in the GATE exam?
Shubham Rana:  The virtual calculator makes things difficult unless you know how it works. We need to be well conversant with calculations to solve the problems asked. A lot of practice is needed as the calculator is not user friendly. So one needs to use it a lot to be comfortable in using it during the exam.
Careers360: How important do you feel mock tests are and why? Is it true that if one solves the previous year question papers, there is a good chance of cracking the exam successfully?
Shubham Rana: Mock tests and Test series polishes your preparation, so one needs to definitely attempt test series with complete sincerity. They are like a mirror reflecting your weak points and help you analyse where you stand; tell you about your shortcomings. Mock tests and GATE Sample Papers are a very necessary aspect for self-improvement especially in the last stages of your preparation. Solving the GATE question papers of the last 20-25 years will allow you a far better idea on how to solve the paper.
Careers360: Which books did you follow for GATE preparation?Pls name some very important must read books for GATE
Shubham Rana:
Reference books for GATE
| | | |
| --- | --- | --- |
| S.No | Name of the books | Name of Author |
| 1. | Geotech Enginerring | Gopal Ranjan and Rao |
| 2. | Steel Structures | SK Duggal |
| 3. | Highway Engineering | Khanna |
| 4 | RCC | Pillai and Menon |
Careers360: What did you do for leisure? Any specific activities that helped you unwind?
Shubham Rana: I am very fond of listening to music. I love both Hindi and English songs. I also use Facebook and whatsapp to stay connected with everyone and to relax.
Though people warn you not to watch movies during your preparation, I feel that one should do anything which re-energises them such as  playing any sports , spending time with your family or friends or  going out.
I used to watch couple of movies in a week and used Youtube frequently to destress myself.  I love exploring the Internet and you can say that it is my hobby.
Careers360: .Any advice for the future aspirants?
Shubham Rana:  My suggestion would be to take a few days' time to plan and devise a time table according to one's suitability. It is important to remain focused during the course of GATE preparation. 
Do not lose hope. Even if initially you do not perform well in the tests or mock exams, do not be disheartened. Ultimately it is your performance on the day of the examination that will determine your fate. My family can be credited with my success as I wouldn't be able to perform well without their faith and unwavering support.
Read Also
Questions related to GATE
Showing 15325 out of 15325 Questions