GATE 2017 Topper Interview Revanth Dogre (AIR 70 CH)- Never say die attitude is the Key!
Cracking the GATE 2017, one of the toughest engineering exam was a dream come true for Revanth Dogre who studied chemical engineering from the Indian Institute of Technology Madras. With an All India Rank of 70 in Chemical Engineering, Revanth is optimistic that his dream to work in a public sector unit which will help him to develop an environment friendly biofuel can come true. In fact this was the driving force that allowed him to crack the GATE exam. Relying on self-help and study, Revanth discusses with Careers360 about his preparation methodology, the books he referred to, planning for the GATE exam and more in this article.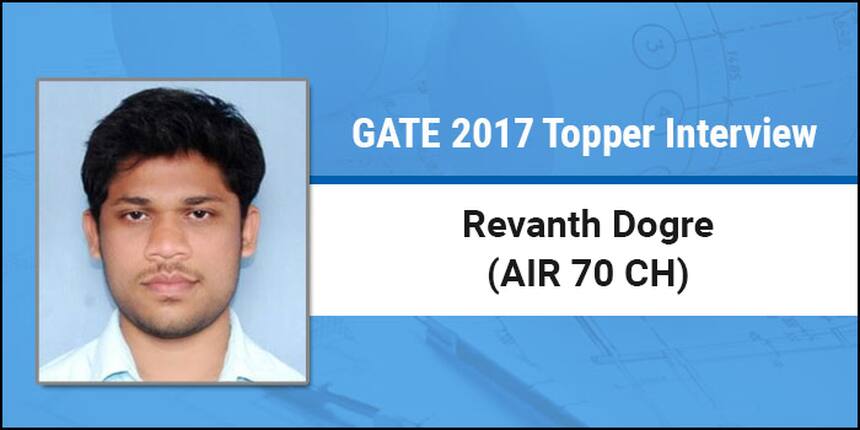 Related Posts:
Careers360: Tell us something about yourself; Where have you done your engineering from and in which branch?
Revanth Dogre: My name is Revanth Dogre and I am from Sirpur Kaghaznagar from Telangana. I pursued Chemical Engineering at the Indian Institute of Technology-Madras.
Careers360: What was the GATE Paper you appeared in? What rank did you get in GATE 2017? What is your GATE score and how many marks did you secure out of 100 in GATE paper?
Revanth Dogre: I appeared in GATE 2017 Chemical Engineering paper. I qualified GATE with al All India Rank of 70.  I scored 77 out of 100. My GATE 2017 score is 767.
Careers360: What was the reason you appeared for GATE 2017? Please elaborate your reasons.
Revanth Dogre: Public sector units like BARC, ISRO, ONGC, BPCL, recruit through the GATE exam. My dream is to work towards development of environment friendly Bio fuel for the country. The PSUs mentioned by me provide great opportunity to leverage one's skills.  
Careers360: Have you applied to an PSUs recruiting through GATE?
Revanth Dogre: Yes! I applied for HPCL, BARC, GAIL and IOCL to name a few.
Careers360: When did you start your preparation? How did you prepare for the GATE exam? How many hours did you put in per day for your preparation?
Revanth Dogre: I started my preparation from mid-November ( two and half months). I studied for almost 13- 16 hours every day.
I started with the theory part and then focussed on solving problems. While solving many questions from different books, I marked the questions that I could not solve at first.
At every step of my preparation, I made note of my mistakes to avoid repeating it. I made short notes with important formulas. Avoiding silly mistakes in the exam will help one to get a very decent rank in GATE. So my first step was to minimise mistakes.  Another important thing to take care of is the familiarity with the virtual calculator. You should know how to use it to solve maximum number of problems.
Careers360: Have you taken any coaching? If yes- From where? How did it help?
Revanth Dogre: No, I did not take any coaching. I believe one can perform well without coaching also.   
Careers360: Can you share any preparation strategies with our readers? When should one start their preparation for GATE? How to schedule study time and make timetables?
Revanth Dogre: Most of the time, it is boring to study theory. Therefore I tackled that first by following a strict time table and completing it within a month. I used to study in the library as it is always quiet and I could avoid any distractions. To remember the formulas, I scribbled them on the walls of my room thus ensuring that I saw them every time I turned round. This helped me to memorise them
I listed the formulas on few sheets and revised them as a hobby during my leisure time. Overall I took two and half months to prepare for the GATE exam.
Some important things to note are:
Classes are important. Use them to note down important things

Be involved in group discussions.

Study from the books referred to by the professors.

Use the internet to clear doubts

Practice using the virtual calculator since day one of your preparation.

Solve previous year papers, solve problems from different books. While doing so, note the tough and tricky ones to revise

Try to complete the basics by September

Tackle tough or boring topics when you are fresh.
Careers360: What was the toughest aspect in your GATE preparation?
Revanth Dogre: Sticking to the routine was the most challenging part of the preparation. Adhering to the timetable and time management is another tricky part. Sometimes you get so engrossed in using WhatsApp and Facebook that you don't realize how much time you have wasted. So it was a trial to be on track.
Careers360: Name some important Topics that you feel are a must read for any student attempting GATE exam?
Revanth Dogre: Some of the important topics that one must study are given below in the table.
List of important Topics
| | |
| --- | --- |
| S.No | Topics |
| 1. | All Dimensionless numbers and their significance. |
| 2 | Problems related to friction factor and pumps in Fluid mechanics. |
| 3 | Steady & transient state conduction, basics of radiation in heat transfer. |
| 4 | Stability analysis in process control |
| 5 | Depreciation & annuity concept in Economics. |
| 6 | Phase equilibria, excess and residue properties in thermodynamics. |
| 7 | RTD in CRE |
| 8 | Differential equations, linear algebra, complex numbers in Engineering Mathematics |
| 9 | Analogies between heat mass and momentum transfer. |
Careers360: Which books did you follow for GATE preparation? Please name some very important must read books for GATE.
Revanth Dogre:  I referred to some good websites that catered exclusively to Chemical Engineering for GATE.  I also referred to the following books
Books to Refer
| | | |
| --- | --- | --- |
| S.No | Topic | Author |
| 1. | Mass transfer | Treybal |
| 2. | Process control | Coughnour |
| 3. | Unit operations) for Mechanical operations and few concepts of fluid mechanical and heat transfer | Mc Cabe Smith |
| 4 | Thermodynamics. | Smith-Vanness & KV Narayanan |
| 5. | Economics | Timmerhaus |
| 6. | Process calculations | Himmelblau |
| 7. | Chemical technology | Dryden |
| 8. | Chemical Reaction Engineering | Levenspiel and Foggler |
Careers360: How important do you feel mock tests are and why? Is it true that if one solves the previous year question papers, there is a good chance of cracking the exam successfully?
Revanth Dogre: Since one doesn't know who will set the question paper, it is difficult to guess the questions. Solving the previous year's question papers will help you save time and it is possible that questions on similar lines are repeated.
Mock tests and sample papers help you think in all possible ways and also help with time management. You can keep track of the time that you spend on each question. You can analyze your answers and correct your mistakes. You also get familiar with the GATE 2017 exam pattern.
Careers360: How should one schedule answering the GATE exam – which section to attempt first and which next?
Revanth Dogre: Most important -first, go through the question paper once. Start with answering those questions you are completely sure of. I would advise to start with the 2 marks questions so that you score more in less time and it will also boost your confidence. Then you can proceed to solving the one mark questions. Every second matters so remain alert.
Careers360: What did you feel was a tough thing in the GATE exam?
Revanth Dogre: Using the virtual calculator is very tough. I practised each and every problem using the virtual calculator only and this enabled me to save a lot of time. I kept switching from difficult to easy questions so that I do not lose confidence.
Careers360: What did you do for leisure? Any specific activities that helped you unwind?
Revanth Dogre: You can be active for long hours if you spend your leisure time effectively. To break the monotony, I would speak to my friends just before I went off to sleep. I used to de-stress by watching some funny video clips, cartoons and listening to songs. A good sleep at night and healthy food habits are very important.
Careers360: Any advice for the future aspirants?
Revanth Dogre: Visualise your dreams. You must spend time with those people who boost your morale and have confidence in yourself.  Nothing is difficult, it is just that you are not familiar with things and therefore they seem new or tough. Do not feel depressed if you do not score well. Keep trying till you accomplish your goal. Do not give up. Analyse your weak points and convert them into your strength.  All the best!
Read Also
Questions related to GATE
Showing 15328 out of 15328 Questions