Description
Download the JEE Advanced 2017 Answer Key for Paper 1 & 2 from Allen Kota, Aakash & FIITJEE for all sets. Use the answer key to compare and estimate your probable score in JEE Advanced.
JEE Online Coaching
Crack JEE with AI-Based JEE Online Preparation Program(Live Classes, UNLIMITED Mock Tests & More)
Student Reviews
Showing 1-2 of 2 Reviews
Excellent.... Ebook helped alot.. Thank you
...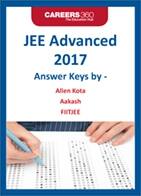 JEE Advanced Answer Keys 2017