KCET 2018 Topper Interview: Debarsho Sannyasi (Rank 3) say, " KCET is all about speed & exam temperament"


'A positive attitude will lead to a positive outcome'. This phase has been proven right for Debarsho Sannyasi. Securing the third position in KCET, Bellary boy Debarsho Sannyasi was initially shocked on knowing his result. On his success, Debarsho says that having a good exam temperament, preparation and time management has worked a lot. The lad wants to pursue CSE or Electrical Engineering from one of the old IIT's. Careers360 caught with him to know more about his journey, preparation strategy, the motivation factors behind his success. Read the full interview of KCET 2018 topper Debarsho Sannyasi (Rank 3) here.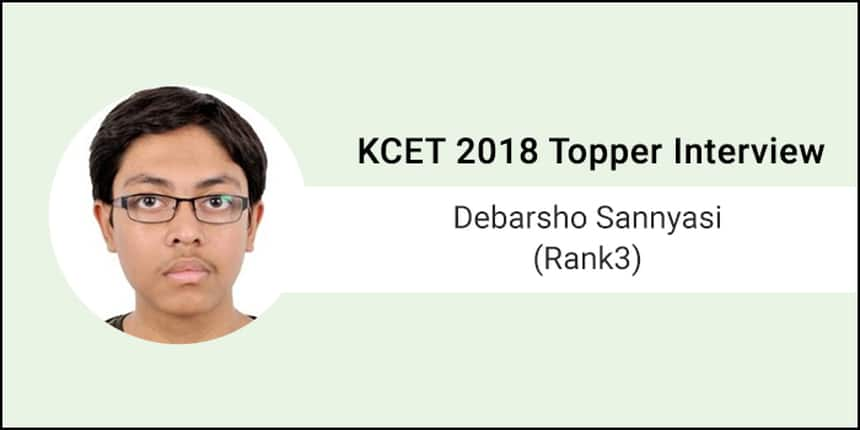 Careers360: Congratulations for your outstanding performance in KCET! What was your reaction upon knowing your rank?
Debarsho Sannyasi: Thank you very much. I was expecting a good result but didn't expect 3rd rank. I am really happy and satisfied with this result. 
Careers360:Tell us something about yourself. Which board have you studied under? Which school have you studied in?
Debarsho Sannyasi: I live in JSW Township , Toranagallu near Bellary. I studied in Jindal Vidya Mandir school in our township which is a CBSE school. I also attended Avanti Learning Centre classes for JEE preparation.
Careers360: What is your score in KCET? What is your state rank and category rank? Have you also appeared for any other entrance exams? What was your performance in them?
Debarsho Sannyasi: In KCET 2018 I bagged rank 3 in engineering (General). Talking about scores, in maths I scored 59, Chemistry 57 and 59 in Physics. Yes, I have appeared in other exams aswell. In JEE Main my rank was 425, JEE Advanced 585 rank and VITEEE: Rank 34.
Careers360: Why do you want to study engineering? When did you decided to study engineering? Which branch would you be interested in? Which college do you wish to apply for?
Debarsho Sannyasi:  Technology is the backbone of development of our world and this inspires me to study engineering in future. I wish to study CSE or Electrical Engineering from any of the old IITs.
Careers360: When did you start your KCET preparation? Tell us something about your preparation strategy and daily routine for KCET?
Debarsho Sannyasi:  I have not done any specific preparation for KCET. I only prepared for JEE Main and Advanced. KCET got covered in that. But I solved 5-6 past years KCET papers before the exams.
Careers360: Was there a difference in the preparation strategy in the last months of KCET and JEE Main considering that the board exams also are during this period? How did you manage preparation for both?
Debarsho Sannyasi: Syllabus of CBSE, IIT-JEE and KCET are almost the same. So I did not face much trouble. One to two months of preparation before CBSE Board Exams is enough for scoring good marks in KCET.
Careers360: Did you take coaching for KCET and if yes from where? What are the benefits of coaching according to you?
Debarsho Sannyasi: Yes, I had taken coaching from 'Avanti Learning Centre' which had a branch in our township itself. We get proper guidance for entrance exams in coaching classes. One needs proper training before appearing for these entrance exams which one might not get in schools as pattern and level of questions here are much different and difficult than CBSE Boards.
Careers360: Mock tests and sample papers – how extensively did you practise with the help of these? Do you think practising from the previous year papers help and how?
Debarsho Sannyasi:  Surely, in any exam practicing from previous years papers is the best method of preparation. Through them we come to know about the pattern, difficulty of questions and learn to manage time accordingly.
Careers360: Are there any special books that you feel have helped with your KCET preparation? Are the school text books adequate for preparing for KCET and Class XII?
Debarsho Sannyasi:  No, NCERT books are more than enough for KCET as well as CBSE class 12 Boards. I would advise specifically for KCET that one should work on improving speed.
Careers360: Which subject was the easiest and which was the toughest in KCET? What do you think is a tough thing to manage during the KCETexam?
Debarsho Sannyasi: Chemistry was the least time consuming and Maths was the most time consuming. Difficulty levels depend on the student. I felt Chemistry the most difficult as it contained strange questions. Time Management is the most difficult aspect of KCET. One should have a good plan.
Careers360: What do you think are the key factors behind your stupendous success in KCET?
Debarsho Sannyasi: I think in my case having good exam temperament, preparation and time management worked a lot.
Careers360: How did you de-stress yourself during the preparation? What are your hobbies? How often could you pursue them?
Debarsho Sannyasi: I used to play badminton 2 years ago, but left it due to study pressure and classes. I love listening to music. In my point of view, one must not study more than 2 hours at a stretch and if you are feeling sleepy, you should sleep and not study.
Careers360:  Who is your ideal or biggest inspiration in life and why?
Debarsho Sannyasi:  No specific inspiration. My teachers and parents always supported and guided me. They are a constant source of motivation for me.
Careers360: You know you are an inspiration to thousands of students across the country. Do you have any message for future aspirants on tackling the KCET exam?
Debarsho Sannyasi: I think KCET is all about speed and exam temperament. Improve them first by more and more practice strictly in the stipulated time. Don't panic in between exams. Lastly, I would like to say all the very best to all the future aspirants.
Questions related to KCET
Showing 7474 out of 7474 Questions