GATE 2021 Paper Analysis for CE by APSEd - Available Now!
GATE 2021 Paper Analysis for CE by APSEd - The concerned authorities of APSEd have released the GATE 2021 CE paper analysis. Candidates can check the GATE paper analysis 2021 for CE (Civil Engineering) by APSEd from this page. The GATE 2021 CE Analysis by APSEd provides details like difficulty level, subject-wise weightage, comparison between CE-1 and CE-2 paper, expected cutoff, etc. It should be noted that the compiled GATE paper analysis for CE by APSEd is memory-based since the examination is conducted in computer-based mode. IIT Bombay conducted the GATE Civil Engineering paper on February 6, 2021 (both morning and afternoon session). Read the full article to know more about GATE 2021 Paper Analysis for CE by APSEd.
GATE 2021 Latest: Check GATE answer key 2021. GATE result 2021 to be released on March 22. Also, Check GATE 2021 cutoff.
Stay up-to date with GATE News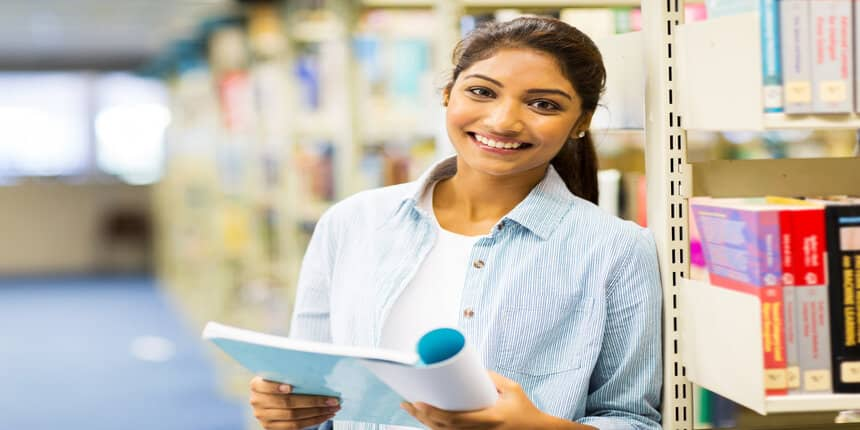 GATE 2021 Civil Engineering Paper Analysis by APSEd
IIT Bombay, the organising institute of GATE 2021 conducted two sessions of CE papers on February 6. The forenoon session was scheduled from 09:30 AM to 12:30 PM and the afternoon session was conducted from 03:00 to 06:00 PM.
GATE 2021 Paper Analysis for CE by APSED
APSEd has analysed the GATE 2021 paper. The key highlights of the CE papers are-
Both the forenoon and afternoon papers were more of concepts. The numerical part was more but those were completely conceptual.

Multiple select questions(MSQ) was a newly added question type in GATE 2021. But. in both the papers, they asked 2 to 3 multiple select questions. MSQs were of ESE standards and not at all lengthy. These questions were of 'are Correct' and 'are Not Correct' types.

There were more NATs as compared to the previous year. On an average 16 NATs were asked in the exam.

Structural analysis, SOM, MOM and Steel Structures questions were a bit lengthy and tricky in both the papers. The students who solved these questions will have a high chance to score higher, as other subjects' questions can be solved by anyone.

GATE 2021 taught us one important thing that we can not ignore any subject. This time they asked 4 to 5 questions from construction technology. This was not at all expected, keeping eye on the previous years' papers.

The difficulty level of both the papers was more or less the same as last year's paper. But, unlike the previous year papers, the one and two marks questions were mixed and jumbled. This is a new trend observed in GATE 2021.
GATE 2021 CE Paper 1 Vs Paper 2
Overall, both the GATE 2021 CE papers were moderate. And taking the students' opinion paper 2 was relatively lengthy, so time taking as compared to paper 1.
Surveying questions were easy in both the papers. They also asked one MSQ from surveying in paper 1 based on fore and back bearing. These questions were below standard.

Geotechnical engineering and environmental engineering questions were easier in paper 2 than in paper 1.

In both the papers, 4-5 construction materials and management(building materials inclusive) questions were asked. Every year they used to ask a maximum of 2 questions from this subject. So, this time the trend was lost. We can never ignore a subject in GATE, they change the trend every year. The question on 'network system', asked in paper 1 was not easy.

Transportation engineering questions were easy, these were even easier than the previous year papers.

RCC questions were balanced in both the papers. In both the papers, there was no one mark question. There were 2, two marks questions in both the papers. Out of these two, one was damn easy, and the other was a standard one.

In paper 1 there was no question from hydrology and there were 1-2 questions from irrigation. Whereas in paper 2, there were questions from infiltration, phi-index, hydrographs, duty and delta.

Structural analysis and steel were lengthy in paper 2 as compared to paper 1.
GATE 2021 CE Analysis by APSEd- Subject-wise Weightage
Environmental carried the most weightage in paper 1 and Geotech carried the most weightage in paper 2 out of the CE subjects. Around 12% of the total questions were asked from environmental engineering. Transportation was next to this, in both the papers around 7 questions were asked from the same.
Transportation and Geotechnical engineering carried around the same weightage in this paper. The least number of the question was asked from Steel Structures, Surveying and Hydrology Irrigation. Construction materials, management and build materials saw a sudden rise in weightage this year.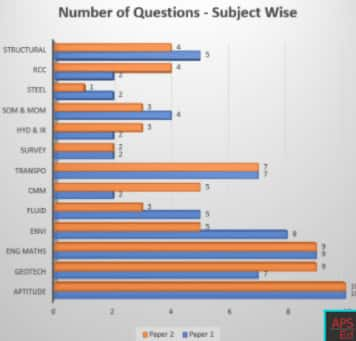 Geotechnical carried the most weightage in paper 2 after general aptitude and engineering mathematics. Around 14% of the total questions were asked from Geotechnical engineering in this paper. Transportation and Surveying combinedly carried the same weightage as Geotechnical engineering.
The least number of the questions were asked from Steel Structures, Surveying and Fluid Mechanics in paper 2. There were comparatively more questions on building materials and construction technology in this paper.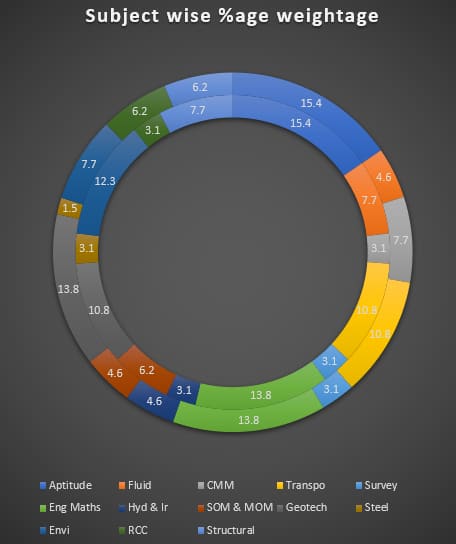 The inner donut chart represents paper 1 whereas the outer represents paper 2.
Expected GATE 2021 CE Cutoff
Based on the paper analysis, and previous year GATE paper - experts at APSEd have predicted the cut off for GATE Civil Engineering 2021. Considering the cutoff of previous years and based on the normalisation, the predicted cutoff for OC may vary from 29 to 32 marks, for OBC it may vary from 26 to 29 marks and for SC/ST category it may vary from 18 to 21 marks.
One thing to notice, there is a new category EWS. For this category the cutoff will remain the same as Open Category(General), as quoted by IIT Bombay.
Disclaimer: The highlights, paper analysis, subject weightage and expected cutoff are memory-based and based on students who appeared for GATE 2021.
Questions related to GATE
Showing 16221 out of 16221 Questions