IIIT Allahabad GATE Cutoff 2023 - Check Previous Year Cutoff here
IIIT Allahabad GATE Cutoff 2023 - The IIIT Allahabad GATE 2023 cut off is the minimum marks that aspirants need to score in order to get admission into the M.Tech courses. Candidates are provided here previous year's IIIT Allahabad GATE cutoff to know the scores under which admission is offered in the institute. The IIIT Allahabad minimum marks required by the candidates to be eligible for admission is included in the IIIT Allahabad GATE cutoff marks. Students having valid GATE exam 2023 score will be eligible for admission.
Stay up-to date with GATE News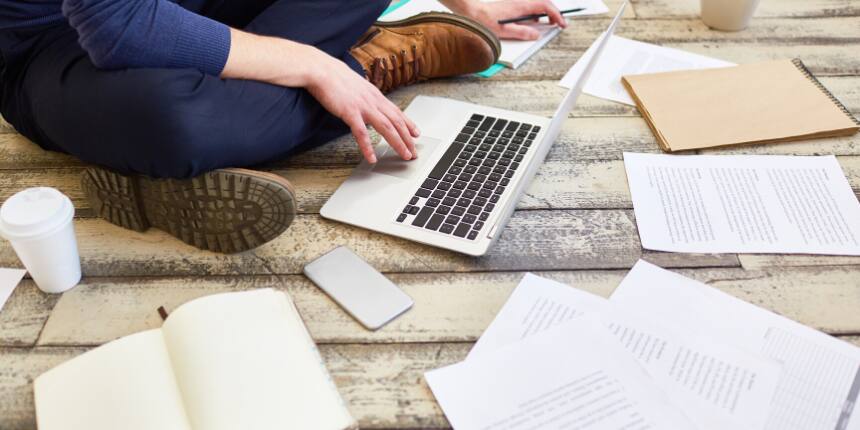 The previous year GATE cutoff consists of maximum and minimum scores for the respective year. Candidates should note that the cutoff of GATE for IIIT Allahabad is released programme wise and category wise. Candidates will be able to check the IIIT Allahbad cutoff on the GATE 2023 website. Since the GATE cutoff plays an important part in the admission process, the authorities consider various factors such as the availability of seats, the total number of GATE applicants, the difficulty level of the exam, and more. Read the complete article to know more about IIIT Allahabad GATE cutoff 2023.
IIIT Allahabad GATE Cutoff 2023
The concerned authorities will release the cutoff of GATE 2023 for IIIT Allahabad in online mode after the conclusion of CCMT counselling. The cutoff includes the minimum scores required by the candidates to be eligible for admission. It should be noted that candidates will not be required to apply directly to IIIT Allahabad. The admission will be conducted through CCMT (Centralized Counselling for M.Tech).
Factors determining GATE cutoff for IIIT Allahabad
Since the GATE 2023 cutoff will play an important role in the selection process, the authorities will consider the following factors while determining the IIIT Allahabad cutoff marks 2023.
Availability of seat.

The difficulty level of GATE 2023.

The total number of applicants appeared for the entrance exam.

Previous year's cutoff trends.
Previous Year's GATE Cutoff for IIIT Allahabad
Candidates can find the previous year's cutoff of GATE for IIIT Allahabad in the following tables. This will help them to have an idea regarding their chances of admission to the institute.
IIIT Allahabad GATE Cutoff 2022
Course Name

Category

Maximum

Minimum

Bioinformatics

Open

606

477

EWS

434

412

OBC-NCL

488

286

SC

286

219

ST

-

-

Communication Engineering

Open

589

471

EWS

516

425

OBC-NCL

510

393

SC

393

285

ST

-

-

Network and Security

Open

609

577

EWS

587

556

OBC-NCL

569

525

SC

389

359

ST

321

321

Microelectronics

Open

653

546

EWS

566

512

OBC-NCL

559

458

SC

529

304

ST

342

342
IIIT Allahabad GATE Cutoff 2021
Course Name

Category

Maximum

Minimum

Bioinformatics

Open

569

512

EWS

464

433

OBC-NCL

435

353

SC

300

192

ST

242

163

Electronics and Communication Engineering

Open

669

515

EWS

536

431

OBC-NCL

526

445

SC

362

252

Information Technology

Open

723

611

EWS

638

593

OBC-NCL

633

544

SC

513

389

ST

353

340
IIIT Allahabad GATE Cutoff 2020
Course Name

Category

Maximum

Minimum

Bioinformatics

Open

850

367*

EWS

597

399

OBC-NCL

577

336

SC

414

282*

ST

263

263

Electronics and Communication Engineering

Open

681

486*

EWS

576

396*

OBC-NCL

600

340*

SC

393

292*

ST

279

267*

Information Technology

Open

791

574*

EWS

655

531*

OBC-NCL

644

526*

SC

546

367*

ST

379

252
IIIT Allahabad GATE Cutoff 2019
S.No

Courses

Categories

Opening Marks

Closing Marks

1.

Bio-informatics

OBC

566

400

EWS

526

507

Open

743

400

SC

433

193

ST

199

199

2.

Electronics and Communication Engineering

OBC

599

484

EWS

576

538

Open

688

484

SC

437

315

ST

327

327

3.

Information Technology

OBC

652

407

EWS

644

556

Open

714

517

SC

541

322

ST

362

248
IIIT Allahabad GATE Cutoff 2018
S.No

Courses

Categories

Opening Marks

Closing Marks

1.

Bio-informatics

Open

753

530

OBC-NCL

549

437

SC

406

304

ST

283

248

2.

Electronics and Communication Engineering

Open

697

546

OBC-NCL

561

496

SC

400

259

3.

Information Technology

Open

715

600

Open-Pwd

398

271

OBC-NCL

628

517

SC

620

350

ST

342

255
IIIT Allahabad GATE Cutoff 2017
S.No

Courses

Categories

Opening Marks

Closing Marks

1.

Bio-informatics

Open

625

545

OBC-NCL

530

476

SC

410

328

ST

166

166

2.

Bio-Informatics (Integrated)

Open

606

533

OBC-NCL

511

394

3.

Cyber Law & Information Security

Open

691

615

OBC-NCL

579

508

SC

494

402

ST

320

310

4.

Cyber Law & Information Security (Integrated)

Open

640

542

OBC-NCL

525

488

SC

402

392

5.

Human Computer Interaction

Open

713

651

OBC-NCL

598

509

SC

432

402

ST

271

271

6.

Human Computer Interaction (Integrated)

Open

631

540

OBC-NCL

488

445

7.

Intelligent Systems

Open

717

654

OBC-NCL

615

516

SC

516

414

8

Intelligent Systems (Integrated)

Open

644

598

OBC-NCL

565

491

SC

480

377

9.

Microelectronics

Open

686

611

OBC-NCL

634

548

SC

402

369

ST

289

267

10

Microelectronics (Integrated)

Open

653

597

OBC-NCL

579

530

SC

392

298

11

Robotics

Open

686

640

OBC-NCL

618

553

SC

597

385

ST

321

321

12

Robotics (Integrated)

Open

642

629

OBC-NCL

567

498

SC

385

344

13.

Open

724

625

Open-Pwd

344

344

OBC-NCL

604

542

SC

450

434

ST

312

312

14.

Software Engineering (Integrated)

Open

600

550

OBC-NCL

535

535

SC

403

378

ST

269

269

15.

Wireless Communication Engineering




Open

655

593

OBC-NCL

585

504

SC

414

352

ST

267

267

16.

Wireless Communication Engineering (Integrated)

Open

676

570

OBC

550

471
Questions related to GATE
Showing 16094 out of 16094 Questions