GATE 2019 Toppers Interview Sayantan Bhattacharya AIR 5 EE "Failing is Part of the Success Journey"
Truly inspiring is Sayantan Bhattacharya who persevered to prove that success comes to those who never give up. Sayantan who secured AIR 5 in Electrical Engineering in GATE 2019 succeeded in his fifth GATE attempt with a score of 95.67 marks out of 100. Hailing from Siliguri West Bengal, Sayantan has completed his B.Tech in Electrical Engineering from Dr. B.C. Roy Engineering College, Durgapur. In this GATE 2019 topper interview, Sayantan talks about his dream to work for any top PSU in the country and how this drove a relentless passion in him to secure a top rank no matter how many attempts it took. Sayantan prefers going for short walks to ease stress and pressure and also loves watching TV series in his leisure time. In an exclusive interview with Careers360, the GATE 2019 topper in EE shares details about his journey, preparation strategy, valuable tips for future aspirants and a lot more.
Stay up-to date with GATE News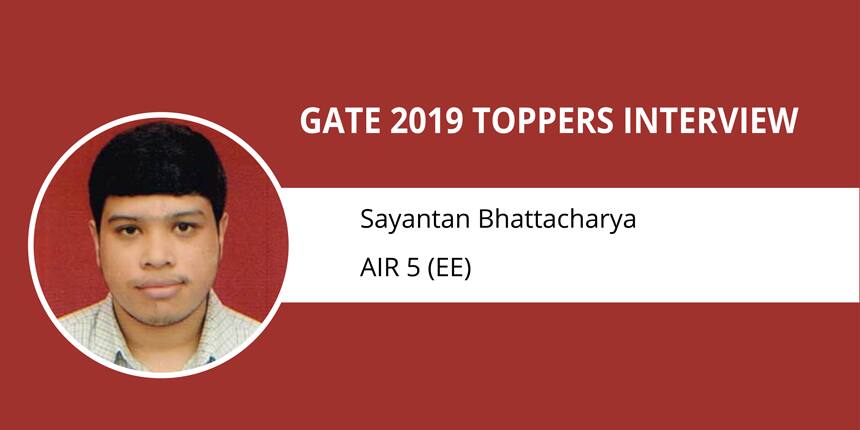 Careers360: Tell us something about yourself; Where have you done your engineering from and in which branch? 
Sayantan: My name is Sayantan Bhattacharya. I hail from Siliguri, West Bengal. I completed my B.Tech in Electrical Engineering from Dr. B.C. Roy Engineering College, Durgapur in the year 2014. Afterwards, I completed M.Tech in Power Electronics & Drives from National Institute of Technology, Agartala in the year 2017.
Careers360: What was the GATE Paper you appeared in? What rank did you get in GATE 2019? What is your GATE score and how many marks did you secure out of 100 in GATE paper?
Sayantan: I appeared in GATE 2019 Electrical Engineering Paper (Paper Code: EE). I secured an All India Rank of 5 in the paper. My GATE Score is 944 and my marks is 95.67 out of 100. 
Careers360: Is this your first attempt or did you attempt GATE earlier?
Sayantan: No, actually this was my fifth attempt at GATE. My previous attempts were in 2014, 2015, 2017 and 2018 respectively.
Careers360: What was the reason you appeared for GATE 2019? Please elaborate.
Sayantan: I heard about GATE exam when I was in the final year of my B.Tech. I heard about all the opportunities that open to the ones who successfully qualify in this exam. I then made up my mind to secure a good rank such that I could fulfil my dream of working in one of the top PSUs in the country. My first 4 times went unfruitful but I never gave up and kept on preparing. PSU recruitment is the only reason I appeared for GATE 2019.
Careers360: Have you applied to any PSUs recruiting through GATE? Which ones?
Sayantan: Yes, I have applied to the PSUs which I am eligible for, after taking into consideration the respective age criteria. These include POSOCO, PGCIL, MDL and WBSEDCL as of yet. Once other PSUs like ONGC open their application windows, I will apply to them as well.
Careers360: When did you start your preparation?  How did you prepare for the GATE exam? How many hours did you put in per day as per the stage of preparation? 
Sayantan: I started my preparation for GATE 2019 from July 2018. This is because I had already made my notes and solved numericals of all subjects during the course of preparation for GATE 2017 and GATE 2018. So, all I needed to do was revise whatever I had prepared previously. From the month of July to October 2018, I just kept revising all my notes and numericals of different subjects putting 8-10 hours into it per day. From the first week of November, I started revising each subject again in the same order as done previously putting 5-6 hours into it per day. Along with that, I gave the respective subject tests in order to test my knowledge of the subject. This way, I completed second revision as well as subject tests of all subjects by the first week of January 2019. After that, I started attempting full tests, giving two full length tests per day upto February 7th, 2019. I just relaxed and rested whole day on February 8th and went to give GATE 2019 exam on February 9th.
Careers360: Have you taken any coaching? If yes- From where? How did it help?
Sayantan: No, I haven't taken any coaching. My entire preparation was based on self-study. Although, I would like to add that I had taken test series of Kreatryx, Made Easy and Ace Academy which helped me to a great extent in improving my accuracy and eliminating silly mistakes during exam.
Careers360: Can you share any preparation strategies with our readers? When should one start their preparation for GATE? How to schedule study time and make timetables?
Sayantan: For final year candidates who will be attempting GATE for the first time, I would like to suggest that they should start their preparation while in 5th or 6th semester, preferably 5th. For self study students, the ideal time to start GATE preparation is April. They should first go through the standard textbooks for each subject to clear their basic concepts and also purchase any coaching institute handwritten notes, which are readily available online, for reference. One should dedicate at least 10-15 days for each subject including making notes and solving numerical. They should complete one subject before moving to another. This way the first phase of preparation should be completed by September end or mid October. After that, its just revision along with test series right up till the GATE exam.
Careers360: How important do you feel mock tests are and why? Is it true that if one solves the previous year question papers, there is a good chance of cracking the exam successfully?
Sayantan: Mock tests are the most, I repeat the most crucial part of GATE preparation. It lets you judge where you stand among the thousands of other GATE aspirants who are attempting the same mock tests. It serves as a necessary tool to harness your capabilities and improve your accuracy to the fullest. It also allows you to develop a strategy to attempt the questions in an effective manner so as to reduce the chances of making silly mistakes, which play a vital role in deciding your rank in the main exam. Merely solving previous year questions won't suffice. It may allow you to crack GATE but it won't be enough to fetch you a good score.
Careers360: Which books did you follow for GATE preparation? Please name some very important must read books for GATE
Sayantan: I followed standard textbooks for different subjects which I am mentioning below. Additionally, I purchased Made Easy handwritten notes of every subject and followed them to make my own notes and build my concepts. Also, I used Ace Bits and Bytes to practice numericals.
| | |
| --- | --- |
| Subject | Author |
| Network Theory | William H. Hayt and A Chakrabarti |
| Electromagnetic Field Theory | Matthew N.O. Sadiku |
| Measurement | A.K. Sawhney |
| Control Systems | B.S. Manke and A. Nagoor Kani |
| Signals and Systems | Alan V. Oppenheim |
| Digital Electronics | M. Morris Mano |
| Electrical Machines | V.K. Mehta and C.L. Wadhwa, Also used P.S. Bhimbhra as Reference Power Systems |
| Power Electronics | P.S. Bhimbhra |
| Engineering Mathematics | Made Easy Book, Ace Previous Year Maths book for Practise Attitude |
Careers360: Which are the topics one should focus more on? Kindly give us some details
Sayantan: It is a common misconception among many that one subject should be given more importance than another. Every subject and each and every topic in the syllabus is equally important and one should spend sufficient time preparing each of them. Never, I repeat never leave any subject while preparing for GATE. You have no idea from which topic questions might be asked, so it is better to stay prepared for the worst.
Careers360: what was the toughest aspect in your GATE preparation?
Sayantan: The toughest aspect was dealing with the frustration and depression that sometimes took over during the course of my preparation, especially because this was my 5th attempt and the last 4 attempts didn't yield lucrative results for me. I used to tackle those feelings by talking to other aspirants on WhatsApp and GATE groups on Facebook as well as helping other aspirants with any numerical questions or problems in the group. Also, I used to read success stories of previous GATE aspirants on different websites like Quora. That gave me the necessary motivation to do better.
Careers360: Name some important topics that you feel are a must read for any student attempting GATE exam? 
Sayantan: As I said earlier, each and every topic are necessary and must read. Core subjects like Machines, Power Systems and Power Electronics are very important and each and every topic should be studied in it. Other subjects like Control, Networks, Measurements, Signals are very scoring and should never be left.
Careers360: What did you do for leisure? Any specific activities that helped you unwind?
Sayantan: Sometimes, when I got stressed after studying hours continuously, I used to watch a movie or a TV show episode to clear up my mind. Also, I used to go for a walk which took my mind off the stress.
Careers360: How should you schedule answering the GATE exam – which section to attempt first and which next? Did you have any strategy? Kindly share your exam experience with us.
Sayantan: I can share my strategy of answering questions: First, I started from technical section. I solved the one or two 1 mark technical questions (the ones I knew and could solve correctly) and then moved directly to the 2 marks technical questions. I then sequentially started solving the 2 marks technical questions. I skipped and marked for review the ones I faced difficulty with. My target was to complete 30 questions in 1.5 hours after which I moved to General Aptitude section which I completed in 20-30 min. Then I moved to the 1 mark Technical questions, which I tried my best to finish within 45 min. The rest of the time, I dedicated to solving questions marked for review.. This was the strategy I developed over the course of my preparation through test series and it proved to be very effective in the main exam.
Careers360: What did you feel was a tough thing for you in the GATE exam?
Sayantan: This time, I did not feel much difficulty. My strategy was honed during my preparation.
When I started attempting test series during my preparation, I faced difficulty in maintaining my accuracy over the 3 hour period. I made quite a lot of silly mistakes, which was also the reason of my downfall in GATE 2018 exam. Over time, I formed and implemented various strategies to deal with and eliminate my silly mistakes altogether. This proved quite effective for me in the main exam.
Careers360: Any advice for the future aspirants?
Sayantan: The only thing I would like to say that never give up or surrender to peer pressure. Always move forward with your dreams. Remember that you may face failure, but don't get disheartened by it. Mistakes are a great teacher. Learn from your failures and make them your weapon. Only you can make your dream come true once you put your mind to it.
Questions related to GATE
Showing 16221 out of 16221 Questions