GATE 2018 Topper Interview Ankur Bansal AIR 46 (ME) - "Work hard, be proactive to beat the competition"
With the announcement of GATE 2018 result on March 16, the happiness of Ankur Bansal knew no bounds as he secured an AIR of 46 in ME. Ankur who completed his graduation from IIT Roorkee in Mechanical Engineering had started working after that, but couldn't let go of his dreams of cracking GATE. Knowing that competition is very high, he was adamant to fulfil it by being determined and consistent with his hard work. Completing the entire GATE syllabus and practicing online test papers in abundance are the two important takeaways from Ankur's preparation tips. The other preparation tips, books to refer and exam strategy of Ankur can be read from the excerpts given below of his exclusive interview with Careers360.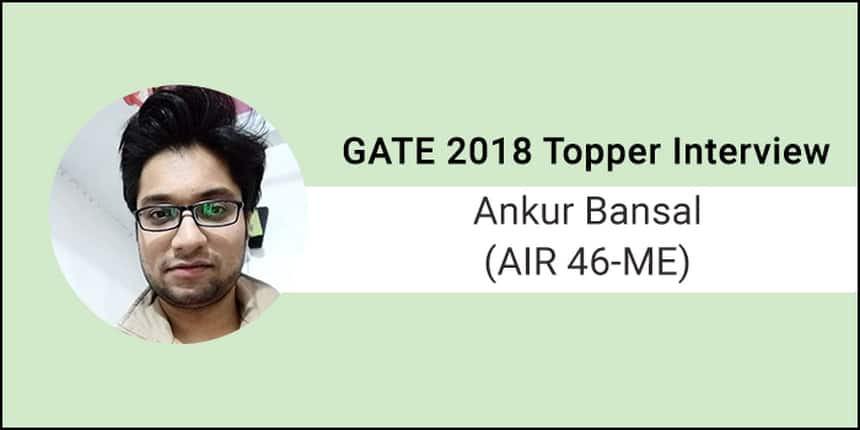 Careers360: Tell us some about yourself; Where have you done your engineering from and in which branch?
Ankur Bansal: I have done B.Tech from IIT Roorkee in Mechanical Engineering.
Careers360: What was the GATE Paper you appeared in? What rank did you get in GATE 2018? What is your GATE score and how many marks did you secure out of 100 in GATE paper?
Ankur Bansal: I appeared in GATE 2018 ME paper and got an AIR of 46. My score is 917 and marks are 88.4.
Careers360: Is this your first attempt or did you attempt GATE earlier?
Ankur Bansal: No, this was my second attempt. I appeared in GATE 2017.
Careers360: What was the reason you appeared for GATE 2018? Pls elaborate.
Ankur Bansal: I want be a part of PSUs like ONGC, IOCL, NTPC etc and for that GATE is one entry point.
Careers360: Have you applied to any PSUs recruiting through GATE? Which ones?
Ankur Bansal: I have not applied to any PSUs as of now.
Careers360: When did you start your preparation?  How did you prepare for the GATE exam? How many hours did you put in per day as per the stage of preparation?
Ankur Bansal: I started my GATE preparation in July while I was working. I took up the online test series of Made Easy and Ace Academy. I also enrolled for the postal study course of Made Easy postal. I used to study for 6 to 7 hours daily.
Careers360: Have you taken any coaching? If yes- From where? How did it help?
Ankur Bansal: No, I relied on self-study alone this time.
Careers360: Can you share any preparation strategies with our readers? When should one start their preparation for GATE? How to schedule study time and make timetables?
Ankur Bansal: I would recommend starting as early as possible because competition is very high. First, brush up your concepts. You can refer to NPTEL videos too to understand the concepts. Join test series to boost your rank. Try and stick to your daily plan. I personally think Made Easy CBT is also good.
Careers360: How important do you feel mock tests are and why? Is it true that if one solves the previous year question papers, there is a good chance of cracking the exam successfully?
Ankur Bansal: Previous year's papers are important but test series and mock tests are equally mandatory. In GATE every year, questions are new. They generally don't repeat the same questions so you have to practice new questions either from books or mock tests.
Careers360: Which books did you follow for GATE preparation? Pls name some very important must read books for GATE
Ankur Bansal: Some of the important books I feel are good for GATE are provided in the table given below.
Important books for GATE
| | | |
| --- | --- | --- |
| S.No. | Topics | Books |
| 1 | Fluid Mechanics | R.K. Bansal (Numerical point of view), Frank M.White (For understanding) |
| 2 | Heat Transfer | Cengel (For understanding concept) |
| 3 | Thermodynamics | P.K.Nag |
| 4 | Production Engineering | Swadesh Singh |
| 5 | Theory of Machine (TOM) | S.S. Ratan |
Careers360: Which are the topics one should focus more on? Kindly give us some details.
Ankur Bansal: I would say every topic in GATE syllabus is important. Don't leave anything, cover the entire syllabus.
Careers360: What was the toughest aspect in your GATE preparation?
Ankur Bansal: Since I didn't join any coaching institute so the toughest part for me was to keep track of what other students are doing, what is their preparation level etc. The competition is pretty high especially for ME. If you want a rank in the top 50, you have to be proactive.
Careers360: Name some important Topics that you feel are a must read for any student attempting GATE exam?
Ankur Bansal: I think all topics are important. To get a top rank, you should not even base your preparation that way.
Careers360: What did you do for leisure? Any specific activities that helped you unwind?
Ankur Bansal: I used to exercise for half an hour daily to relax my mind.
Careers360: How should you schedule answering the GATE exam – which section to attempt first and which next? Did you have any strategy? Kindly share your exam experience with us.
Ankur Bansal: I first attempted 2 marks technical questions, followed by 1 mark questions. I would suggest not to spend more than 5 minutes on any question otherwise you might lose marks on easy questions. Try to finish the question paper in 2 hours 15 minutes so that you can revise all NAT questions since they require a degree of precision than the MCQs.
Careers360: What did you feel was a tough thing for you in the GATE exam?
Ankur Bansal: Maintaining accuracy with speed was hard for me during GATE.
Careers360: Any advice for the future aspirants?
Ankur Bansal: Believe in hard work and not luck. Your hard work and efforts will bear fruit and definitely reward you with your dream rank. Best wishes to all.
Questions related to GATE
Showing 15328 out of 15328 Questions