GATE 2017 Topper Interview Anuj Gupta AIR 1 TF - Keep a balanced focus and chalk your own strategy
IIT Roorkee had announced the GATE 2017 Result on March 26, a day earlier than expected. Careers360 has since then brought forth a series of interviews with GATE Toppers from different disciplines. In this article, we talk to Anuj Gupta who secured an All India Rank of 1 in Textile engineering and Fibre Science in GATE 2017. A student of Textile Chemistry from Uttar Pradesh Textile Technology Institute (UPTTI), Kanpur, Anuj shares his GATE preparation strategies and challenges along with details of the topics and books he feels should be studied by future GATE aspirants.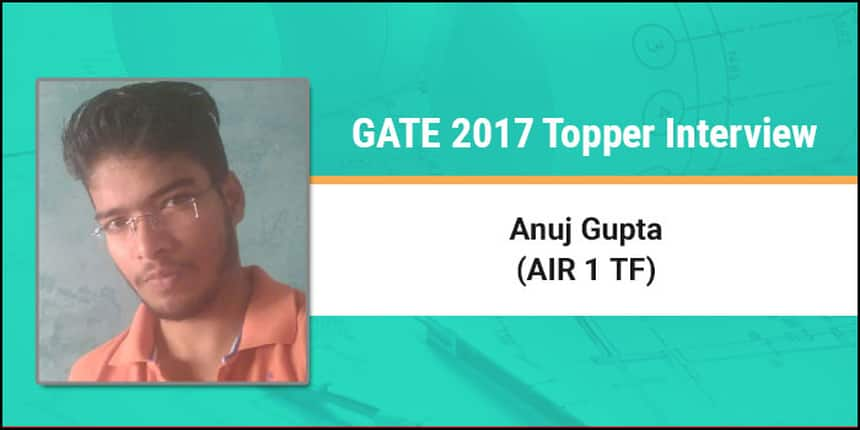 Related Posts:
Careers360: Tell us something about yourself; Where have you done your engineering from and in which branch?
Anuj Gupta: My name is Anuj Gupta. Currently, I am in the final year of Textile Chemistry, at Uttar Pradesh Textile Technology Institute (UPTTI), Kanpur.
Careers360: What was the GATE Paper you appeared in? What rank did you get in GATE 2017? What is your GATE score and how many marks did you secure out of 100 in GATE paper?
Anuj Gupta: I appeared in the Textile Engineering And Fibre Science paper in GATE 2017. I got an All India Rank 1 with a gate score 964 out of 1000 and secured 62.38 out of 100.
Careers360: What was the reason you appeared for GATE 2017? Please elaborate your reasons
Anuj Gupta: It was my dream to study in the Indian Institute of Technology (IIT) right from my childhood. I aim to make it a reality now.
Careers360: Have you applied to any PSUs recruiting through GATE?
Anuj Gupta: Yes, I plan to apply to the Defence Research and Development Organisation (DRDO) for the post of Scientist B in the Textile field. I really want to serve my country.
Careers360: When did you start your preparation? How did you prepare for the GATE exam? How many hours did you put in per day for your preparation?
Anuj Gupta: I started my GATE preparation when I was in my third year of B.Tech. I never paid heed to the number of hours that I had to study. I used to study in the library to avoid disturbances.
Careers360: Have you taken any coaching? If yes- From where? How did it help?
Anuj Gupta: I took coaching from "LOTUS ACADEMY" which is run by Shailendra Mishra, who is a guest faculty at our college. I got guidance from here on how to solve the numerical problems and the books I needed to consult for the exam.  Shailendra Mishra sir helped me throughout my GATE preparation. He motivated me when I was low on confidence and was losing hope. The test series provided at the coaching institute was of immense help.
Careers360: Can you share any preparation strategies with our readers? When should one start their preparation for GATE? How to schedule study time and make timetables?
Anuj Gupta: First of all, I want to give a message to all aspirants of the GATE examination to never take any kind of stress .One should have a clear idea in mind about how to prepare for the GATE exam. I think that one should start their preparation from the beginning of their third year of B.Tech.
As for a timetable, this should be set up as per the comfort levels and the number of hours a student can devote to GATE preparation. One cant have a fixed and set timetable for everyone.
Careers360: How should one schedule answering the GATE exam – which section to attempt first and which next?
Anuj Gupta: I would suggest that one should first attempt the numerical portion followed by the questions in Maths. Thereafter, candidates should attempt the questions on aptitude. They should solve the theory questions at the last.
Careers360: What was the toughest aspect in your GATE preparation?
Anuj Gupta: I found it difficult to manage my time for GATE preparation initially as I was involved in different co-curricular activities including sports at the college level. I used to study late in the night.
Careers360: Name some important Topics that you feel are a must read for any student attempting GATE exam?
Anuj Gupta:  First the syllabus for Fibre Science should be studied thoroughly followed by Chemical Wet Processing and then testing. Question in Maths and Textile Numerical are very scoring and candidates should take ensure they have covered these well.
Careers360: What did you feel was a tough thing in the GATE exam?
Anuj Gupta: I found the aptitude section a bit tough.
Careers360: How important do you feel mock tests are and why? Is it true that if one solves the previous year question papers, there is a good chance of cracking the exam successfully?
Anuj Gupta: I found mock test papers very helpful for topic wise analysis. However, it is essential to solve previous years question papers and GATE sample papers. A number of questions are based on the same concepts especially the numericals. Therefore, it helps in preparing well.
Careers360: Which books did you follow for GATE preparation? Please name some very important must read books for GATE
Anuj Gupta: The books that I consulted for GATE are given below in the table.
List of books  
S. No

Subject

Name of author

1.

Spinning

W. Klein

2.

Weaving

N Cute

3.

Textile Testing

J.E. Booth

4.

Processing

Dyeing: N Cute

Printing: VA Shenai, RS Prayag & Journals

Finishing; RS Prayag & Journals

5.

Natural fibres

EPG Gohl

6.

Manufactured fibres

V.K. Kothari
Careers360: What did you do for leisure? Any specific activities that helped you unwind?
Anuj Gupta: I used to play badminton regularly in the evening in addition to spending some time with my friends. However, I was particular about not to losing any sleep during the course of my GATE preparation. Proper sleep kept the negative thoughts at bay.
Careers360: Any advice for the future aspirants?
Anuj Gupta: Do not take any stress. This is important. So you should participate in those activities which allow you to de-stress like watching movies.  Maintain a good balance between everything in your life and everything will fall in place. Keep your faith and trust and you can reach heights.
GOOD LUCK AND ALL THE BEST!!!!!!!!!!!!!
Stay tuned to engineering.careers360.com for more news and updates on GATE.
Read Also
Questions related to GATE
Showing 15336 out of 15336 Questions