TNEA Fee Structure 2023 - DoTE, Tamil Nadu will release the TNEA 2023 fee structure on the official website. Candidates will be able to check the fee structure of TNEA on this page after the official announcement. It should be noted that the fee structure for engineering colleges in Tamilnadu varies category-wise. There are norms for tuition fee concession to be announced along with the fee structure for the Tamil Nadu engineering entrance exam 2023.
Admission Alert: Apply to these TOP institutions with your TNEA Rank - Check List here

Latest: Want to Know Colleges, Specialization to Apply on the basis of your TNEA Rank, Click here
Hindustan University Admissions Open. Ranked #1 Deemed University in India by India Today. Apply Now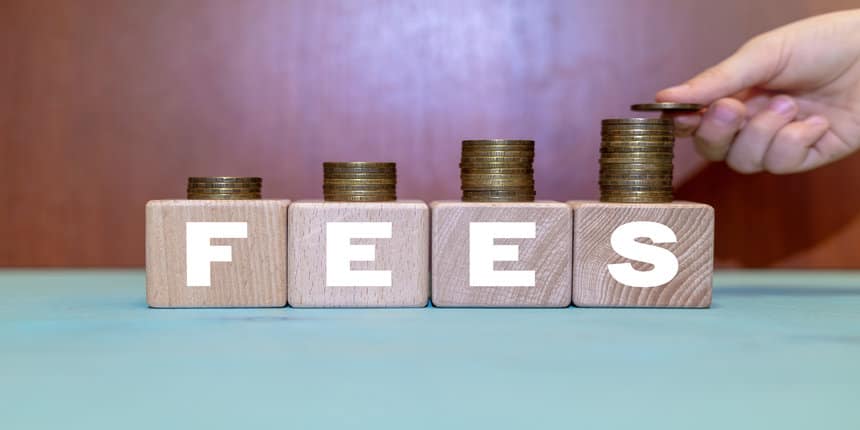 TNEA Fee Structure 2023 - Check Tuition, Hostel and Mess Fees here
Some part of the fee may have to be paid at the time of TNEA 2023 counseling and seat allotment to reserve the seats. Candidates must be aware of the TNEA fees for the B.Tech course at Anna University. Candidates can check the TNEA counselling dates online. Read the full article to know more about the TNEA fee structure 2023.
Also, check TNEA Reservation Criteria 2023
TNEA Fee Structure 2023
Name of the Course
Course type
Fee Fixed by the committee per annum
B.E./B.Tech./B.Arch (Category - I)
Non-Accredited
Rs. 50,000
Accredited
Rs. 55,000
B.E./B.Tech./B.Arch (Category - II)
Non-Accredited
Rs. 85,000
Accredited
Rs. 87,000
M.E./M.Tech/M.Arch.
Non-Accredited
Rs. 25,000
Accredited
Rs. 30,000
MBA and MCA
Non-Accredited
Rs. 17,500
Accredited
Rs. 20,500
M.Sc. - 5 years Integrated Course
Non-Accredited
Rs. 17,500
Accredited
Rs. 20,500
PGDBM/PGDBA
Non-Accredited
Rs. 50,000
Accredited
Rs. 50,000
Note: The fee is an all-inclusive annual fee including various fees like Tuition fee, Admission fees, Special fees, Laboratory / Computer / Internet fees, Library fees, Sports fees, Placement and training fees, Maintenance fees and amenities fees, Extra-Curricular Activities fees, and other recurring expenditure.
TNEA College Predictor
Know your college admission chances for TNEA Counselling based on your TNEA Rank
Start Now
TNEA 2023 Tuition Fee Concessions
Applicants can refer to the tuition fee concessions provided under TNEA fee structure 2023 as mentioned below-
First Graduate Tuition Fee Concession- It is a tuition fee concession provided by the authorities to the first graduate in a family who is attending counselling or has joined in professional courses in Government / Aided and Self-Financing Engineering Colleges. It should be noted that a candidate whose brother/sister has claimed this concession before will not be eligible for such a concession.
Applicants of the first graduate tuition fee concession will have to submit the following documents-
Certificate obtained from Deputy Tahsildar in the format prescribed in G.O. Electronic form/ digitally signed e-Certificate.The certificate should include the name of the applicant's father, mother, father's father, father's mother, mother's father, mother's mother, brothers, and sisters.

Joint declaration by the candidate and his/ her parent/ guardian in the prescribed format.

AICTE Tuition Fee Waiver (TFW) Scheme
This scheme is applicable to only B.E/B.Tech courses are offered by Self-Financing Engineering Colleges and Self-Supporting courses in Government Aided Engineering Colleges. It is provided by the Management of the Institutions. Candidates whose annual parental income is less than 6 lakhs (From all sources) will be eligible for tuition fee exemption under the scheme. It should be noted that such candidates will have to pay all other fees except tuition fees. Also, such candidates will not be allowed to change institution/course after allotment in any circumstances.
Post Matric Scholarship
This scholarship is provided to all SC/ SCA/ ST candidates and SC/ SCA converted Christians whose annual parental income is less than Rs. 2,50,000/- (from all sources). In order to claim the scholarship, applicants have to submit the income certificate from the appropriate authorities.
Important Facts related to TNEA Fee Structure 2023
Candidates shortlisted in the TNEA rank list will have to pay the counselling fee as per the TNEA 2023 fee structure. General candidates have to pay a counselling fee of Rs 5000 and SC/ST candidates have to pay Rs 1000.

The seats allotted to candidates will be canceled if they fail to pay the TNEA admission fee 2023 within the specified time after seat allotment.

This amount paid by the candidates as counselling fee is adjustable in the TNEA tuition fee if candidates are allotted seats. According to TNEA fee structure 2023, the remaining amount of the admission fee has to be paid by the candidates at the allotted TNEA 2023 participating institute.

If a candidate does not wish to join the institute so allotted after admission is done, then he/ she can apply for a refund. It should be noted that candidates will be refunded only 80% of the initial TNEA fee paid.

If a candidate is not allotted a seat during TNEA counselling 2023, then he/she can claim the initial deposit refund. The refund will be done as per the procedure set by the authorities.

For claiming a refund, candidates have to submit the original allotment letter and receipt of payment of the TNEA 2023 fee before the last date.