Ayush Srivastava of Lucknow, Uttar Pradesh, has qualified the GATE 2023 with AIR 6 in Petroleum paper. With a goal to get admission into IIT Bombay / NITIE Mumbai for M.Tech and also to get a position at a PSU, Srivastava appeared for the GATE 2023 exam. He believes that practising the mock test and the previous year's question paper is one of the reasons for his success. Sharing the success mantra Ayush said, "Always keep faith in yourself. Ayush also shared his achievement mantra, "Always believe in yourself." always pay off."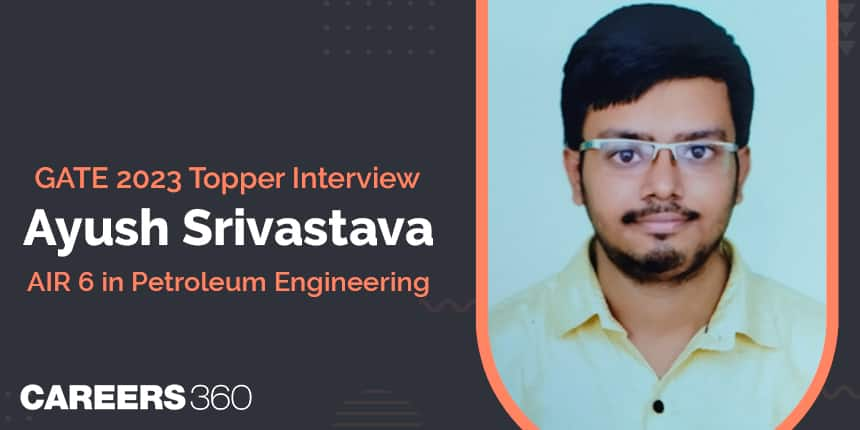 GATE 2023 Topper Interview: Ayush Srivastava, AIR 6 in Petroleum Engineering
Careers360: Tell us something about yourself; Where have you done your engineering from and in which branch?
Ayush: My name is Ayush Srivastava. I have a strong belief in one saying that 'sweet are the uses of adversity'. I belong to Lucknow. I have completed my schooling at CMS in Lucknow. I qualified for IIT JEE advanced and got admitted to the central government Institute Rajiv Gandhi Institute of Petroleum Technology. I completed by B.Tech in petroleum engineering and graduated in 2021.
Careers360: What was the GATE Paper you appeared in? What rank did you get in GATE 2023? What is your GATE score and how many marks did you secure in the GATE paper?
Ayush: I appeared for Petroleum Engineering.
Rank: AIR 6
Score: 897/1000
Marks: 70.33/100
Careers360: Is this your first attempt or did you attempt GATE earlier?
Ayush: No, with dedication, it's my second attempt.
Careers360: What was the reason you appeared for GATE 2023? Pls elaborate.
Ayush: My Aim was to target M.Tech from IIT Bombay, NITIE Mumbai and PSU.
Careers360: Have you applied to any PSUs recruiting through GATE? Which ones?
Ayush: No, not yet because till now any PSU has not released any vacancy from Gate 2023 for Petroleum engineering candidates but it's likely to get released soon.
Careers360: When did you start your preparation? How did you prepare for the GATE exam? How many hours did you put in per day as per the stage of preparation?
Ayush: For Gate 2023, I started in May 2022. I prepared with help of my notes, college notes, Petrogate Academy's recorded videos, and via standard books. I targeted to study 5-6 hours on average per day.
Careers360: Have you taken any coaching? If yes- From where? How did it help?
Ayush: I took recorded lectures from Petrogate Academy. Yes, it helped me a lot to keep myself disciplined and also helped me with quick preparation because I had time issues because I'm also doing a job currently.
Careers360: Can you share any preparation strategies with our readers? When should one start their preparation for GATE? How to schedule study time and make timetables?
Ayush: Time management is the key. Try to start the preparation as early as you can so as you are not short of timing. Stick to the GATE syllabus. Read standard books according to topics in the syllabus. Practice more and more because speed, time, and accuracy is what matter. One should make timetables with logical and achievable targets. Timetables should be dynamic based on daily or weekly targets. It should include breaks for relaxation. Try to utilize early morning time. Try to keep practice time during that part of the day when you have the real exam. In my case exam was in the morning slot so I made my body adjusted to practice more and more questions during this time.
Careers360: How important do you feel mock tests are and why? Is it true that if one solves the previous year question papers, there is a good chance of cracking the exam successfully?
Ayush: Yes, GATE mock tests are really important. They help you to give a reality check of your preparation. It helps you to do more mistakes and learn from them and try not to repeat those faults. Thus more and more mocks lead to better speed and accuracy.
GATE previous years papers are very important. It gives you a real sense of the questions that are asked in the exam.
Careers360: Which books did you follow for GATE preparation? Pls name some very important must-read books for GATE.
Ayush: There are numerous books that I referred for preparation for different topics and subjects.
Maths- Made easy
Reservoir- Tarrek Ahmad, Craft, and Hawkings, LP Dake.
Drilling- H Rabia, Heriott watt
Production: Boyun Guo, Economides, Arnold, Heriott Watt, etc.
Please note that entire book is not supposed to be read. Please stick to the syllabus strictly.
Careers360: Which are the topics one should focus more on? Kindly give us some details
Ayush: Gate exam is highly unpredictable but one can focus more on Maths, Reservoir engineering, Drilling and Production technology. But I do not suggest doing a selective study. I believe that if you have time then please study the entire syllabus. Yes, you can leave HSE.
Careers360: what was the toughest aspect in your GATE preparation?
Ayush: I was preparing for my job. So managing time was very difficult. I work in multiple shifts so my schedule was not set properly which was a disadvantage and the greatest challenge in my preparation.
Careers360: Name some important Topics that you feel are a must read for any student attempting GATE exam?
Ayush: The GATE exam is highly unpredictable and ambiguous so can't comment on this question.
Careers360: What did you do for leisure? Any specific activities that helped you unwind?
Ayush: I like to talk to my family and friends in my leisure time. Also I listen to music while relaxing
Careers360: How should you schedule answering the GATE exam – which section to attempt first and which next? Did you have any strategy? Kindly share your exam experience with us.
Ayush: I attempt the Aptitude section first. Then I attempt the technical section. I attempt one mark question first then 2 marks questions. Do not spend so much time. If a question is taking much time then mark it for review and move ahead. Do revise your questions, especially numerical because there is a high chance of doing calculation errors or silly errors while attempting. So keep at least 15 mins at last for revision.
Careers360: What did you feel was a tough thing for you in the GATE exam?
Ayush: Initially I was not getting few questions. So keep my confidence level up and not to panic was a difficult thing for me but I managed.
Careers360: Any advice for future aspirants?
Ayush: Focus on three major pillars.
1) Consistency (be consistent and regular in your preparation, do not drop touch with your preparation)
2) Practicing ( Do as my mocks, do mistakes in them but don't repeat in the next set of papers)
3) Analysis (after practicing always analyze your mistakes and time analysis).
Always keep faith in yourself. Be positive and focus on hard work. Remember that hard work and an honest approach always pays you off.
All the best!