How to Prepare for GATE 2021 Instrumentation Engineering (IN)?
How to Prepare for GATE 2021 Instrumentation Engineering (IN)? - There are many students who wish to prepare for GATE instrumentation engineering in furtherance of the plan to appear for the upcoming session. Preparation is the first step, in fact the foundation stone to crack any examination, and when the examination is as big and important as GATE, one should not at all leave any scope of regret in the future. There are any students who are all set to work harder and study, but do not know where to start from and what path to follow in order to prepare for GATE instrumentation engineering. Thus, here are some tips and tricks for those who are preparing for GATE 2021 instrumentation engineering. The article below contains some of the pointers that an aspirant should follow, topic wise list of books on how to prepare for GATE 2021 instrumentation engineering and other important information for students.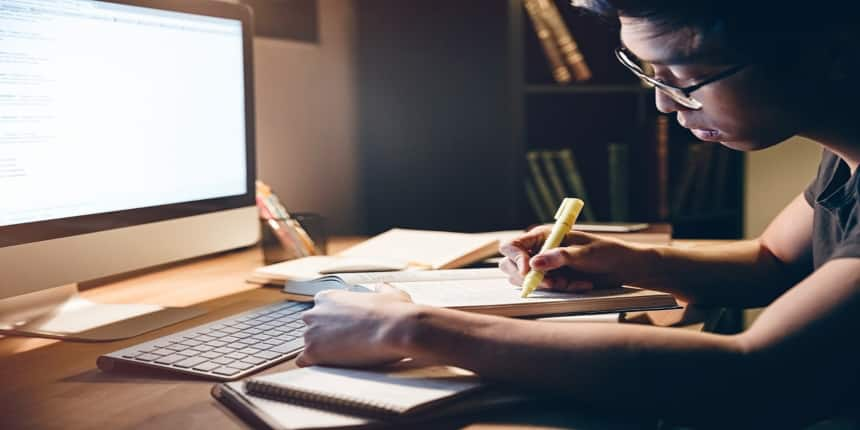 Quick Links:-
GATE 2021 Virtual Calculator - How to Use it?
GATE Eligibility Criteria 2021
What is Instrumentation Engineering?
There are a variety of instruments used in an industry for carrying out the purposes of production, manufacturing, designing, etc. depending on the nature of such industry. Instrumentation engineering can be understood as that branch of engineering which focuses upon the principles and operations of measurement of instruments used in the field of design, configuring the automated systems in electrical, etc. domains.
After understanding what exactly the branch of instrumentation engineering means, those who wish to pursue their further studies or career in instrumentation engineering may check out the pointers provided below for preparing for GATE 2021 Instrumentation Engineering:
The first step for students determined to prepare for GATE Instrumentation Engineering is checking out the complete syllabus of GATE 2021. This will make them aware of what topics are there in the syllabus and have to be prepared well. They should also check those which they are already good at and those that need much focus and hard work. The syllabus will give direction for preparation of GATE 2021 for instrumentation engineering.
After knowing what topics are provided by the authorities to be covered in the exam, one should look for understanding the nature of the exam with the help of GATE exam pattern. This will make them aware of the mode in which the exam will be conducted, the total duration of exam, total number of questions asked and the nature of questions, etc. Understanding the structure in which the question paper will be served will help candidates frame a better strategy in order to prepare for GATE 2021 instrumentation engineering. Thus, this step should not at all be skipped by those who are seriously willing to prepare.
After the candidates are all set to start off with the preparation, the next step comes to choose the relevant study material through which all the topics will be studied. Choosing the best books for GATE preparation of Instrumentation engineering is a crucial task and to relieve student's hussle, given below is the subject specific list of books that can be referred to by students:
Books for GATE Instrumentation Engineering
Topics

Books

Mathematics

Advanced Engineering Mathematics by Erwin Kreyszig; Engineering Mathematics by Made Easy

Network Theory

Engineering Circuit Analysis by Jack E. Kemmerly, Steven M. Durbin, William H. Hayt

Analog Electronics

Fundamentals of Microelectronics by Behzad Razavi

Digital Electronics

Solved previous year questions from EC and IN streams

Signals and Systems

Signals And Systems (Schaum's Outline Series) by Hwei P HSU

Signals & Systems by Alan V. Oppenheim

Communication Systems

Modern Digital and Analog Communication System by B P Lathi

Electrical and Electronic Measurements

A Course In Electrical And Electronic Measurements And Instrumentation by A K Sawhney, Puneet Sawhney

Control System

Automatic Control Systems by Benjamin C Kuo

Process Control

Process Control: Modeling, Design, And Simulation by B. Wayne Bequette

For Transducers

Introduction to Measurements and Instrumentation by Arun K Ghosh

Quick Links:-
GATE Login 2021
Exam Pattern 2021

Students who are going to prepare for GATE 2021 instrumentation engineering and have referred to the syllabus well will be able to point out the topics that they have in depth knowledge of, and those which will need a lot of time and effort to prepare for. Such kind of separation of topics will help candidates understand the level of their preparation and thus, move in the direction that deems fruitful for qualifying the entrance examination.
While preparing for big exams like that of GATE, one should never think that one study material is enough. They should always keep referring to some other sources like online video lectures, online content on specific topics. Candidates are also advised to make their own personal short notes while studying specific topics so that they have the miniature of what all they studied to be referred to at the time of revision.
Last but not least, students preparing for GATE 2021 instrumentation engineering should never forget to practice as many papers as possible. They can refer to the old GATE question papers which will also reflect the trend followed by authorities on what questions are being repeated, what tropics are being asked again and again. They should also practice GATE mock test papers if there is some time still left as it will not only help analyze the level of preparation but also familiarize with the other possible questions related with the syllabus.
Hence, if a religious attempt is made by the candidates while preparing for GATE instrumentation engineering by following the methods introduced above, there is no chance that they may not qualify the examination with a good rank. That is why a proper preparation plan and strategy is always better to be adopted in order to prepare for GATE examination.
Questions related to GATE
Showing 14563 out of 14563 Questions