GATE Topper Interview Nihar Sahoo (AIR 9 CS) - Self-confidence and Determination are necessary traits!
It is tough to stand out in a sea of people from the same background aspiring to reach the pinnacle of success and only the very determined, persistent ones do. GATE 2017 Results announced on March 26 saw a lot of mixed reactions. Amongst the jubilant ones is Nihar Ranjan Sahoo whose hard work and determination fetched him an All India Rank of 9 in GATE 2017 Computer Science. A student of from IGIT, Sarang, Odisha, he aims to fulfil his wish to study at IISc Bangalore and then move to join the public sector. This is his second attempt and here he elaborates how he went about preparing for GATE 2017 and suggests some tips on study material, attempting the GATE exam, time management and more. Read on..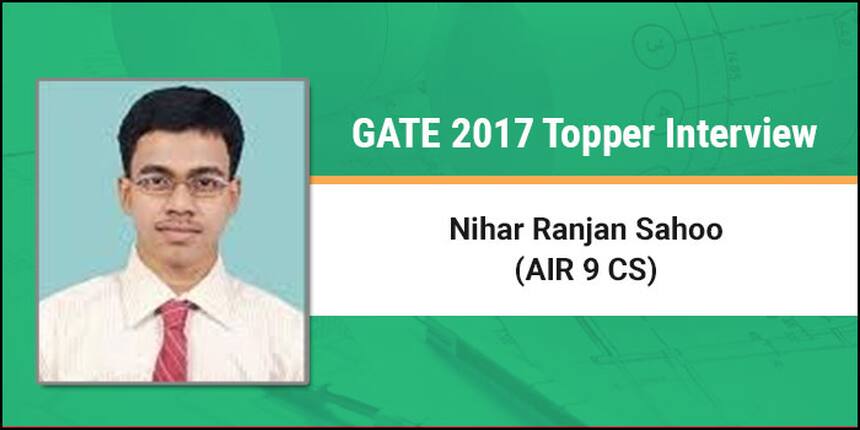 Careers360: Tell us something about yourself; Where have you done your engineering from and in which branch?
Nihar Sahoo: My name is Nihar Ranjan Sahoo. I am from Khurdha, Odisha. I have done my B.Tech from IGIT, Sarang, Odisha.
Careers360: What was the GATE Paper you appeared in? What rank did you get in GATE 2017? What is your GATE score and how many marks did you secure out of 100 in GATE paper?
Nihar Sahoo: I appeared for GATE 2017 Computer Science and Engg paper. I secured an All India Rank 9  in GATE-2017 CS stream. My GATE score is 957 and normalized marks are 79.29.
Careers360: What was the reason you appeared for GATE 2017? Pls elaborate your reasons.
Nihar Sahoo: GATE provides a great platform to go into IISc Bangalore, IITs and also a career in PSUs. I am looking forward to join IISc Bangalore.
Careers360: Have you applied to any PSUs recruiting through GATE?
Nihar Sahoo: Yes, I have applied to PowerGrid and IOCL.
Careers360: When did you start your preparation?  How did you prepare for the GATE exam ? How many hours did you put in per day as per the stage of preparation?
Nihar Sahoo: I first prepared for GATE 2016 when I was in my final year of B.Tech. However, due to college workload, I didn't do as well as I though and was able to get 1625 rank in GATE-2016. Then, forgoing a placement, I started to prepare for GATE-2017 from July. I started with my previous year notes and then went through other resources with a focus on understanding the concepts. I was not able to adhere to a fixed schedule. Some days I studied for only 2 to 3 hours while on others I studied for 8 to 9 hours.
Careers360: Have you taken any coaching? If yes- From where? How did it help?
Nihar Sahoo: I had joined Ravindrababu Ravula online GATE lectures. His videos helped me understand the concepts quickly and easily. However, in my opinion, just relying on coaching/online videos is not enough to perform well. You need to be dedicated and give notable time for self-study and practice.
Careers360: Can you share any preparation strategies with our readers? When should one start their preparation for GATE? How to schedule study time and make timetables?
Nihar Sahoo: Some suggestions I have are
Make a schedule.

Decide the perfect time during the day when you can give your 100% towards study and use it effectively

Make a list of topics and decide which topic you have to finish first and which topic to finish later.

While studying a particular topic, do not forget to revise the topics that you have already completed. This revision will help you to remember the concepts.
Following these for about 5 to 6 months will be enough to get a good rank
Careers360: How should one schedule answering the GATE exam – which section to attempt first and which next?
Nihar Sahoo: This is totally person specific. I attempted the technical section first and then the aptitude section.
Careers360: what was the toughest aspect in your GATE preparation?
Nihar Sahoo: In my view, consistency in preparation is the toughest challenge that one faces during preparation. To stay motivated and dedicated is not easy all throughout. Maintain a smooth pace throughout the preparation. Do not be demoralised in the midst of your preparation.
Careers360: Name some important Topics that you feel are a must read for any student attempting GATE exam?
Nihar Sahoo: Considering the level of questions in GATE and competition in recent years, every topic is essential to get a good rank. I would not advise to go by the weightage of topics methodology. You need to know all aspects of the GATE syllabus so better prepare keeping that in mind.
Careers360: What did you feel was a tough thing in the GATE exam?
Nihar Sahoo: The most important thing is your accuracy in solving the GATE paper. It is equlally vital to control one's fickleness while solving the paper especially, in an exam like GATE.
Careers360: How important do you feel mock tests are and why? Is it true that if one solves the previous year question papers, there is a good chance of cracking the exam successfully?
Nihar Sahoo: Mock tests will help students with time management skills as they learn how to solve a certain number of questions within a given specific time limit. These tests will also aid in learning the concepts and to know the areas where improvement is needed.
Careers360: Which books did you follow for GATE preparation? Pls name some very important must read books for GATE.
Nihar Sahoo: I used to follow my own notes. Apart from notes I used to follow the following books.
Computer networks - Data Communications and Networking.-Second Edition by Behrouz A. Forouzan.

Computer organisation and Architecture - Computer organisation by Carl Hamacher.

Operating Systems – operating system concepts by silberschatz galvin gagne

Compiler Design by Aho Ullman
Careers360: What did you do for leisure? Any specific activities that helped you unwind?
Nihar Sahoo: I prefer to listen songs, watch Cricket videos and movies. One should choose his/her own way of relaxation.
Careers360: .Any advice for the future aspirants?
Nihar Sahoo: Stop doubting yourself. Work hard and make it happen. Never lose your confidence. Do not be too serious about the exam. Stay calm and focused. Best of luck.
Questions related to GATE
Showing 15327 out of 15327 Questions