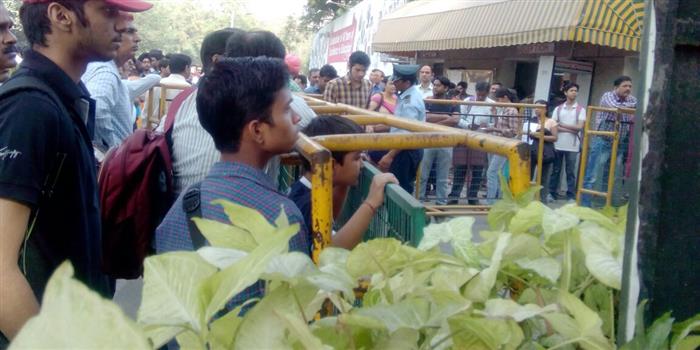 TNEA 2019: The online registration of TNEA 2019 will start tentatively in the 1st week of May 2019 for admission to undergraduate engineering and technology courses at some 563 participating institutes. The TNEA 2019 admission process will be conducted by Anna University. The registration-cum-application form of TNEA 2019 will be available in online mode only and have to be filled before the last date by eligible candidates. Admission to different engineering and technology courses will be based on normalized marks of 10+2 (qualifying exam) only, and no separate entrance test will be held. All candidates who have filled the application form will be issued release 10-digit random numbers, which will be used for tie breaking purpose. Next TNEA applicants have to report for document verification at designated facilitation centres on the given schedule, post which rank lists will be announced. Candidates included in the TNEA 2019 rank list have to participate in choice filling and locking. Go through the rest of the article to learn more about TNEA 2019.
Compare Colleges
College Comparison based on Courses, Placement, Rank, Fee
Compare Now
TNEA 2018 - Quick Facts
| | |
| --- | --- |
| Events | Overview |
| Name of Admission Process | Tamil Nadu Engineering Admissions |
| Common Name | TNEA |
| Name of Conducting Institute | Anna University |
| Number of Participating Institutes | 563 |
| Admission Process | The marks obtained by candidates in Qualifying exam will be considered. Also, there will be no separate entrance test. |
| Mode of Counselling | Online |
| Available Seats | 1.5 Lakh (Approximate) |
TNEA Important Dates 2019
Important Dates of TNEA 2019
| | | |
| --- | --- | --- |
| S.No | Events | Tentative Dates |
| 1 | Online registration commences | 1st week of May, 2019 |
| 2 | Last date to register | 1st week of June, 2019 |
| 3 | Random Number assignment | 1st week of June, 2019 |
| 4 | Document verification starts | 2nd week of June, 2019 |
| 5 | Publication of Rank List | 4th week of June, 2019 |
| 6 | Start of online choice filling and confirmation | 3rd week of July, 2019 |
Important Dates for Other State Quota Seats
| | |
| --- | --- |
| Event | Date |
| Start of online registration | 3rd week of June, 2019 |
| Last date to register | 1st week of July, 2019 |
TNEA Eligibility Criteria 2019
The eligibility criteria of TNEA 2019 are a set of conditions related to nativity, age, qualifying exam, etc. that each candidate needs to meet in order to be considered for admission. In such cases where the candidate doesn't meet the prescribed TNEA 2019 eligibility criteria but still applies for admission, their applications won't be considered. Given below are the key eligibility criteria.
TNEA 2019 Eligibility Criteria
Nativity:
Candidates from Tamil Nadu who have passed class VIII, IX, X, XI and XII exams from the state are eligible

Natives of Tamil Nadu who have passed any of class VIII, IX, X, XI and XII exams from schools situated outside the state of Tamil Nadu are also eligible, but have to submit Nativity Certificate

Wards of central government employees are also eligible if their parents are employed in TN for past five years.

Candidates who have studied VIII-XII in the state of TN are eligible and don't need to enclose Nativity Certificate.

Children of All India service Tamil Nadu cadre officers can also apply.

Wards of Public Sector employees or those working in Government reecognised Institutions for past five years at the time of application submission are eligible.
Qualifying Exam: The candidate needs to have passed 10+2 with a minimum aggregate of 50% marks in Physics, Chemistry and Mathematics. Refer table below for minimum marks required for reserved categories.
Category-wise minimum marks in Qualifying Exam
Category

Minimum Marks in PCM

General Category

50%

Backward Class including

Backward Class Muslim

45%

MBC & DNC

40%

SC/SCA/ST

40%
Age Limit: There is no age limit that has been specified, except for admission to marine engineering. Candidates applying to marine engineering must not be older than 25 years as on the last day of application submission.
Other marine-engineering related eligibility criteria
Academic qualification: The candidate needs to have passed 10+2 with minimum 60% marks in PCM. The candidate also needs to have studied English as one of the subjects, with at least 50% marks in the subject at class 10 or 10+2.

Height – Not less than 157 cm

Weight – Must be minimum 48 kg

Vision – Should have normal vision
TNEA 2019 Eligibility Criteria for other state candidates
Under this category, candidates who are not natives of Tamil Nadu, neither meets any of the nativity clauses mentioned above may apply.
Qualifying Exam: The candidate needs to have passed 10+2 or an equivalent exam with minimum 50% marks in aggregate (40% for SC and ST candidates) in Physics, Chemistry and Mathematics.
TNEA Application Form 2019
Anna University will release the application form of TNEA 2019 separately for home quota seats and other state quota seats. TNEA 2019 Application form for home quota seats will open tentatively in the 1st week of May 2019. Eligible candidates will have to fill the application form online, using correct and verifiable date and submit it before the last; applications received after last date won't be considered.
How to fill the TNEA 2019 application form 
Registration – The candidate will have to register using valid email id and mobile number. The candidate in this step will also have to enter details pertaining nativity, religion, and communication, etc.

Payment of application fee – The application fee is Rs. 500 for open, and Rs. 250 for SC, ST and SCA candidates from Tamil Nadu. The fee can be paid either online or offline (demand draft).

Filling of personal details – In this step information related to category, nationality, and also scholarships, etc. have to be entered.

Filling of academic information – The candidate has to enter class 10 and 10+2 marks, qualifying exam, board, etc.

Submit the application form – The candidate has to finally check the application is complete in all respects before submitting it.
Applications for other state candidates will open around the 3rd week of June, with the application process more or less the same.
TNEA Random Number 2019
All eligible candidates will be issued TNEA 2019 random numbers post successful submission of application form. The purpose of the random number of TNEA 2019 is to help break the deadlock between candidates, if there is a tie even after exhausting all tie breaking rules. An unique 10-digit number, the random number can be checked by logging into applicant accounts.
TNEA Document Verification 2019 
All candidates who have been assigned random numbers, will have to next report at assigned facilitation centres for document verification. Internet-enabled facilitation centres will be set up in all districts to ensure the document verification process is smooth and event-free. At the time of document verification, candidates are required to carry originals of all relevant documents and also photocopies.
TNEA Rank List 2019
For admission purpose, rank list of TNEA 2019 will be prepared based on the normalized marks obtained by the candidate in 10+2. For the normalization process, marks obtained by the candidate in physics, chemistry and mathematics will be calculated out of 200 ((Mathematics – 100, Physics + Chemistry – 100). This means, mathematics carries the same weightage as physics and chemistry combined. Normalization is done to ensure that there is a level playing field and candidates from one board doesn't enjoy an unfair advantage over another.
In such cases where two or more candidates score the same marks, inter-se merit will be determined in the following sequence: 
Percentage of marks in Mathematics

Percentage of marks in Physics

Percentage of marks in optional subject

Based on age (with preference given to the older candidate)

If tie persists at this stage, random numbers assigned to candidates will be used to break the deadlock.
TNEA 2019 rank lists will be determined for all the participating institutes and will be branch and category-specific.  
TNEA Counselling 2019
Anna University will release a merit list of candidates who successfully complete the document verification process for TNEA 2019 counselling and seat allotment. Merit list candidates will have to then log-in to TNEA counselling 2019 portal and participate in choice filling; it is recommended that candidates fill as many choices as possible, in the order of priority, to have a good chance at admission. To participate in the choice filling process, the candidate needs to pay a initial admission fee of Rs. 5000 (SC,ST and SCA candidates need to pay only Rs. 1000.
Please also note that candidates will be able to fill fresh choices for each round.
TNEA counselling will be conducted in online mode on different days, with candidates being placed under several groups based on normalized marks of 10+2.
TNEA Seat Allotment 2019
There will be a total of five TNEA 2019 seat allotment rounds. The seat allotment result for Round I will be announced tentatively in the last week of July. Seats will be first offered on a provisional basis, with candidates having the opportunity to accept or reject the offer. The final TNEA 2019 seat allotment result would be announced later. Seat allotment will be based on the merit rank of the candidate, and selection of institute and course. Candidates who have been allotted seats seats will have the provision of up-gradation in subsequent rounds.
TNEA Cutoff 2019
Anna University will release the cutoff of TNEA 2019 for each of the seat allotment rounds; in the last academic session there were five rounds of seat allotment. The TNEA 2019 cutoff would include the opening and closing rank of admission. Given the cutoff represents the last rank for which admission is offered, the candidate must try to score at least equal to or more than the cutoff that has been determined to have a good chance of admission. Also, not that the TNEA cutoff 2019 will be available branch and category-wise separately for each of the participating institutes. Some of the factors that determined the cutoff include sanctioned seats, number of applications received, and also category of the candidate.
TNEA Participating Institutes 2019
The participating institutes of TNEA 2019 are the 563 institutes that will offer admission to candidates post counselling and seat allotment. The TNEA 2019 participating institutes have a combined seat capacity of around 1.5 lakhs. Listed below are some of top participating institutes of TNEA 2019.
Some of the popular participating institutes of TNEA 2019
TNEA Seats Reservation 2019
A certain proportion of sanctioned seats will be set aside for reserved categories like SC, ST and BC candidates. These seats will not be available for general category candidates. Also, only representative of that particular category will be deemed eligible for seats reserved under that category, meaning candidate from one category will not be considered under another category.
Reservation of seats for TNEA 2019
| | |
| --- | --- |
| Category | Percentage of seats reserved |
| Open Competition (OC) | 31 |
| Backward Class (BC) | 26 |
| Backward Class Muslim (BCM) | 3.5 |
| Most Backward Class & Denotified Communities (MBC & DNC | 20 |
| Scheduled Caste | 15 |
| Scheduled Caste (Arunthathiyars) | 3 |
| Scheduled Tribes | 1 |
More like Anna University, Chennai
Questions related to Anna University, Chennai