All about TNEA 2018 Online Counselling - Interview with Dr. V Rhymend Uthariaraj, Secretary, TNEA
Tamilnadu engineering Admissions (TNEA 2018) is the process through which the undergraduate admissions to the engineering programmes across the state are conducted. It has been an offline process all these years. Amidst reports that TNEA 2018 counselling process will be wholly online, Careers360 reached out to Anna University which conducts the process and spoke to Dr. V Rhymend Uthariaraj, Secretary, TNEA 2018 for more clarification. Professor Rhymend is from the Department of Information Technology, Anna University, Chennai and is the Secretary of the TNEA for 2018. He is also the Director of Ramanujan Computing Centre at Anna University. In this interview with Careers360 he elaborates the reason why TNEA is online from 2018, benefits for the applicants as well as the detailed process for admissions.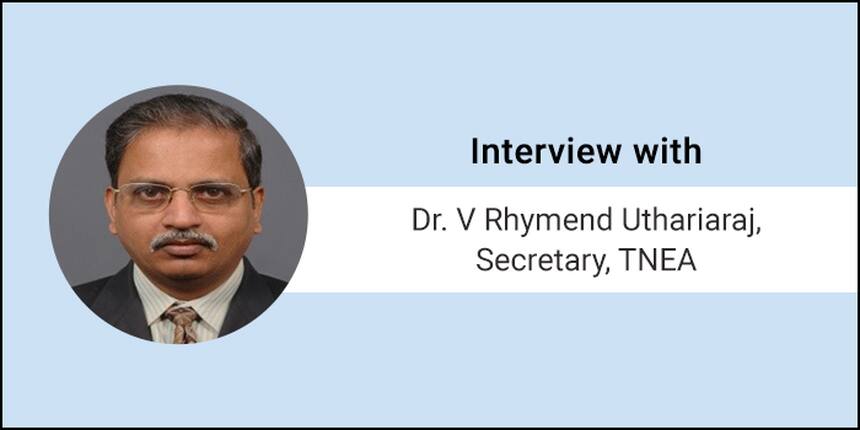 Professor Rhymend holds a Ph.D in Computer Science and Engineering. He also holds an M.E. in Computer Science and Engineering from College of Engineering, Anna University as well as M.Sc in Mathematics from St Xaviers College, Madurai Kamaraj University.  
Careers360: Reports suggest that TNEA counselling will now be online. Are these reports correct? If yes, what was the reason behind this decision to go online?
Prof Rhymend: Yes. TNEA will be online from 2018. The decision has been taken to enable students to avoid travel and other expenses by coming to Chennai and facilitate them to participate in the TNEA 2018 counselling process from anywhere. The candidate can register and participate in the counselling online from home, anywhere, TFC (TNEA Facilitation Centre, at least one in each district), etc. 
Careers360: What will the counselling process now be like? Please give some details.
Prof Rhymend: The following is the procedure in brief for admission process online
Registration: This will be online by giving personal and academic details using TNEA 2018 portal and paying the required Registration fees through Payment Gateway using Debit Card, Credit Card, Net banking.
Candidate will have to download the application and get a print out to submit only at the time of certificate verification
Certificate verification at TFC: All eligible candidates will be informed through email and SMS to come for Original Certificate verification at the allotted TFC in the district. Candidate credentials will be verified and accepted.
Rank Publication: After this, overall rank and community wise rank will be published in the TNEA website. Candidates have to check for the TNEA 201 rank list to know their merit ranks.
Seat Allotment: Allotment will be done in several rounds based on candidate ranks.(for example the first 15,000 rank candidates for first round, Rank 15001- 40,000  for second round and so on.) Eligible candidate will be asked to exercise their choices during the time allotted for the round after paying the initial admission fee online.
Then tentative allotment will be done, based on candidate rank, community and choice exercised by the candidate and made available in the portal. If a seat is allotted, candidates have to confirm the same; otherwise they have to exercise one of the options available online and within the given time period. 
If a seat is allotted it will be shown in the portal and the allotment order will be sent to candidates. Candidates can approach the institution, where seats have been allotted for admission.
Careers360: Will students need to upload any documents along with their application forms? If yes, what are these documents?
Prof Rhymend: No. Only personal and academic information has to be provided during registration. No documents are needed while registering.
Careers360: Earlier the physical verification was done before counselling and seat allotment. Now how will the verification be done and when?
Prof Rhymend: Physical verification will be done at the TFC allotted for the candidate in the district. Candidates will have to carry their original documents for verification to the allotted TFC and will be allotted a seat only if all documents are in order and duly verified.
Careers360: If counselling goes online, the admission fee payment will be online too or any offline payment option will be given to students?
Prof Rhymend: Yes. Both Registration Fee and Initial Admission Fee payment will be online through the Payment Gateway using Debit Card, Credit Card, Net banking.
Careers360: To create student awareness, what steps will Anna University take to ensure they don't panic and understand the modalities properly?
Prof Rhymend: TNEA will shortly provide detailed information about the counselling and admission procedure in the TNEA website, to help the candidate to understand and participate without any problem. Details of TFC, help desk, and other facilities will also be provided. Candidates can approach any of these to clarify any doubts.
Careers360: Many students from other states usually enquire about admissions in Tamilnadu. Will there be any change in the admission process for them?
Prof Rhymend: For the other state candidate the procedure followed in the previous year will be followed.
Questions related to TS EAMCET
Showing 9552 out of 9552 Questions
Telangana State Engineering Agriculture and Medical Common Entrance Test (TS EAMCET)