GATE 2018 Topper Interview Hitesh Sewani(AIR 16 - CH) - "A whole hearted effort paves the way to success"
With the announcement of the GATE 2018 results on March 16, the strong effort put in by Hitesh Sewani reaped fruit. An all India rank of 16 in Chemical Engineering ensured that his preparation strategy paid off. Hitesh who plays tennis in his spare time is in his final year of B.Tech in Chemical Engineering at IIT Roorkee and is interested in joining a PSU on the basis of his GATE scores. Though he started late with his preparation for GATE, he threw himself whole-heartedly ensuring a good rank in GATE thereby inching him closer to his dream. Read the whole interview below to know his preparation mantras, books to refer and more.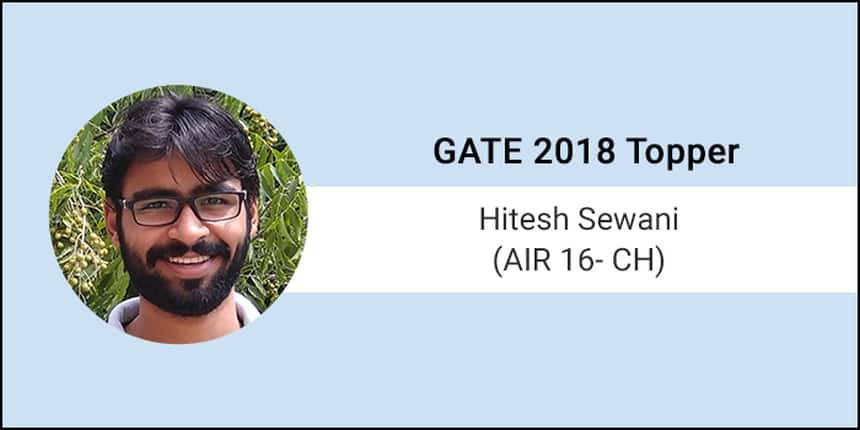 Careers360: Tell us something about yourself; where have you done your engineering from and in which branch?
Hitesh Sewani: I am pursuing my Bachelors at Chemical Engineering Department, IIT Roorkee (2014-18).
Careers360: What was the GATE Paper you appeared in? What rank did you get in GATE 2018? What is your GATE score and how many marks did you secure out of 100 in GATE paper?
Hitesh Sewani: I appeared in GATE-2018 in Chemical Engineering stream. I scored 75 marks with a GATE score of 858.
Careers360: What was the reason you appeared for GATE 2018? Please elaborate
Hitesh Sewani: It served two purposes for me. Firstly, I want to make a career in the core engineering field and GATE was a good way to brush up all the concepts learnt in the four years of my engineering studies. Secondly, most leading PSUs recruit through GATE.
Careers360: Have you applied to any PSUs recruiting through GATE 2018?
Hitesh Sewani: Yes, I have. I am looking for an opportunity at anyone: IOCL, ONGC, GAIL and HPCL.
Careers360: When did you start your preparation?  How did you prepare for the exam? How many hours did you put in per day as per the stage of preparation?
Hitesh Sewani: Given that I studied well during my engineering classes, I started my preparation from December 6, with a study time of 2-3 hours a day and increased it to 12+ hours a day by December 15 and kept that pace till the conclusion of the exam. However, I won't recommend this to anyone as it is detrimental to start preparing that late.
My strategy was to first go through the chapter using various resources including class-notes, books, NPTEL etc. I then started practicing GATE's previous year papers as given below.
| | | |
| --- | --- | --- |
| S.No | Name of book /website | Years |
| 1 | "An Insight into Chemical Engineering" by M.Subbu | 1990-2000 |
| 2 | unitoperation.com | 2000-2012 |
| 3 | totalreflux.in | 2013-2017 |
I finished my major topics by January 15 and kept revising the topics till the exam day. By then I had started giving full length tests. I also attempted the last 5 year papers too, on alternate days from 2-5 pm to adapt myself for the original test pattern.
Careers360: Have you taken any coaching? If yes- From where? How did it help?
Hitesh Sewani: No, I didn't take any coaching. I relied on self-study mainly. However, I consulted notes from various sources including NPTEL, my class notes, The Gate Coach's notes and it saved me the time of going through the entire book. Here I must point out that there were many mistakes in The Gate Coach's notes, so one should use it on his/her own discretion.
Careers360: Can you share any preparation strategies with our readers? When should one start their preparation for GATE? How to schedule study time and make timetables?
Hitesh Sewani: Ideally, one can start from July. I can suggest the following five stage preparation subject-wise to crack the exam
Go through the literature of a subject and MAKE YOUR OWN HANDWRITTEN SHORT NOTES. I repeat, make your own notes.

Practice previous year questions (preferably subjective first) and patch up the topics you are lagging in.

Then go for the objective questions and patch up the specific topics you are lagging in.

Give a test on that subject and analyse where you are standing in terms of preparation and knowledge.

Keep revising your hand-written notes regularly.
Careers360: What was the toughest aspect in your GATE preparation?
Hitesh Sewani: I can sum them up as
1.)    Covering the whole subject. You see it is a good strategy to attempt the easy questions first in the exam but those can come from any subject. So if you go wrong, you lose. These play a major role in the fluctuation of the rank in GATE. So to study the entire subject to avoid losing was a challenge.
2.)    Maintaining accuracy.
Careers360: How important do you feel mock tests are and why? Is it true that if one solves the previous year question papers, there is a good chance of cracking the exam successfully?
Hitesh Sewani: I think there is no reliable test series for chemical engineering. Hence, mock test won't benefit you much. However, previous year questions are very important in cracking the exam successfully. By solving them, one can have a pretty good idea of pattern of the paper and important topics.
Careers360: Name some important Topics that you feel are a must read for any student attempting GATE exam?
Hitesh Sewani: Chemical Reaction Engineering, Mass Transfer, Thermodynamics, Heat Transfer are must read subjects. However, there are easy questions which don't require much effort and these questions can come from any subject, hence in order to get a decent rank, one has to cover everything in the syllabus.
Careers360: Which books did you follow for GATE preparation? Please name some very important must read books for GATE
Hitesh Sewani: I mainly relied on my class notes, The Gate Coach's notes and NPTEL. Apart from that I followed
Must read books for GATE
| | |
| --- | --- |
| Author | Topic |
| B.K Dutta and R.E. Treybal | Mass Transfer |
| Octave Levenspiel | Chemical Reaction Engineering |
| B.K Dutta | Heat Transfer |
| K.V Narayanan | Chemical Engineering Thermodynamics |
| Donald R. Coughanowr | Process Dynamics and Control |
| B.C Bhattacharya | Mechanical Operation |
Careers360: What did you do for leisure? Any specific activities that helped you unwind?
Hitesh Sewani: Refreshing your mind is very essential during the preparation. I used to play table-tennis or hang out with friends to relax.
Careers360: What did you feel was a tough thing in GATE 2018 exam?
Hitesh Sewani: According to me, covering the entire subject is one of the main as well as toughest thing in GATE.
Careers360: How should one schedule answering the GATE exam – which section to attempt first and which next?
Hitesh Sewani: Well, I personally preferred going through the questions of my strong subjects first. It is my confidence booster. Then, I answered the tough ones and next questions from subjects that I was not too strong in.
Careers360: Any advice for the future aspirants?
Hitesh Sewani: One should be very determined about his/her goal. Apart from that, a proper strategy should be devised and followed whole-heartedly. Most importantly, do not try to do everything partially; people usually end up doing nothing with that approach. For ex. for question bank, pick one book, either M.Subbu or Ram Prasad but complete the book fully instead of switching between two books time to time.
Questions related to GATE
Showing 15336 out of 15336 Questions