Books vs e-learning: Which is best?
Books vs e-learning: Which is best? - Gone are the days when studies were conventional for all portrayed with a classroom, teacher, a bunch of students holding a handful of books. Times have changed and education has stepped out of the four walls of classrooms to anytime-anywhere. It has crossed the physical barriers, entered the world of the internet and this technological advancement has proved a blessing for present times of COVID-19 pandemic and lockdown. People are forced to confine within the four walls of their homes for all the chores. Some are happy as education has stepped up on the technological platform as they can study while being in comfort of their beds, yet there are some students who still prefer books over online studies, hence, it is hard to decide the case of books vs e-learning: which is best?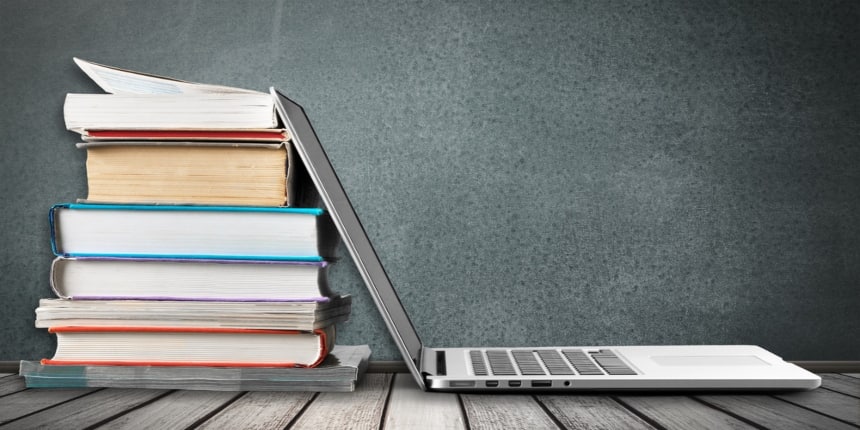 Conventional Studies with Books
When we hear study without using 'conventional', the mind still goes with the teacher's physical presence or books and notebooks. This is the mindset because we have all been brought up like this and so is the traditional education system in India until the world was forced to confine within the four walls of house. Books are said to be a person's best friend as they don't ask for any favour and give all that it has to offer, provided that the person is devoted enough to grab it all. When it comes to studies for semester exams or a particular assignment, or some sort of entrance exam, we all look forward for the best books by the top authors to study from.
Merits of Study with Books
The pointers mentioned below contain the very benefits of studying with the help of books in the conventional setup:
Books are reliable source

One can mark

It is easy to take notes

The content can be re-approached easily

It can be shared with friends
Demerits of Study with Books
However its hard, but some of the negative points of studying through books are mentioned below:
Storage issues

Binding and font size can be problematic

Scope for wear and tear

Not much pocket friendly
Online Studies
The world is taken over by technology and one has to keep pace with these advancements in order not to lag back. Everything is available online these days and thus, education is also one of the most prevalent over the internet. However, the COVID-19 times have brought all the school and college classrooms to the internet as well. Online studies can be through textual content or through video lectures which is comparable to the books and classroom lectures. The main difference is the person's physical whereabouts, i.e. while still staying at the same place, one can refer to online lectures from a person in another city/ state/ country. Online study is preferred because it saves time and doesn't affect the pocket much.
Merits of Online Studies
Given below are the probable advantages or merits of studying online:
Economically affordable

Saves time

Suits person's convenience

Can switch as per understanding

Less risk of investment going in vain
Demerits of Online Studies
Undermentioned is the other side of the coin on how online studies can be problematic and unpreferred:
Difficult to find suitable content

Dependant upon technical factors

Eye strain

Difficult to keep notes

There are many distractions
Conclusion
There is no end to debate on deciding on which way is better and it is always convenient to leave the ultimate decision with the stakeholders,i.e. Students in this case, as to what mode they prefer and why. While some of the students prefer a collection of books over bookmarking several URLs because they find it convenient to have physical material to study from. Then come those who keep a world handy through their cell phones and technology is a must for them even when it comes to studying.
Whatever the mode be, the main focus should be to gain permanent knowledge and bring in the best out of the knowledge so attained, be it from a single book author or multiple subject matter experts imparting knowledge through the internet.