GATE 2021 Syllabus for Humanities and Social Sciences
GATE 2021 Syllabus for Humanities and Social Sciences - The Indian Institute of Technology (IIT) Bombay has released GATE syllabus for 2021 session for all the subjects. The concerned authorities have introduced Humanities and Social Sciences as an additional subject to the already prevailing ones along with other changes for GATE 2021. GATE syllabus for Humanities and Social Sciences is now available that reflects the various subjects and the topics included which the candidates are supposed to study for this GATE paper. As it is the first time that a specific paper for Humanities is being provided, candidates should be aware of GATE syllabus for Humanities and Social Sciences in order to prepare well. The GATE 2021 syllabus for Humanities and Social Sciences has a mandatory section of Reasoning and Comprehension and other sections include Economics, Psychology, , Sociology, etc. Candidates may refer to the content provided below for complete GATE syllabus 2021 for Humanities and Social Sciences.
Latest: GATE mock test is now available. Check GATE admit card 2021 date.
Important: GATE 2021 will be conducted on February 5 to 7 and 12 to 14.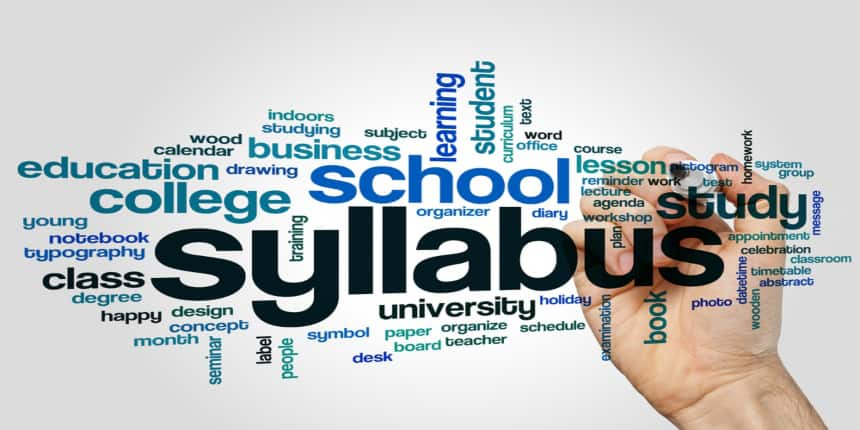 GATE 2021 Syllabus for Humanities and Social Sciences
GATE Subjects

Topics

Reasoning and Comprehension (Mandatory)

Reading Comprehension

Expression

Analytical reasoning

Logical reasoning

Economics

Microeconomics

Macroeconomics

Statistics, Econometrics and Mathematical Economics

International Economics

Public Economics

Development Economics

Indian Economy

English

Multi-genre literatures in English

Comparative context, anglophone and literatures from India in English translation

Literary criticism and theory

History of English literature

Research approaches and methodologies

Linguistics

Language and Linguistics

Levels of Grammar and Grammatical Analysis

Phonetics and Phonology

Morphology

Syntax

Semantics and Pragmatics




Historical Linguistics

Sociolinguistics

Areal Typology, Universals, Cross-linguistic Features

Methods of analysis

Applied Linguistics

Philosophy

Classical Indian Philosophy

Orthodox Systems: Sānkhya

Heterodox Systems: Cārvāka

Upaniṣads, Bhagavadgītā, and Dharmaśāstras

Kāṣmira Śaivism, Śaivasiddhānta, Vīra Śaivism, Śāktism and Vaiṣṇavism




Contemporary Indian Philosophy

Classical and Modern Western Philosophy

Metaphysics

Epistemology

Ethics

Social and Political Philosophy

Logic

Contemporary Western Philosophy

Psychology

Research Methods and Statistics

Psychometrics: Foundations of Psychological measurement; Basic components

Biological and evolutionary basis of behaviour

Perception, Learning, Memory and Forgetting

Cognition: Thinking, Intelligence and Language

Personality: Theories of personality

Motivation, Emotion and Stress and Coping

Social psychology

Development across the lifespan

Applications of Psychology

Sociology

Sociological Theory

Research Methodology and Methods

Sociological Concepts

Agrarian Sociology and Rural Transformation

Family, Marriage and Kinship

Indian Society / Sociology of India

Social Movements

Sociology of Development
To check complete GATE syllabus for Humanities and Social Sciences 2021 - Click here
GATE Exam Pattern 2021
The conducting body, i.e. IIT Bombay has also released revised GATE 2021 exam pattern for the upcoming session. The authorities have included Multiple Select Questions (MSQs) and/or Numerical Answer Type Questions. The GATE exam pattern reflects that there will be a common section of General aptitude carrying 15 marks and the rest of subject specific main paper carrying questions of 85 marks. The exam shall be conducted in online mode for a duration of 3 hours (180 minutes).
Frequently Asked Question (FAQs) - GATE 2021 Syllabus for Humanities and Social Sciences
Question: When will IIT Bombay release official GATE syllabus for Humanities and Social Sciences?
Answer:
The authorities have already released GATE 2021 syllabus for newly introduced subjects including Environmental Science and Engineering, and Humanities and Social Sciences.
Question: How can I access the GATE 2021 syllabus?
Answer:
Candidates may visit the official website to check GATE syllabus as released by IIT Bombay.
Question: How many questions are there in GATE 2021 paper?
Answer:
There are total 65 questions in the GATE question paper.
Question: What is the code for GATE Humanities and Social Sciences paper?
Answer:
Humanities and Social Sciences (XH) is the code for the newly added GATE paper.
Questions related to GATE
Showing 15211 out of 15211 Questions