GATE 2017 Topper Interview Rohit Sachdeva AIR 93 (CE) - Constant practise through Mock Tests are crucial
Almost every GATE aspirant cherishes a top rank in the exam because it can open doors to the IITs and IISc. That being said, not everybody reaches the pinnacle because the competition is tough and one needs to plan in advance and study hard to succeed. Rohit Sachdeva, who secured AIR 93 in Civil Engineering, goes a step further and says that candidates need to take as many mock tests they can to maximize their chances of success in the exam. A resident of Delhi, Rohit completed his graduation in 2012, and was working in the private as well as government sector in various capacities for the last five years. His GATE rank has now finally given him the chance to pursue his dream of becoming a teacher. Rohit plans to study M.Tech in IISc Banglore, and later do research. He also shared how he managed to juggle between his job and GATE 2017 preparation. Find out what he has to share below: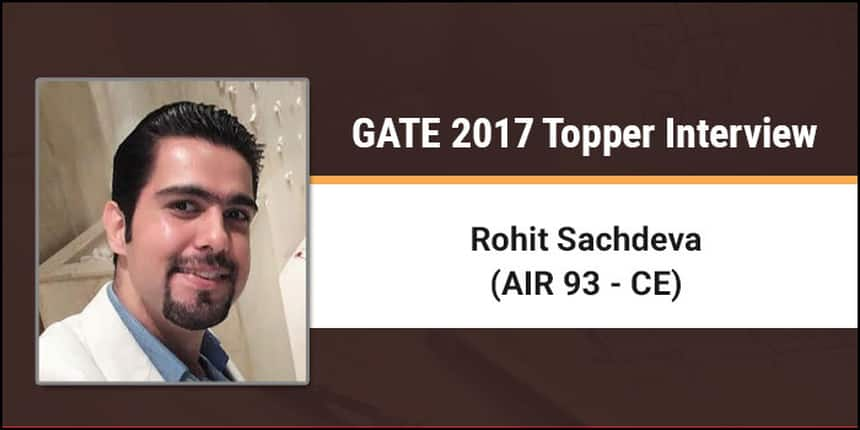 Related Posts:
Careers360:Tell us something about yourself; where have you done your engineering from and in which branch?
Rohit Sachdeva: I live in New Delhi with my parents and grandparents. I graduated from Delhi College of Engineering (now DTU) in 2012 (a gold medalist in my batch) in Civil Engineering branch.  I worked for 2 years in Samsung Engineering India as a Structural Design Engineer, and am currently working in Bureau of Indian Standards as a Scientist since last 3 years.
Careers360:  What was the GATE Paper you appeared in? What rank did you get in GATE 2017? What is your GATE score and how many marks did you secure out of 100 in GATE paper?
Rohit Sachdeva:I appeared in Civil Engineering (CE) paper in GATE 2017. I secured an All India Rank (AIR) of 93.  My score is 872/1000 and normalized marks 78.5/100.
Careers360: You have appeared for GATE 2017 5 years after graduation while working and still managed to secure a rank of 93. What was the reason you appeared for GATE 2017? Please elaborate your reasons.
Rohit Sachdeva: I have always wanted to enter the teaching profession. I have a very strong technical base and it gives me immense pleasure when I am able to pass on my skills to others; therefore I want to keep learning and be more effective.
I really feel that our current education system lacks quality teachers who can properly teach even basic concepts and other important aspects of engineering.
I want to help students in their learning, help them understand the various concepts thoroughly so that they excel in their life. The 5 years of work experience that I have had in my field has taught me a lot, and now I want to study/do research and become a professor.
Careers360: Have you applied to any PSUs recruiting through GATE?
Rohit Sachdeva: No. I am already working in a Govt. organization in my technical field.  Recruitment was not what I was looking for through GATE 2017; I was targeting M.Tech (+PhD) in the best colleges and I have gotten admission in IISc Bangalore. I will be joining there in August'17.
Careers360: When did you start your preparation?  How did you prepare for the GATE exam? How many hours did you put in per day as per the stage of preparation?
Rohit Sachdeva: I started my preparation and planning in early September 2016. As it was already 5 years since I had completed my graduation, I knew it was really going to be tough.
Planning played a very important role in the preparation; I was able to finish one main round of study and two rounds of revision, along with giving a full set of online mock papers/test series (consisting of 66 small, medium & full mock tests).  I did not leave out any subject as I knew that there is very less scope of leaving questions if one wants to score high!
Since I was preparing along with my job schedule, I studied 2-3 hours on weekdays and around 6-8 hours on weekends to complete all course and revisions.
Careers360: Have you taken any coaching? If yes- From where? How did it help?
Rohit Sachdeva: I did not take coaching this time; I took coaching back in 2011-12 from Made Easy (Delhi) when I was in my final year of college.  I had kept all the notes that I had prepared as well as the study material of Made Easy, and studied only from them this time.
Coaching helps you a lot; it gives proper direction to your preparation. GATE paper comprises 4 years of college syllabus and studying so much without actually knowing what is important and what can be left out, is like jumping into a swimming pool without knowing its depth. Made Easy is a reputed institute and the teachers are good; my notes helped in building up most of my basic concepts; the study material & test series did the rest.
Careers360: Can you share any preparation strategies with our readers? When should one start their preparation for GATE? How to schedule study time and make timetables?
Rohit Sachdeva: Personally, I started a little late.  A person can start preparation somewhere 6-7 months prior to the scheduled exam (around July-August).  The strategy should be very simple:
PLAN – In the very beginning, have a look at previous 3 years GATE papers and try to quickly solve them. Assess which subjects carry how much weightage. This exercise will tell you which subjects you are strong in and which subjects need more preparation.
Then, jot down all subjects & allot time to them depending on your speed, knowledge & strengths/weaknesses, as well as the weightage of the subject.
EXECUTING THE PLAN – Start with the basics (round-1).  Keep all your basics very clear; don't try to remember formulae yet. Follow your time-table (Complete round 1 by October end).
Once your round-1 is done, you should start your revision-1 & start remembering some formulae. Start making short notes/formula sheetfor quick-revisions. Also, join an online test series around this time & start giving subject-mocks to keep a check on yourself: revise thoroughly wherever required (Complete revision-1 by mid-December).
Then start with revision-2. Use short notes/formula sheet for the purpose.  Start giving full mocks seriously from January.
With this strategy/time-table you will finish your entire syllabus & revisions, along with test series comfortably before the exam.
STICK TO THE BASICS – This will help you build your own concepts, own techniques and tackle new type of questions in the exam. You will also no longer feel the urge to memorize formulas.
Careers360: How should one schedule answering the GATE exam – which section to attempt first and which next?
Rohit Sachdeva: GATE exam doesn't have a real time crunch; the entire paper can be steadily solved. Initial 10 minutes of the paper should be utilized to glance through the question paper & set in your mind a level of the paper, this helps in planning your speed and noting down which questions you should not miss. You should always look for questions that fall in the area you are strong in & solve them: it boosts your confidence!
There are 30 one-mark questions, which should be completed in 45-55 minutes.  Then there are 35 two-mark questions in which one should invest around 100-120 minutes.  With this speed, the paper can be finished with enough time left for revisiting some questions if required.
Careers360: What was the toughest aspect in your GATE preparation?
Rohit Sachdeva: The toughest aspect was revisiting the subjects that I have not studied for 5 years. It took me some time to absorb the essence of the subjects once again:
I planned accordingly.
Another challenge was to prepare alongside a tight job schedule. I did not take any leave from work, but stuck to my plan and executed it as planned initially.
Careers360: Name some important Topics that you feel are a must read for any student attempting GATE exam?
Rohit Sachdeva: GATE exam has only 65 questions and if one wants a good score, there is not much margin to skip a lot of questions and all topics are well covered in the paper.
Seeing the trend in past few years, questions from SOM, Structural analysis, Soil Mechanics/Geotech Engg, Environmental Engg & RCC/Prestress design constitute a big chunk in the GATE paper.  Nowadays, Highway/Transportation Engg questions are also frequently asked.
Apart from this, one should not miss out on Engineering Mathematics section as it carries a big weightage in the paper.
Careers360: What did you feel was a tough thing in the GATE exam?
Rohit Sachdeva: This time, the questions in GATE paper were completely from basic concepts: so much basic that they tested the roots of basics!  In this case, it so happens that the students get confused (like I also did initially but then recovered) because they tend to study the advance level during preparation and tend to miss/skip the easier part thinking it will easily come to them. Mind you - IT DOES NOT.  When you are sitting in an exam, it gets difficult and you start forgetting everything. That is why I always say that sticking to your basics is very crucial.
Careers360:  How important do you feel mock tests are and why? Is it true that if one solves the previous years' question papers, there is a good chance of cracking the exam successfully?
Rohit Sachdeva: I feel that Mock Tests/Test Series is THE MOST IMPORTANT ASPECT OF GATE PREPARATION...and it should be attempted very seriously (without fail)!!
When you sit 3 hours straight for a mock, it tests your time management skills/patience, knowledge & ability to handle pressure of the exam.
Attempting mock is important, but analysing it is even more important! You should give 2 more hours just to analyse the mock & note down each and every topic where you went wrong: revise that topic thoroughly & make a note of it.  With each mock test, your concepts will strengthen & your confidence will grow.  Don't become disheartened by comparing your ranks with others (of course that is important but don't let that bring your confidence down)...just keep improving yourself.
Analysing previous years' question papers is important to estimate subject weightage & level of paper/pattern of paper, but that is not the only thing which one needs to solve. Good coaching institutes design their test series in a way that benefits the students: attempt that!
Careers360: Which books did you follow for GATE preparation? Please name some important must read books for GATE.
Rohit Sachdeva: I didn't really follow any textbooks for GATE preparation. Textbooks provide good knowledge but they also provide too-much knowledge; this exam requires you to follow a more focused-approach. The best thing to follow will be class-notes. If you are joining any coaching yourself, prepare notes and study from them. If you are not joining any coaching, I would suggest that you get class-notes of some good coaching institute photo-copied and study from them only.
However, if someone has doubts, or a lot of time for preparation (like 1 year or so) and wants to rely completely on textbooks, here is a subject-wise list of good books which will suffice for preparation:
Best books to prepare for GATE
| | |
| --- | --- |
| SOM | RK Bansal; Timoshenko & Gere |
| Structural Analysis | Ramamurtham; LS Negi; Gupta/Pandit; CK Wang |
| Soil Mechanics/Geotech Engg | Gopal Ranjan & Rao |
| RCC Design | Pillai & Menon; P.C Varghese |
| Steel Design | Subramanian, SK Duggal, LS Negi |
| CPM-PERT/Construction Tech. | BC Punmia, Peurifoy |
| Fluid Mechanics & Machines | RK Bansal, Modi & Seth |
| Environmental Engg | SK Garg (1&2), Peavy-Rowe |
| Highway/Pavement &  Traffic | Khanna & Justo, Kadiyali |
| Railway & Airport (Rarely asked) | Saxena & Arora |
| Surveying | KR Arora; BC Punmia; |
| Build materials | ML Gambhir; BC Punmia; MS Shetty |
| Hydro & Open channel | Subramanya (respective volumes) |
| Irrigation | SK Garg |
| Engineering Maths (Vast) | BS Garewal; Kreyzig |
Careers360: What did you do for leisure? Any specific activities that helped you unwind?
Rohit Sachdeva: I never studied for long hours, maximum 1-1.5 hours at a stretch and then I took a break. I avoided mobile and laptop as much as possible: they strain you. I went outside occasionally, nothing specific just normal walks, meeting friends, fetching regular household items. I sometimes watched entertainment shows on TV & listened to music, anything usual that makes you feel fresh! And most importantly...Sleep well.
Careers360: Any advice for the future aspirants?
Rohit Sachdeva: GATE is probably not the toughest exam, but it certainly requires a strategic & planned preparation. It is, however, a very crucial exam now, as not only is it required for M.Tech admissions at top institutes, but for also for an entry to many PSUs which are recruiting only through GATE. Hence it becomes very important to have a good score in this exam. It will open many options for your future.  Believe in yourself and your hard work will pay off!
Stay tuned to engineering.careers360.com for more news and updates on GATE 2017.
Get real-time alerts on exam & colleges at your fingertips with Careers360 App!
Click Here to Install or Give a missed call on 08080944727 to get app link.
Questions related to GATE
Showing 15319 out of 15319 Questions