GATE 2017 Topper Interview Ravi Shankar Mishra (AIR 3 CS) - Start Early! Keep Targets! Succeed!


It was a big day for GATE candidates on March 26, 2017. The results for the postgraduate engineering examination were announced on this date (a day earlier than expected) and the unexpected declaration brought some cheers and tears. GATE 2017 produced many toppers and well performers and among them is Ravi Shankar Mishra who scored All India Rank 3 in Computer Science Engineering. Having completed his B.Tech course in Mechanical Engineering from IIT Roorkee, Ravi Shankar Mishra is no stranger to the GATE examination. He grabbed AIR 1 in Mechanical Engineering in the year 2015. His motto "Nothing worth having comes easy in life" reflects his hard working spirit through which he has gained his targeted goal. In this article, he speaks in detail about his preparation strategies and mentions the important topics for the examination to achieve the sweet success of being a topper.
Stay up-to date with GATE News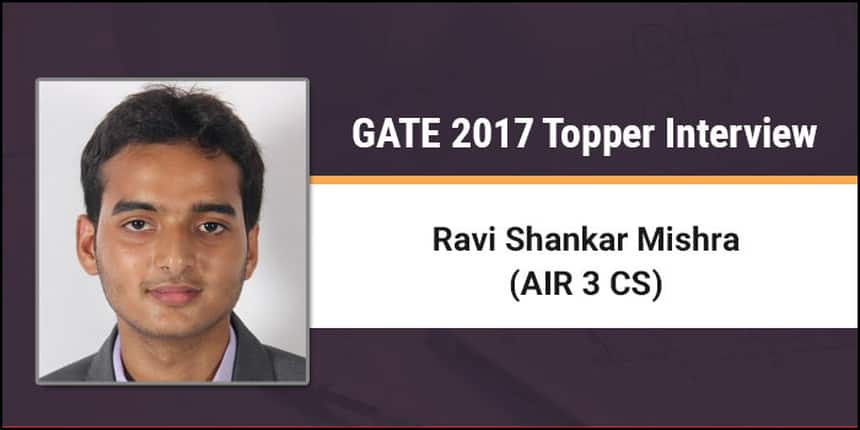 Related Posts:
Q: Tell us something about yourself. Where have you done your engineering from and in which branch?
Ans: I am currently in final year of M.Tech in CSE department at IIT Bombay.
Q: What was the GATE 2017 Paper you appeared in? What rank did you get in GATE 2017? What is your GATE score and how many marks did you secure out of 100 in GATE paper?
Ans: I appeared for GATE paper in Computer Science and Information Technology. My rank in GATE 2017 in AIR-3, GATE score is 994/1000 and normalised marks is 82.56/100.
Q: What was the reason you appeared for GATE 2017? Please elaborate your reasons.
Ans: I appeared for GATE 2017, so that I can apply to the PSUs recruiting through GATE 2017. I had kept PSUs as a backup, incase I couldn't get good placement from campus. 
Q. Have you applied to any PSUs recruiting through GATE?
Ans: Since, I got placed in Microsoft during campus interviews, I did not apply for any PSUs.
Q: When did you start your preparation?  How did you prepare for the GATE exam ? How many hours did you put in per day as per the stage of preparation?
Ans: I already had very much clear understanding of topics in GATE 2017 syllabus  since I prepared for many core courses during my placement preparation. So, I just devoted a month for preparation. I skimmed through the standard books to revise the key concepts , then I attempted the previous year gate questions and finally gave online GATE mock tests to improve my time management and accuracy. I devoted 8-10 hours per day for about a month.
Q: Have you taken any coaching? If yes - from where? How did it help?
Ans: No, I have not taken any classroom coaching. But I have taken test series from ACE Engineering Academy, Made Easy, Time, Gateforum and few others sources. Since, I wanted to practice as many different variety of questions as I could.
Q: Can you share any preparation strategies with our readers? When should one start their preparation for GATE? How to schedule study time and make timetables?
Ans: My strategy was simple, first thing was to revise the topics present in GATE syllabus. For that I skimmed through the standard books and read the key concepts. Then, I solved the previous year gate questions and finally I wrote many mock test to improve my accuracy and time management. One should start their preparation as early as possible. Target to complete the revision of topics and previous year questions by november end and then focus on mock tests and improve your weak areas and speed. Try to study the topics that you find most interesting first and then go for other topics that may be less interesting but have higher weightage. This way you will make a good start in your preparation and will be able to cover major portion of the syllabus.
Q: How should one schedule answering the GATE exam – which section to attempt first and which next?
Ans: I started the paper with the numerical aptitude and then moved to Computer Science questions of 1 mark. Then I attempted the verbal ability and finally answered the 2 mark Computer Science questions. I tried to attempt the easiest questions first so that my nervousness goes away and I gain the confidence needed for difficult ones.
Q: What was the  most toughest aspect in your GATE preparation?
Ans: The toughest aspect is maintaining consistency. You have to believe that with every day of your effort, you are moving one step closer towards your goal. You need to study regularly, because the GATE syllabus is very vast and need considerable amount of time and consistent effort from your side.
Q: Name some important topics that you feel are a must read for any student attempting GATE exam?
Ans: I advice the aspirants to study all the topics mentioned in the GATE syllabus but if they have limited time then they should at least study the following topics - Engineering Mathematics, Data Structures and Algorithms, Computer Networks, Computer Organization and Architecture, Operating System and Databases
Q: What did you feel was a tough thing in the GATE exam?
Ans: Tough thing about this year's GATE exam was that there were some questions that were very time consuming and involved. The best strategy was not to get caught in these questions but to leave them for later thinking.
Q: How important do you feel mock tests are and why? Is it true that if one solves the previous year question papers, there is a good chance of cracking the exam successfully?
Ans: Mock tests helps in improving time management and accuracy. Solving previous year papers get you acquainted with common gate questions and builds confidence. Solving only GATE papers will not be very helpful, since there are many new questions asked in GATE exam year after year which require clear understanding of concepts. So, studying topics or key concepts is also essential. 
Q: Which books did you follow for GATE preparation? Please name some very important must read books for GATE
Ans: I followed these books.
GATE Books                        
| | | |
| --- | --- | --- |
| GATE Syllabus | Book Name | Author Name |
| Engineering Mathematics | Discrete Mathematics and Its Applications | Kenneth Rosen |
| Digital Logic | Digital Design | Morris Mano |
| Programming | The C Programming language | Dennis Richie |
| Data Structures and Algorithms | Introduction to Algorithms | Cormen |
| Theory of Computation | An Introduction to Formal Languages and Automata | Peter Linz |
| Computer Networks | Computer Networking: A Top-Down Approach | Kurose & Ross |
| Computer Organization and Architecture | Computer Organization and Embedded systems | Carl Hamacher |
| Operating System | Operating System Concepts | Galvin |
| Databases | Database System Concepts | Korth |
| Compiler Design | Compilers: Principles, Techniques and Tools | Aho & Ullman |
Q: What did you do for leisure? Any specific activities that helped you unwind?
Ans: During the preparation phase when I got bored of studying, I would listen to songs present in my phone and take a small walk. After listening to 1 or 2 songs, I feel the urge that I have taken enough break and should go back for studies. This way, I have limited my break time to 5-10 minutes. I will advice aspirants not to check any social networking sites for relaxing themselves as it might lead to loss in focus and excessive consumption of time.
Q: Any advice for the future aspirants?
Ans: Stay focused, Be consistent and confident. If you are thinking of giving GATE exam then give it a best shot. You should not be having any regrets after the exam that I could have done better. Your time is right now, make the most of it. I know it will take time, it will test your endurance but remember -  "Nothing worth having comes easy in life". All the best guys!
Be updated with the latest topper interviews at engineering.careers360.com
Questions related to GATE
Showing 16026 out of 16026 Questions