GATE 2018 Topper Interview Mainul Haque (AIR 2 - IN) - "Focus on basic concepts; build on them"
Mainul Haque, an Instrumentation engineer from Assam Engineering College was a very happy person on March 16 when IIT Guwahati had announced the GATE result. Mainul did not get a good campus placement so he resolved to crack GATE such that he could take up a PSU job. His hard work has paid off and the excellent result of an All India rank of 2 just proved it. He feels that most students overlook the basic and simple concepts and tend to lose on account of this attitude. He also stresses on the fact that one should prepare in a manner that allows building on the basic concepts learnt. Here, Mainul talks to Careers360 about how he went about his preparation, his aspirants, coaching and relevant tips for GATE. Read the full interview to know more.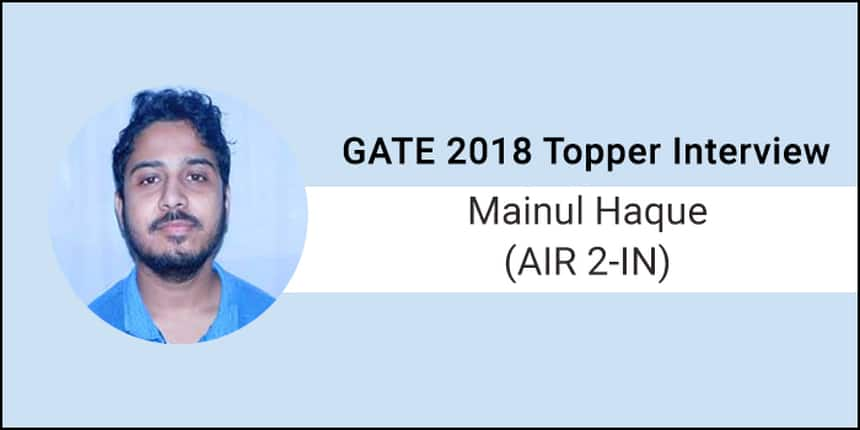 To Watch Video on GATE 2018 Topper Nikita Yadav's Preparation Strategy - Click here
Careers360: Tell us something about yourself; where have you done your engineering from and in which branch?
Mainul Haque:  I am Mainul Haque, I have done my B.E from Assam Engineering College in Instrumentation Engineering.
Careers360: What was the GATE Paper you appeared in? What rank did you get in GATE 2018? What is your GATE score and how many marks did you secure out of 100 in GATE paper?
Mainul Haque: I have secured All India Rank 2 in GATE 2018 IN paper. I have scored 90.67 marks out of 100 and my GATE score is 923.
Careers360: Is this your first attempt or did you attempt GATE earlier?
Mainul Haque:  This is my 2nd attempt. I wrote GATE last year when I was in my eighth semester. Then I had secured an AIR of 500
Careers360: What was the reason you appeared for GATE 2018? Pls elaborate.
Mainul Haque: I didn't get a good campus placement. My GATE rank was not that good last year so I decided to devote myself full time to GATE so that I could crack it.
Careers360: Have you applied to any PSUs recruiting through GATE? Which ones?
Mainul Haque: Yes, I have applied to PSUs like IOCL, HPCL, NTPC, NLC, BAARC etc.
Careers360: When did you start your preparation?  How did you prepare for the GATE exam ? How many hours did you put in per day as per the stage of preparation?
Mainul Haque: I started preparing for GATE from July 2017 through self-study. For practice, I enrolled for the test series of Ace Academy and Made Easy. I already had my GATE 2017 experience to fall back on and I still remembered the concepts I had learnt then.  I quickly revised the subjects by September and started writing the test series from then on. I also ensured that I prepared for all those subjects that I couldn't prepare for in my first attempt due to lack of time  (sensor , measurement, optical, communication).
Careers360: Have you taken any coaching? If yes- From where? How did it help?
Mainul Haque: I haven't taken any coaching. I just relied on self-study because I could set my own pace. I seriously don't believe that one needs coaching to score well. However I did use the test series but then they are practice papers and very essential.  I started attempting the test series from September onwards.
Careers360: Can you share any preparation strategies with our readers? When should one start their preparation for GATE? How to schedule study time and make timetables?
Mainul Haque: I haven't followed any strategy or timetable to decide when to study or what to study. GATE is not that difficult to crack.  Study concepts for 4 hours per day starting June or July such that you complete the syllabus. At the same time give 4 hours every day to solving a sample paper; it may be a mock test or a previous year question. I would advise not to follow notes directly. Start first with some standard books then you can follow notes or materials. If you start in July, you will have ample time to crack the exam..
Careers360: How important do you feel mock tests are and why? Is it true that if one solves the previous year question papers, there is a good chance of cracking the exam successfully?
Mainul Haque: I think solving previous gate question papers will help any aspirant to a great extent provided you know the topics and subjects. One area where the test series is really helpful is time management. Managing the three hours exam can be easier if you have seriously used the test series for practice purposes.
Careers360: Which books did you follow for GATE preparation? Pls name some very important must read books for GATE.
Mainul Haque: Any standard book will be enough .I watched neso academy videos for analog and digital electronics to understand basic concepts and then study Made Easy material from the test series. For studying sensor I have followed nptel videos, materials and notes .For signal I watched Nptel videos of S.C.Dutta Roy and then studied from the material I had.
Careers360: Which are the topics one should focus more on? Kindly give us some details.
Mainul Haque: Clear the concepts of network theory before any different subjects. Here I must say that every topic is important but to get good rank, make sure to prepare all subjects. You see questions on optical, communication, microprocessor are said to carry very less marks but together they carry 10 marks which is very important. Never ignore Mathematics, Aptitude as they constitute 30 marks of the paper. In Communication study only AM,FM and PM .
Careers360: What was the toughest aspect in your GATE preparation?
Mainul Haque: I don't think GATE has been tough from any angle. My preparation consisted of studying from some standard books, checking nptel videos and some Made Easy materials. It is not that tough if you prepare seriously. Then once you start practising, you tend to get used to the exam pattern, time management. It is quite possible for a normal student to score up to 80 marks.
Careers360: Name some important Topics that you feel are a must read for any student attempting GATE exam?
Mainul Haque: The important topics one should more concentrate on are Op-amp part of analog including positive feedback oscillator, concept of virtual ground , Fourier series, superposition theorem , transient analysis, Phasor, piezo electric transducer etc.
Careers360: What did you do for leisure? Any specific activities that helped you unwind?
Mainul Haque: When I was not in a mood to study, I relaxed by watching football or cricket highlights. There was no fixed time for a break. It depended on how I felt. Sometimes I went for a day or two without touching any books.
Careers360: How should you schedule answering the GATE exam – which section to attempt first and which next? Did you have any strategy? Kindly share your exam experience with us.
Mainul Haque: When I wrote the test series at home, I followed a pattern -  first to attempt the aptitude part then the Instrumentation part. This I diligently followed throughout my preparation till the time of the actual GATE exam . During the exam I did not panick even if some questions took 7 to 10 minutes. I had attempted all the 65 questions and I can say that even if some questions take 9 minutes, there will be enough time to complete all the questions so never take the advice of leaving questions if they are time consuming. Attempt them if you know the answer.
Careers360: What did you feel was a tough thing for you in the GATE exam?
Mainul Haque: I never faced any tough situation during my GATE preparation or during the exam. I always knew that if I can score well regularly in test series, I would surely be getting very good marks in the exam.
Careers360: Any advice for the future aspirants?
Mainul Haque: For aspirants who are preparing for GATE 2019, my advice is to focus on simple concepts. Many people believe that they are simple and basic hence they neglect them. Don't do that. Instead try to analyse the concepts by yourself (believe me it will build your confidence). Also solve the problems, questions for self-satisfaction and not for the sake of getting the correct answer. Lastly, my best wishes to all the GATE 2019 aspirants.
Questions related to GATE
Showing 15338 out of 15338 Questions