GATE 2017 Topper Interview Himadri Bandyopadhyay (AIR 15 CS) - Believe and drive yourself to reach your goal!
Computer Science engineering is one of the most sought out disciplines. In spite of being an entrance exam, GATE is no exception to this popularity and therefore sees one of the largest numbers of applicants for the CS paper. Himadri Sekhar Bandyopadhyay, an ECE graduate from the Institute of Engineering and Management , Kolkata was delighted to find that all his hard work paid off after he secured the All India Rank of 15 in CS paper of GATE 2017. In a candid chat with Careers360, he elaborates on his GATE preparation strategy for the exam, during the exam, time management, books to refer and more.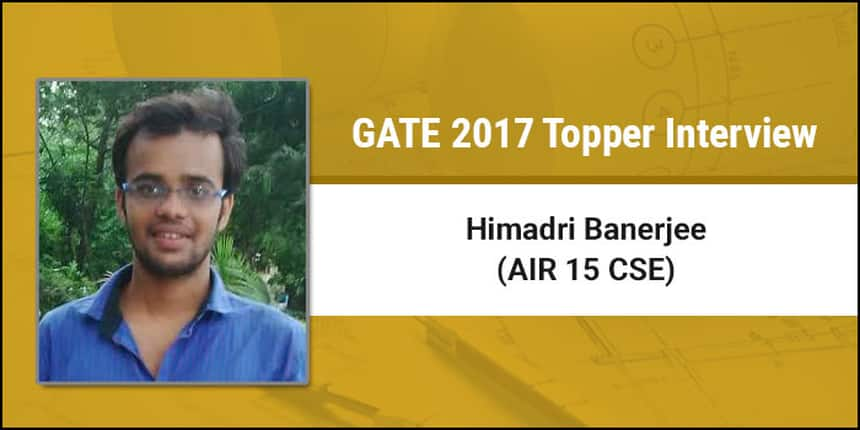 Related Posts:
Careers360: Tell us something about yourself; where have you done your engineering from and in which branch?
Himadri Bandyopadhyay: My name is Himadri Sekhar Bandyopadhyay, I did my schooling from Siliguri, (West Bengal) and completed my B.Tech in ECE from Institute of Engineering and Management , Kolkata in the year 2016.
Careers360: What was the GATE Paper you appeared in? What rank did you get in GATE 2017? What is your GATE score and how many marks did you secure out of 100 in GATE paper?
Himadri Bandyopadhyay: I appeared in GATE 2017 CSE paper. I scored 77.98 marks (normalised) , and secured an All India Rank of 15. My GATE 2017 score is 943.
Careers360: What was the reason you appeared for GATE 2017? Pls elaborate your reasons.
Himadri Bandyopadhyay: I have always had the knack for programming. I simply love algorithms , data structures and maths. So it was a dream to pursue higher studies in the field of computer science. After graduation, I firmly decided to switch my stream and pursue my Masters in CSE.
Careers360: Have you applied to a PSUs recruiting through GATE?
Himadri Bandyopadhyay: No, I did not apply for any PSU as I was very clear about my objective.
Careers360: When did you start your preparation?  How did you prepare for the GATE exam ? How many hours did you put in per day as per the stage of preparation?
Himadri Bandyopadhyay: I started my preparation from mid or late July. I started with easy subjects and then picked subjects in order of difficulty like, first TOC and Compiler Design ( they are related and easy) . Then I took up DBMS, OS and Computer Networks, followed by other topics. I kept Mathematics for the last. This was a mistake from my side. So my suggestion for all future aspirants is to study mathematics along with other technical subjects.
I tried to devote more than five hours every day consistently. During the last 30 to 40 days I devoted more than ten hours every day to revision and studying.
Careers360: Have you taken any coaching? If yes- From where? How did it help?
Himadri Bandyopadhyay: I enrolled for the classes of Ravindrababu Ravula. He is a gem of a teacher. His lecture covers everything in details. He is also a good motivator and a guide.
Careers360: Can you share any preparation strategies with our readers? When should one start their preparation for GATE? How to schedule study time and make timetables?
Himadri Bandyopadhyay: Let me begin by saying that GATE CSE paper is very easy. All you need to do is revise and be in touch with everything.  Divide subjects into categories - easy ones that need less time to revise and ones that need heavy revision. I pasted a page on the wall right in front of my table with the caption "MY WEAKNESSESS" where I noted down all sections where I was weak and the mistakes that I made to allow me to see it daily. I worked on all of those. My advice is never to run away from subjects that intimidate you. Read and then re-read; things will be starting to get clear and you will gain confidence.
For aspirants who wish to appear for GATE 2019, I think now is the right time to start preparing.
I didn't have a timetable as such or a particular pattern. I studied when I wanted to but made sure to stay very focused while studying so that I understood everything that I studied. I didn't bother about how much time it took me.
Careers360: What was the toughest aspect in your GATE preparation?
Himadri Bandyopadhyay: The toughest aspect of GATE preparation is to have a hold on yourself. Students, who are in the final year need to complete their projects, attend exams, prepare for job interviews and prepare for GATE. A person, who is employed and appearing for GATE, needs to strategize and manage time. Those who take a drop often are under immense pressure to perform. All the three scenarios are equally difficult and staying motivated as well as confident is the biggest challenge.
Careers360: Name some important Topics that you feel are a must read for any student attempting GATE exam?
Himadri Bandyopadhyay: For people who are attempting below for marks below 100 (I think everybody should), must focus and emphasize on all subjects.
Most Important: Data Structure, Algorithm and Maths. A lot of questions are asked so do not keep this for the last.
Careers360: How important do you feel mock tests are and why? Is it true that if one solves the previous year question papers, there is a good chance of cracking the exam successfully?
Himadri Bandyopadhyay: It is very important solving previous years GATE Sample Papers. These will give you an idea of the marks distribution and what kind of questions you can expect. Giving mock test is also very important.
However neither mock test nor solving past years questions have a direct proportionality to your rank. You must give your best in these kind of tests and keep learning from your mistakes. The main motto behind giving mock tests should be to learn how to manage time, reduce the number of silly mistakes made (mistakes in GATE are costly) and have a practical approach towards problem solving.
Careers360: Which books did you follow for GATE preparation? Pls name some very important must read books for GATE
Himadri Bandyopadhyay: Some of the books I followed are
Reference Books:
| | |
| --- | --- |
| Topic | Book |
| Algorithms | Introduction to Algorithms by CLRS |
| Operating Systems | Operating System Principles By Galvin |
| Theory Of computation | Theory of Computation by Ullman |
| Compiler Designing | Principles of Compiler Design Aho and Ullman |
| Networking | Data Communications and Networking by Behrouz Ferouzan. |
| CO | Computer organisation by Hamacher |
I did not have sufficient time to read other books. On must read book is Kenneth Rosen for discrete mathematics and Morris Mano for digital logic.
Careers360: How should one schedule answering the GATE exam – which section to attempt first and which next?
Himadri Bandyopadhyay: It varies from student to student. Even though I tried several strategies, I found one that worked for me and which I followed. In the first 20 to 25 minutes I tried to complete the aptitude section, marked all questions that required time and moved on. The next forty to fifty minutes I spent solving the 1 mark questions in the technical section. When I had one hour thirty minutes remaining on the clock, I went to solve the questions from the last – namely the 2 mark questions. When you know there is sufficient time to answer the 2 mark questions, you can focus on answering them well. So don't rush as you may end up missing something or making some silly mistakes.
Careers360: What did you feel was a tough thing in the GATE exam?
Himadri Bandyopadhyay: Revision was the most tough thing albeit the most important thing too. When you need to cover ten vast topics, revision takes an important role. So it is imperative that you strategize on what to revise, how to revise and at what frequency.
Careers360: What did you do for leisure? Any specific activities that helped you unwind?
Himadri Bandyopadhyay: I used to listen to a lot of music, watch movies and see some TV series. Taking breaks is very important. Sometimes you may not want to study at all so taking a break may get rid of the stress.
Careers360: .Any advice for the future aspirants?
Himadri Bandyopadhyay: Believe in yourself. Everybody has the potential to do good, but you should be ready to push yourself with a lot of determination. Surround yourself with people who have a healthy mind-set and can encourage you. Do not get discouraged by failures instead learn from them. With strategy, and dedication you will be able to fight all odds and excel in GATE.
Questions related to GATE
Showing 15336 out of 15336 Questions