Education Loan and Financial Planning, Suggestions by Vivek Kaul, Financial Planner and Author
It is the dream of every parent to provide the best possible education to their children. Many parents plan early for their child's higher education and start saving money to meet their child's education needs. However, not many parents actually meet this goal due to the spiralling cost of education. There are many parents who do not earn enough so as to support the education of their children. To all these and alike situations, an education loan is the one stop solution. But, there are many doubts among parents about education loans related to interest rate, repayment period, collateral and, the primary being whether they should take the loan or not. Careers360 along with Mr.Vivek Kaul, financial advisor and author of Easy Money Trilogy, is providing the information about financial planning and the things you need to know before taking an education loan and the pitfalls to watch out for.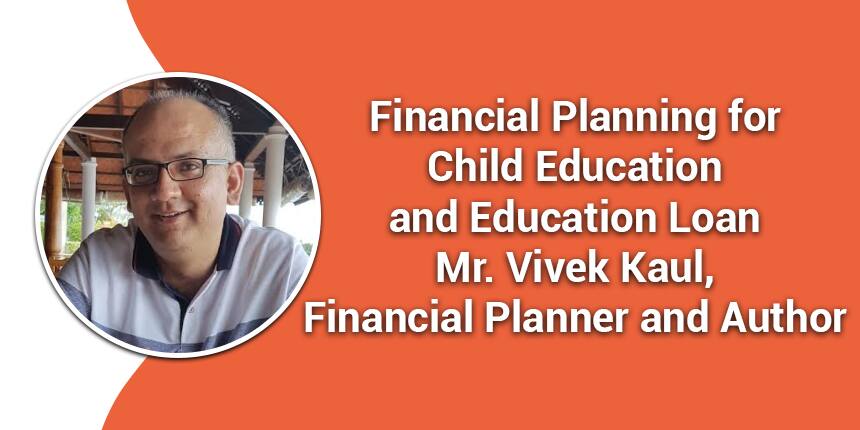 What is an Education Loan?
Education loan, also known as student loan, is a type of loan to help students pay their education related expenses which include tuition fees and in some cases fooding, lodging charges and living expenses. Education from a top institution is a dream for many students. The cost of education is, however, increasing rapidly especially in some reputed institutions, the fees is already quite high. Not all parents have such a huge amount of money to meet the educational needs of their child and thus take help from education loans.
Loan Amount and Type of Course Eligible for Education Loan
PSU and private banks as well as financial institutions offer education loans as per the need of borrowers ranging from 5 lakh to 1.5 crore. Many financial institutions also offer loans for short term courses which may be as less as Rs.5000. Education loan can be taken for any type of course be it undergraduate, postgraduate, certificate or diploma course.Education loan can also be taken for regular,correspondence or online courses. Education loans are offered in name of students but parents or graduations can become the co-borrower
Eligibility for Education Loan
To apply for the loan, candidates must be an Indian citizen, having secured admission into a college/university recognised by a competent authority. The applicant must have completed his higher secondary level schooling. Some banks offer the loan even before one has secured admission into the university.
As per the Reserve Bank of India guidelines, there are no restrictions on the age limit of applicants, but some banks may have it. The banks require additional documents such as admission letter of the institution, fee structure, Class 10, 12 and graduation (wherever applicable) marksheets. Banks will also require the income documents such as salary slips, any other proof of income or income-tax returns (ITR) of the co-applicant.
Points to look before taking the education loan
Candidates and parents are advised to look for some basic things associated with the education loan which includes
Interest Rate

Moratorium Period

Margin Money

Coborrower/Guarantor

Repayment Period

Collateral

Documentation/Processing
Procedure Involved in Taking Education Loan
The process involved in taking an educational loan does not have any such complexities like other loans. Students are provided here with the step by step procedure involved in taking an educational loan
Visit the bank or any other financial institution from where loan has to be taken

Consult the concerned person/education loan department and discuss about the loan requirement

Submit him the admission letter provided by the institution in which admission has been granted

Inform about the loan amount required

Bank personal will ask for the necessary documents to submit

Submit the documents and bank will issue the loan amount after verification of documents and banking formalities
Difference between an Education Loan and Other Loan
There is a huge difference between an education loan and a personal loan in terms of the purpose it serves. Many parents have confusion in deciding whether they should take a personal loan or education loan for their child's educational needs. It must be noted that educational loan is designed specifically keeping in mind the requirements and situations of a student.
Personal Loan Vs Education Loan
Education Loan

Personal Loan

Moratorium for the entire period of study with an additional 6 months to 1 year before the repayment starts.

Rate of interest is less

Repayment period is high ranging from 7 years to 15 years

Government provides subsidies in education loan for economically weaker sections

No minimum or maximum limit on education loan

No collateral required for a loan amount of upto Rs. 7.5 Lakh




Personal Loan have no facility for moratorium

Rate of interest in quite high

Repayment period is less

No subsidy

Loan limit depends on collateral

Collateral required for loan
Common Queries Related to Education Loan
Careers360 interacted with Mr. Vivek Kaul to help students get answers to their common queries related to education loan, procedure to take the loan and other related issues. Here are the answers to some of the important questions raised by students
Question- How can I get an education loan from a bank. What is the procedure involved?
Answer - To get an education loan, there are certain basic things which you need to know about the bank like rate of interest, moratorium, margin money and collateral. After finalizing the bank on theses criteria, you may contact the bank for loan.
Question- Do banks have list of colleges for which they provide loan.How do they decide about the college?
Answer - Banks do have a list of colleges which includes top 200-300 engineering, management and other popular institutions. The list of colleges is basically carved out of the placement history of institutions like average package offered to its student and whether they will be able to repay the loan or not?
Question- Is there any tax benefits in repaying the educational loan
Answer - The borrower or repayer can avail the facility of tax benefits up to a period of eight years for the amount interest paid in education loan.
Question- Is the rate of interest on education loan depend on college?
Answer - Rate of interest is comparatively less for colleges like IITs, IIMs and other prestigious colleges than other colleges.
Question- I am a working professional and want to go for further studies. I want to finance my education on my own. Guide me
Answer- The best advice is to save as much money as you can since you are working. The amount above the saved money can be adjusted with an education loan.
Question- What should be the parents take while considering the education loan for their child?
Answer- My advice to parents is that they should take loan only if they would be able to repay it if any unfavourable conditions arise out of nowhere. For students, it is advised that they should study hard to get themselves admitted in good college, get a decent job and repay the loan.
Question- I want to study in a college having very high fees which is above the capacity of my parents. What should I do?
Answer- There are many colleges which offer very good education and do not charge much in name of college fees. Look for such colleges, it is not some universal thing that colleges which charge more provide good education or a good job.
Question- There are students taking loans for taking coaching to get admission in a prestigious college? What do you advice?
Answer- I would not suggest to take loan for taking coaching to get admission in any institute because this will increase the financial situation. I would advice to study hard by your own and take admission in good colleges.
Question- My parents earn around Rs.1 Lakh per month and I want to do MBBS with a good college. Should I take education loan or do commerce
Answer- I would not advice to take education loan for doing MBBS from any private institution which would cost around Rs. 1.5 crore unless you get admission in a government college. And there is nothing wrong in studying commerce.
Benefit Associated with Education Loan
Although, it is not encouraged to take any type of loan including the education loan unless and until it is extremely required, there are a few benefits of taking it which could positively affect the financial situation of borrower
The borrower/ repayer of education loan is eligible for tax benefits up to a maximum of eight years for the amount of interest paid in that eight year period.

Education loans have a facility of moratorium for the complete period of study as well as for job search time from 6 months to 1 years after the completion of study.
Central Sector Interest Subsidy Scheme on Education Loan
Under the Scheme, the interest payable on the Educational Loan for the moratorium period which includes course period plus one year will be borne by the Government of India. After the period of moratorium, the interest on the outstanding loan amount shall be paid by the student, in accordance with the provisions of the existing educational loan scheme of banks.
Education Loan and Financial Planning, Suggestions by Vivek Kaul, Financial Planner and Author