How to prepare for GATE Exam 2023 while working?
How to prepare for GATE 2023 exam while working? - There are students who know while opting for the engineering course that they will be preparing for the Graduate Aptitude Test of Engineering (GATE) in the future. But sometimes, students happen to end completing their undergraduate degree while chasing some other targets and start working, that is when they realize that they should appear in the GATE exam for better opportunities or further studies.
Stay up-to date with GATE News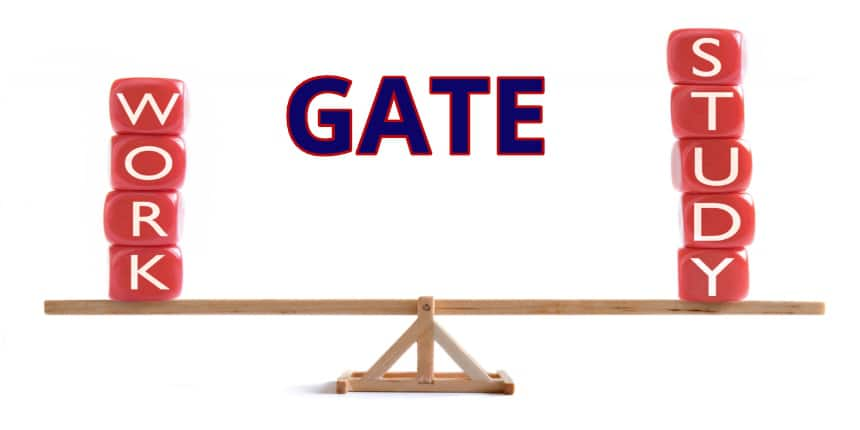 For such students, thinking about GATE preparation while working seems a big deal, and it is indeed. While those who are still studying are in touch with most of the subjects already that are asked in the GATE exam and do not need to put much effort for preparation unlike a working professional who long lost touch with studies. Not everyone has the guts to study for GATE while having a job. Thus, the article below is dedicated to GATE 2023 candidates who are looking for a solution on how to prepare for GATE while working.
It should be kept in mind that preparation for GATE with a job is not at all a cake walk, but it is not impossible as well. When talking about how to prepare for GATE while working, it is all about time management and dedication for the result that a candidate aspires for. There are some dos and don'ts that one has to take note of and it will be the direction of preparation for GATE with a job.
Must Read:-
GATE 2023 Virtual Calculator - How to Use it?
Crack GATE 2023: Why Practice of Previous Years Papers is a must?
Popular Online Engineering Courses and Certifications
Dos on how to prepare for GATE while working
Understand the Exam - Candidates should check out the GATE 2023 syllabus for the particular subject and don't forget to download the same. Candidates should also understand the GATE 2023 exam pattern so that they know how many questions they will have to face, what is the exact duration of the exam, whether there is negative marking, and all such factors.

GATE Books - Collect the best books for GATE 2023 preparation while checking out the student reviews. Candidates should opt for one single book or subject/ topic wise book depending upon the time left for the exam when they start with preparation.

Plan - After getting an idea of the structure of the GATE exam and also collecting the suitable study material, candidates should frame a study plan on what topics he/ she is good at and the rest that need more focus. Also the number of hours that can be dedicated in a week day and on the weekend.

Other Sources - While having a plan to prepare with the help of books, one should not look down upon other sources of knowledge. So if one finds some coaching institute whose timings suit the work schedule and can be afforded, it is a better idea to join. The reason being that preparing for GATE while working is a crucial task because many things happen in life that can not be ignored unless the person is indulged in a strict routine and there is some money invested for it. Candidates can also refer to the online lectures by experts that are present all over the internet and can help understand the concepts with less effort.

Practice - Candidates should not at all ignore the most important task while preparing for GATE, i.e. practising with the help of sample papers and GATE question papers. This step will help them understand the depth of their preparation and analyze the portions that need more focus and time.
Don'ts on how to prepare for GATE while working
There are some practices that should now be allowed in the routine of a candidate who is preparing for GATE along with a job as provided below:
Don't Waste Time - While getting indulged into a job already, if a candidate still thinks of preparing for GATE and is determined to crack the exam, the idea of wasting time should just vanish as soon as the thought of applying and appearing for GATE shows up.

Long Continuous Hours of Study - Continuous studies for more than 2 hours can mess up the whole idea of preparing well because prolonged concentration into books won't help for any good but lead to distraction. Thus, candidates should make sure to take breaks after at least an hour and the most of 2 hours. The break may range from 15 to 30 minutes.

Stress - It is understandable that there is much more mental stress in today's era and handling a job in itself is a brain buster sometimes. For those who take up another task for the brain need to relieve it as well so that it doesn't end up malfunctioning and causing health troubles. For that, candidates should start meditating or take up such activities that relax their mind like listening to music, yoga, etc. This will help the brain relieve from the two way burden.

Not having Short Notes - Candidates should for sure make short notes while preparing for GATE and also carry them along wherever they go, especially at their workplace. Because there is no work all the time and there is scope for much leisure time, however, it totally depends upon the work nature. This will help them take quick revision anytime and anywhere.
Quick Links:-
GATE Syllabus 2023
GATE Exam Pattern 2023
With the above-mentioned pointers, it might seem that preparation for GATE while working is an easy task but it should not be misunderstood at all. GATE is a tough exam and it needs complete dedication on part of the aspirant. Those who are working and can not afford to drop the job due to some reasons understand that they have to accomplish many tasks while compromising their leisure time, then why not do it for some good and add to your career.
Questions related to GATE
Showing 16556 out of 16556 Questions