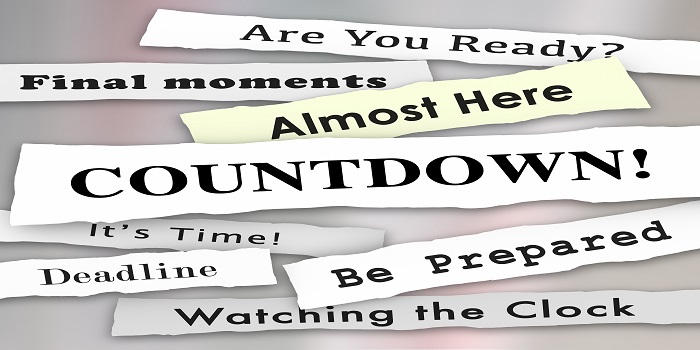 JEE Main 2019 Preparation Tips for January exam – Aspiring to join the IIT or even an NIT to pursue engineering? Then you must have been preparing with intensity for the new JEE Main to be conducted by NTA from 2019. Since the exam is just a few months away, the game plan will change and should your preparation strategy. Preparation Tips for JEE Main 2019 January exam will slightly need to be modified to take into account the little time left as compared to the April exam. The strategy and preparation tips for JEE Main should incorporate study topics, timetables such that students are ready by December to tackle the actual exam. The online registrations for selecting the Test Practise Centres (TPCs) has commenced from September 1, 2018. Registration for TPCs will be done a weekly basis since the test centres will be active only on weekends. Candidates can register for the nearby TPCs to prepare themselves for the JEE Main 2019. Read the article to know JEE Main 2019 Preparation Tips for January exam.
Latest: Registered candidates can check allotted JEE Main 2019 exam city on October 21. 
JEE Main Sample Paper
Download Free Sample Paper for JEE Main
Download Now

IMPORTANT - JEE Knockout Online Crash Course Available for JEE 2019 Aspirants

[A personalized course to clear IIT / JEE 2019 with the access of Mock Test Series ( Subject & Topic Wise ), 250 Hours Videos & E-Lectures, 50,000+ Concepts & Topics, 16 Years JEE Solved Papers, Most Asked Questions, Personalized Strength Sheet and more. Get Now]
The National Testing Agency will conduct the first JEE Main 2019 exam in online mode on January 9, 10, 11 and 12 (Paper I) and on January 8 (Paper II). The test is a computer-based exam for which mock tests are available from September 1. The result for the JEE Main January 2019 exam will be announced on January 31. 
A look at what's new and what has changed in JEE Main 2019?
National Testing Agency has taken over from CBSE and will conduct the exam twice now in online mode – once in January and then in April

Candidates can appear for one of the exams or both

The better of the two scores will be considered for ranking purposes for JoSAA counselling and admissions to the NITs, IIITs and GFTIs

JEE Main Mock tests is available from September 1, 2018. Students with no access to computers can go to the nearest practice centre to practice with the mock tests

Each candidate will get a unique question paper so misuse or malpractices will be eliminated

Age Limit has been removed by the NTA. Candidates who have passed their class 12 in 2017, 2018 or are appearing in 2019 can apply irrespective of their age.

Application Fees is revised by NTA.
1.5 lakh common service centres (CSC) have mentioned where students can fill the application, pay fees, upload documents, download admit card and all such activities at a nominal fee.
The number of exam cities has been increased to 264 and those abroad have been reduced to 9 (Dhaka is no longer an option).
For JEE Main Paper II, candidates must secure at least 50% marks overall in the qualifying exam and 50% marks in Physics, Chemistry and Mathematics individually as recommended by Council of Architecture (CoA) to NTA. 
What remains the same in JEE Main 2019?
The eligibility criteria are same.

There is no change in the exam pattern or the Syllabus either.

As per the authorities, the application fees, process of applying will also remain same.
JEE Main 2019 Preparation tips for January exam?
Time is of essence and there is little of it to go with especially if you are studying in class 12. Balancing the two is not easy but also not impossible. Nevertheless, rid yourself of any tension and start preparing with the help of the following preparation tips for JEE Main 2019 January exam. 
JEE Main 2019 Preparation Tips for January Exam
Tip 1: Take stock of your the JEE Main Syllabus
Before you start, it is vital to sift through the syllabus of JEE Main 2019 to check the topics to cover. The syllabus will also have topics to cover form class 12 which can be clubbed for preparation. Segregate the topics to easy, difficult and unknown. Study the easy and unknown in the same period as you can strengthen the easy topics and learn the unknown ones. After that tackle the difficult ones. The reason is no one knows where the questions will come from and it is important to know most of the topics. While knowing all topics in depth may not be possible but knowing most of them will be the next best thing.
Tip 2: Set a time table for JEE Main January 2019
While many say timetables are certainly required, some disagree especially if they are students who feel restricted by rules or cannot stick to a timetable for long. So the idea behind the time table is to set parameters with deadlines to complete a majority of the topics if not all. Try to work at your pace but ensure that you complete what you set out to do. Also make sure that the plan is reasonably achievable.
Tip 3: Understand the JEE Main exam pattern
It is vital to know the pattern of the exam. How else will you know what type of questions will come, how many marks are awarded, time given to complete the exam and such questions. First, check the JEE Main exam pattern. Answering with ease will come with constant practice with question papers of JEE Main.
Some important things to know about the exam are it will be a computer based test in English/ Hindi or Gujarati (only for students from the state)
JEE Main 2019 Exam Pattern
Particulars

Details

Total Number of Questions

Physics – 30

Chemistry – 30

Mathematics - 30

Type of Questions

Objective Multiple Choice Questions

Marks awarded per question

Correct answer: 4 marks

Wrong answer: 1 mark deducted

Total marks

360
Books and Topics to refer
The suggestions of experts and toppers have been used to compile the list of books and topics that will serve well to prepare for JEE Main 2019 exam be it January or April. Take a look at the books. An important preparation tip for JEE Main January 2019 is to be thorough with NCERT as they cover the basics so well that students can build easily on that.
Preparation Tips for JEE Main January 2019 - Physics
Topic wise weightage for JEE Main Physics 2019
Must Read Topics

Very Important Topics

Important Topics

 

Electrostatics

Magnetics

Physics and measurement

Oscillation and Waves

Electromagnetic Induction and AC

Dual nature of matter and radiation

Modern Physics

Current Electricity

Communication system

Optics

Waves

Gravitation
JEE Main 2019 Books for Physics
| | |
| --- | --- |
| Books | Author |
| Concepts of Physics | H. C. Verma |
| Fundamentals of Physics | Halliday, Resnick and Walker |
| Problems in General Physics | I. E. Irodov |
| University Physics | Freedman and Young |
| Understanding JEE physics series | DC Pandey |
| Problem In Physics | SS Krotov |
Preparation Tips for JEE Main 2019 January Exam – Maths
Topic wise weightage for JEE Main Mathematics
| | | | |
| --- | --- | --- | --- |
| Topics | Very Important Topics | Important Topics | Brushing up Topics |
| 3-D Geometry | Applications of Derivative | Inverse Trigonometric Functions | Logarithms |
| Probability and Statistics | Limit and Continuity | Circles and Family of Circles | Quadratic Equations |
| Vector Algebra | Matrices and Determinants | Sequence and Series | Theory of Equations |
| Integration | Straight Lines and Pair of Straight Lines | Inverse Trigonometric Functions | Sets, Relations and Functions |
| Complex Numbers | - | - | Differentiation |
| Parabola | - | - | Permutation and Combination |
| Trigonometric Ratios | -- | - | Binomial Theorem |
| - | - | - | Locus |
JEE Main 2019 Reference Books for Mathematics
| | |
| --- | --- |
| Books | Author |
| Higher Algebra | Hall and Knight |
| Coordinate Geometry | S.L. Loney |
| Differential and Integral Calculus | N. Piskunov |
| Calculus and Analytic Geometry | Thomas and Finney |
| IIT Mathematics for JEE Main & Advanced | M.L. Khanna |
| Course in Mathematics for IIT-JEE | Tata McGraw Hill publication |
| Problems Plus in IIT Mathematics | A Das Gupta |
| Trigonometry | S L Loney |
JEE Main 2019 Preparation Tips for JEE Main Exam - Chemistry 
Preparation Topics for JEE Main Chemistry as per weightage
| | |
| --- | --- |
| Must Read Topics | Very Important Topics |
| Atomic Structure | Chemical Equilibrium |
| Gaseous & Liquid State | Redox & Volumetric Analysis |
| Electrochemistry | Solutions |
| Chemical Kinetics | Metallurgy |
| Nuclear & Surface Chemistry | Qualitative Analysis |
| Chemical Bonding | Hydrocarbons |
| d-Block Elements | Mole Concept |
| Co-ordination Compound | Ionic Equilibrium |
| Alkyl Halides | Solid State |
| - | s-Block Elements |
| - | Periodic Classification |
|   | Classification & Nomenclature |
| - | Alcohol & Ether |
| - | Nitrogen Compounds & Aliphatic Amines |
| - | Biomolecules & Polymers |
Chemistry Books for JEE Main 2019
| | |
| --- | --- |
| Books | Author |
| Modern Approach to Chemical Calculations | RC Mukherjee |
| Organic Chemistry | Solomons and Fryhle |
| Concise Inorganic |  J. D. Lee |
| Organic Chemistry | Morrison and Boyd |
| University Chemistry | Freedman and Young |
| Physical Chemistry | N Awasthi |
| Arihant's Practice Book Chemistry for JEE Main And Advanced | R.K Gupta |
Tip 4: Mock Test and Question Papers
Success would be within reach if you put all that you learnt into practice. This is precisely what has to be done using the mock tests, for which the registration has been started from September 1 for the practice centers. Candidates, however, can download the mock test which is now available to download in 3 languages starting from September 8. Apart from that, the previous years question papers are a good place to start to know what the actual exam will be like, types of questions and difficulty levels. An ease with the exam environment, time management are some benefits of practising with mock tests or sample papers. 
Tip 5: Keep the head high and motivation levels up
A beginning would be to realise that it is just an exam and no measure of what you are and what you can be. Another thing to keep in mind if you are attempting the JEE Main January 2019 exam is that there is another attempt that you can give in April and better the scores. So you can even think of the January exam as just a litmus test and prepare strongly for the April one since the option exists this year. Motivation levels have to be maintained as there will be times when the pressure may be high, you may feel low on account of a bad performance in a practice test. What is more important is to pick yourself up and bounce back into the race. 
Tip 6: A healthy you can conquer mountains
Keeping healthy during these next few months is pretty important as only then can you cope up with the rigors of studying for what is one of the largest engineering entrance exams in the country. If you lose energy, feel low, fall sick, you will need time to recover and will not be able to cope up with the dedicated study hours required for an exam of this caliber. So this is a time to eat healthy and good food. 
Tip 7: Give yourself breaks and a bit of space now and then
Nobody can work or study continuously at a stretch. It's not really possible but also detrimental. So take a break now and then. Also give yourself some space to relax with music, meditation, art or whatever helps you ease the pressure. 
Tip 8: Stay away from Social media, unnecessary comparisons etc
Social media is addictive. This includes even WhatsApp. You could go on with just chatting on it. Also stay away with negative thoughts, comparisons. Remember the fingers on your hand are not the same so how can two people be same? So while someone may have their good points, so do you. Build on your strengths and make the most. Also allow no one to convince you that you can do it because if you seriously believe it and work for it, you can achieve it.
Questions related to JEE Main
Related E-books and Sample Papers