Campus Placement Interview: Anushka Bhargava speaks about her journey from SRM to Microsoft
Getting placed to a reputed company through campus placement is everyone' dream. That is why students work hard throughout the entire course to give their best during placements. Careers360 team have been providing different student interviews on college review, college placements and in the same series, we conducted an interview with Anushka Bhargava from SRM Institute of Science and Technology who got placed in Microsoft. Anushka who did B.Tech in CSE from SRM, is the campus placement 2020 topper of the institute and has got an offer from Microsoft with an annual CTC of 41.6 lakhs. Our team interacted with Anushka to know about her preparations for the placement and her journey throughout the 4 years of college. Anushka considers placements as a challenge and also thanks the institute for helping her throughout the course. Read the full article to know about Anushka's journey from SRM to Microsoft.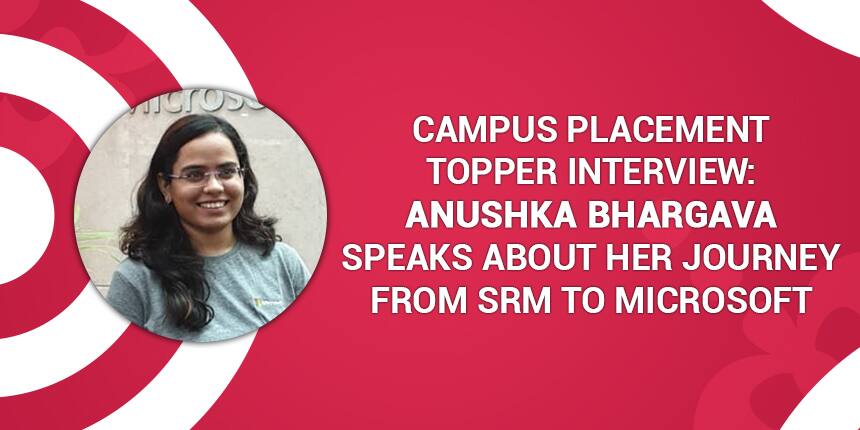 Careers360: Tell us something about your schooling and studies?
Anushka: I have attended 4 different schools in different places. I have spent the first 10 years of my life and 6 years of schooling in Lagos, Nigeria. I owe my strong basics and keen interest in learning and growing to this place. Further, I studied in Goa and Kutch for short durations after which we moved to Bhavnagar, Gujarat where I spent the last 5 years of schooling at Silver Bells Public School. This is the place which gave me perspective and shaped me as a person. I still look up to my teachers for guidance. I was always involved in a lot of extracurricular activities, be it dance, sports or organizing events and was also awarded the Student of the Year in class 10 and class 12. All round development is what helped me do better in academics. I was always a ranker in my school life and strived to be the best.
Careers360: What made you choose SRM, SRMJEEE and finally B.Tech CSE?
Anushka: After I was done with my 12th board exams, I started looking for career options. I have been fascinated by computers since I was a kid. So, it was not a tough choice and I decided to do B.Tech in Computer Science and Engineering. Next was to decide the college; I had heard about SRM being a good place to learn with a lot of opportunities and so decided to give SRMJEEE. My experience was quite good, and I was pretty confident of securing a good rank and securing a seat in CSE. Everything went good and I was glad to pursue exactly what I desired.
Careers360: Tell us about your hometown and support from parents to study in Chennai?
Anushka: I was born in Delhi and have been living in Gujarat since a long time but I am basically from Rajasthan. Having moved a lot since childhood, adjusting to new places is not tough for me. My parents knew this and were very supportive for my studies in Chennai. They have always let me take my own decisions and have extended their support in whatever I do. It makes me the happiest to see them as proud parents.
Careers360: How was your hostel life at SRM?
Anushka: I lived in the hostel for all 4 years of college life and can say that the memories you make in the hostel are simply the best. I was lucky to find great friends in the hostel. The infrastructure of the newly built M Block is quite good in addition to all facilities available in the hostel campus itself.
Careers360: What will you say about SRM Campus and Infrastructure?
Anushka: SRM has a great infrastructure and there are ample things that will help you to learn and grow like the library, labs, etc. All the labs are well equipped, the library is wonderful and the auditorium is best. SRM provides abundant opportunities for those who know how to make the right use of them.
Careers360: Tell something about student Clubs & chapters, student start-ups at SRM?
Anushka: I have been the Vice-Chairman of SRM IET On Campus Committee Head in Aaruush and volunteered for SRM MUN. All these experiences have added to my confidence, ability to solve problems and think out of the box to tackle situations. I think we should focus on other things also along with gaining the technical knowledge at the college. That is why I will encourage everyone to pursue their technical interests but also have some experience in organization and management as it adds to a lot of skills like teamwork, leadership, time management which play a great role in your placements and your life.
Careers360: What should one expect during placement rounds?
Anushka: Placement should not be feared but should be taken as a challenge. It is a culmination of all that you've done and learnt in the past years at college. Make every year count. Though I did not attend the actual placement as I was offered a PPO after my summer internship at Microsoft, I do have some tips for the upcoming batches. First and foremost, be thorough with basic aptitude and verbal concepts. The syllabus taught in our course is enough, but practice everything well. Do not take aptitude lightly. Also, I would like to stress on the importance of data structures and algorithms. Always remember, the panel is not here to scare you but to help you get the job you aspire for. Be thorough with all you have in your resume. Know the how and why of each thing. And it's totally fine to not know things, accept it instead of cooking up answers or guessing. Be confident, be humble and you can sail through any interview!
Careers360: What are the challenges faced in the placement interview?
Anushka: We had an online coding round in January which had 3 questions. Most of you will expect the level of questions to be very tough, but it was easy to medium. I easily solved 2 of them in 10 mins and the 3rd one required a bit of brainstorming. The interview for the selected students was conducted in March. There was 1 pen and paper coding round and 3 personal interviews. There were just 25-30 of us left after the pen-paper coding round out of 150+ candidates. It was scary! There were 2 technical interviews which were focused on coding only and 1 HR + problem solving round. The interviewers were very helpful and also provided hints to us. I will explicitly mention the importance of the CCC training given. There were a few questions directly asked from it. If you follow the training religiously and practice on your own, things will turn out to be good. Never underestimate your capability. Do your best always.
Careers360: Tell us about the support you got from Faculty and others during your course at SRM?
Anushka: The CSE faculty has been very encouraging throughout the course. Be it learning or other processes, I have always received help and guidance from them. Also, I would like to thank the Placement Cell for helping me throughout.
Careers360: Tell us about your internship at Microsoft, work style, adaptability and Work From Home experience?
Anushka: Microsoft is a great place to work. Two months as a summer intern was a learning experience for me. It is known to have one of the best intern programs in the country. Interns are treated well and given works that are valuable for the company's products. The feature I worked on in my summer internship has reached the users across the globe and I feel happy to have contributed to such a large product of the company- Microsoft Excel! Apart from work, we had an intern learning week, where we painted, had fireside chats, talent show and a lot more activities. At Microsoft, you are encouraged to do everything that interests you and have a balanced work life. Being a 6-month intern now and working from home has not changed anything, I am getting huge support. I just hope to deliver the new feature I am currently working on very soon. Looking forward to joining as a Full Time Employee in a few months!
Careers360: What is your overall feedback for SRM?
Anushka: "It is a matter of pride and fulfilment of my dream to have been placed at the exceptionally prestigious organization, Microsoft. SRM provides a platform and infrastructure to go beyond academics and be an all-rounder. It encourages students to nurture their interest and grooms them to excel in that field. The 4 years at SRM have not only made me industry ready, but have also helped me enhance my soft skills to grow personally and professionally. I would like to thank the Institute for all the learning opportunities extended and for guiding me to kick start my career with Microsoft."
Overall, SRM provides a bunch of opportunities. If you're focused and leverage it in the right way, there is a bright future ahead!
What Faculty Says about Anushka?
Mrs. R. Lavanya, Assistant Professor, Computer Science and Engineering, SRMIST, KTR Campus says that Anushka is one of the best students in the class. She is good at her academics and other activities. She is very responsible in all her endeavors. Her problem solving skills were remarkable. She has a good attitude and is always supportive as a team coordinator. I feel proud to have her as my student.
SRM Institute of Science and Technology, Chennai Updates and Articles
Questions related to SRM Institute of Science and Technology, Chennai
Showing 2687 out of 2687 Questions