Nanotechnology Programmes at SRM Institute of Science and Technology
Nanotechnology Programmes at SRM Institute of Science and Technology - Across the globe, researchers and scientists have joined hands to fight against the coronavirus (Covid-19), which has affected the health and livelihood of billions of people. Nanotechnologists are among the researchers racing against the time to provide solutions to the problems arising out of this gigantic calamity. SRM Institute of Science and Technology (SRMIST), Chennai is one of the few institutions offering exclusive Bachelor and Master courses in the field of Nanotechnology in India.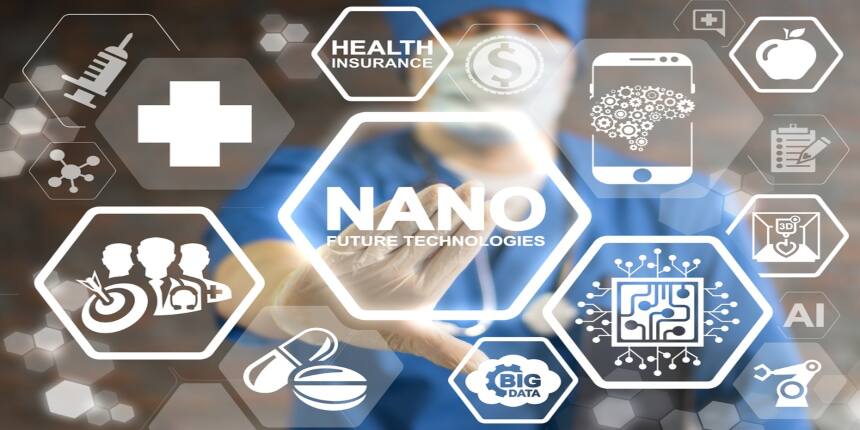 Department of Physics and Nanotechnology at SRMIST
The department of Physics and Nanotechnology of SRMIST (formerly known as SRM University) was established in the year 1984 and offers B. Tech., M. Tech. and Ph.D. courses in Nanotechnology. The Department has synergetic programmes in both educational and research endeavors and provides flexible and dynamic curriculum, exciting nanotechnology research facilities, and the environment with qualified faculties having strong expertise in various areas of Physics and Nanotechnology. It has an emphasis on interdisciplinary research connecting materials science, life sciences, and electronics. The research areas cover theoretical and experimental studies of various physical principles underlying fascinating topics such as microwaves, optics, crystal physics, semiconductor physics, atmospheric physics, biophysics, Nano biotechnology, sensors, energy storage systems and so on. The Department has 58 highly-qualified faculty members. The Department prepares students and faculty to face the critical challenges of changing technology by imparting effective training and exposing them to modern aids.
Facilities at SRMIST
There is a Centre for Materials Science and Nanodevices, which include:
Hydrogen Storage Materials and Nanosensors Laboratory

A Futuristic Materials Research Centre for Planetary Exploration is among the lab facilities offered

Characterisation Facilities / Techniques include a Micro-Raman spectrometer, a Laser flash thermal conductivity system and a Semiconductor Parameter Analyser

Wet chemistry labs and a planetary ball mill are among the synthesis / Growth / fabrication facilities available

Computational tools / software facilities include ATK, TCAD and Gaussian O3 simulation tools.
Research Projects
There are several research projects in progress at SRMIST. The department has obtained research grants to the tune of Rs.23.07 crores from various agencies (DST-FIST, DST-SERB, ISRO, MoES, BRNS, US ONRG).
Funded Projects
Includes one on Satellite Meteorology Cell worth Rs.140.00 lakhs, from the Ministry of Earth Sciences.
Research Publications by SRMIST Department of Physics and Nanotechnology
The department has published 400 articles in the last five years in SCI-Indexed, peer-reviewed journals, with an average impact factor of 3.7. The Nanotechnology department has global research collaborations with some of the leading universities and research organizations such as Shizuoka University, Japan; Flinders University, Australia; Okayama University, Japan; The University of Rome Tor Vergata, Italy; National Chiao Tung University, Taiwan; Indira Gandhi Centre For Atomic Research, Kalpakkam, India; Indian Space Research organization, India; National Aerospace Laboratory, Bangalore, India.
The faculties and researchers of the Department of Physics and Nanotechnology work in a diverse field of Materials Sciences such as Nanodevices, Molecular electronics, Solar energy conversion and storage, Environmental remediation, Nanosensors, Nanobiotechnology, Nanomedicine, and drug delivery, Nanomagnetism and Spintronics, Nanophotonics, Microwaves, Optics, Crystal Engineering, Semiconductor physics, and Atmospheric Science.
Career Prospects
Nanotechnology has revolutionized the electronics / semiconductor industry, biotechnology, medical and pharmacology sector, energy sector and so on. Thus students of nanotechnology have career opportunities in organisations such as Seagate Technology, Advanced Materials Corporation, Carborundum Universal Limited, Log 9 Materials, EucareUrgo Pharmaceuticals, Advanced Tech, etc. They are placed in R&D, Product Development and Quality Control departments. They also thrive as entrepreneurs. Many students pursue higher studies in world-class universities like MIT, University of Washington, Harvard University, etc.
B.Tech - Nanotechnology
Nanotechnology deals with understanding the physical and chemical principles of nanostructures and developing technology with enhanced functionality. It is multidisciplinary in approach and encompasses all areas of science and technologies and has application in electronics, telecommunications, computing, aerospace, renewable energy, environment, healthcare, biotechnology, etc. This course introduces the student to various aspects of Nanoscience and Nanotechnology, design and fabrication of Nanomaterials, concepts and functioning of advanced characterization tools for Nanostructures and diversified applications of Nanomaterials.
Core Courses under B.Tech Nanotechnology
Nanoscale Chemistry

Quantum Mechanics for Nanotechnologists

Nanoscale Materials Laboratory

Thermodynamics and Statistical Mechanics

Biological Principles for Nanoscale Science

Design and Synthesis of Nanomaterials

Advanced Characterisation of Nanomaterials

Modelling and Computational Tools

Solid State Engineering

Nanophotonics

Nanobiotechnology

Nanotoxicology and Nanotechnology

Nanoelectronics

Micro and Nanofabrication

Polymer and Nanocomposites
Elective Courses
Carbon Nanotechnology

Physics of Solid-state Devices

Molecular spectroscopy and its applications

Nanotribology

Nanotechnology Legal Aspects

Lithography Techniques and Fabrication

Sensors and Transducers

2D Layered Nanomaterials

Supramolecular Systems

MEMS and NEMS

Surface and Interfaces

Nanotechnology in Food Production

Advanced Drug Delivery Systems

Nanomedicines

Microelectronics and VLSI

Physics of Electronic Materials

Nanocatalysts

Nano and Micro Emulsions

Nanorobotics

Micro and Nanofluids

Nanotechnology for Energy Systems

Photovoltaic technology

Nanotechnology in Cosmetics
M.Tech – Nanotechnology at SRMIST
The course provides fundamental and advanced knowledge in Nanoscience and Nanotechnology and an understanding of the concepts of Nanomaterials synthesis and characterization. It also imparts to students a professional, ethical and multidisciplinary approach to work in different areas of Nanotechnology.
Core Courses under M.Tech Nanotechnology
Fundamentals of Nanoscience and Nanotechnology

Nanoscale Materials: Synthesis and Characterisation

Metamaterials and Nanophotonics

Applied Mathematics in Nanoscale

Nanotechnology Nanoscale

Technology in Biological Systems

Molecular and Nanoelectronics

Industrial Trends and Applications of Nanotechnology.
Elective Courses
Societal Impacts of Nanotechnology

Nanotechnology in Healthcare
Nanotechnology in Energy Conversion and Storage

Nanoscale Magnetic Materials and Devices

Metallopolymer Nanocomposites Nanotoxicology

Green Manufacturing Technology

Advanced Crystal Growth Techniques

Carbon Nanotube Electronics and Devices

Nanoscale Integrated Computing

Micro / Nano Devices and Sensors

Spectroscopic Techniques for Nanomaterials

Chemistry of Nanomaterials

Thin Film Science and Technology

Micro / Nano Colloids and Emulsions
Student Exchange and International Transfer Programmes - The SRMIST authorities also conduct exchange programmes for students under which, 110 undergraduate, postgraduate and Ph.D students have visited Shizuoka University for Sakura and SSSV programmes. Shizuoka University conducts Japan Science and Technology (JST) – SAKURA programme (Laboratory Exchange Programme) every year for the students of UG and PG Nanotechnology. The University also conducts Japan Science and Technology(JST) – SSSV programme (Laboratory Exchange Program) for the students of UG and PG Nanotechnology, SRM Institute of Science and Technology for five days in the graduate school of engineering sponsored by JST and organized by Shizuoka University joining hands with SRM Institute of Science and Technology. The programme enables SRM Institute of Science and Technology students to do research discussion at overseas universities or laboratories and discuss research activities at Shizuoka University laboratories. This inspires academic exchanges with overseas universities and research institutions while increasing international understanding and knowledge of the participants.
Flinders University - SRM Institute of Science and Technology extended their research collaboration with Flinders University, Australia. This research collaboration enables UG & PG Nanotechnology students to carry out a research project with Professors of Flinders University. It also provides a unique opportunity to engineering undergraduates to secure a degree from a pool of world's best universities. It offers an opportunity for the students to live, interact and learn in two different cultural environments.
Two students visited NCTU, Taiwan for TEEP - National Chiao Tung University, Taiwan – 6 months programme under Taiwan Experience Education Programme (TEEP) – International College of Semiconductor Technology.
For the Bachelor and Master students of Nanotechnology, several schemes and opportunities are available for the Semester abroad Programme (SAP) in elite institutes across the globe such as MIT, Harvard Medical School, Texas A&M University, NUS, Flinders Univ. (more than 70 students have undergone SAP in the last 8 years alone).
Furthermore, the students are provided opportunities to interact with top scientists and researchers from across the globe via Biannual International ICONN conference and numerous workshops, international guest/visiting faculties and experts from premier institutions like Shizuoka University, Japan; GNS, New Zealand; Tohoku University, Japan, and Open University, UK.
Looking into the future
According to the new Industry ARC research report, the global nanotechnology market size was between USD 45 to USD 50 billion as of 2018, and the market demand will grow at a compound annual growth rate (CAGR) of 13% during the forecast period of 2019 to 2025. The Research and Markets Global Nanotechnology Market & Forecast to 2024 report states that the global nanotechnology market is expected to exceed USD 125 billion by 2024. Nanotechnology is considered the technology of the 21st century and beyond. Nanotechnology has grown into a multi-disciplinary approach and encompasses all areas of science and technologies and has applications in electronics, telecommunications, computing, aerospace, renewable energy, environment, healthcare, biotechnology, etc. Development of novel quantum computers, powerful portable devices, high-density memory devices, miniaturized electronic devices, robotics, therapy, imaging, targeted drug delivery, antibacterial, antiviral, wrinkle-resistant, hydrophobic textile development depends on Nanotechnology. With the whole world in lockdown and the global economy in a tailspin, there are golden opportunities for young, and dynamic minds to explore, learn, understand, and become Nanotechnologist and provide solutions to the world for a brighter future.
SRM Institute of Science and Technology, Chennai Updates and Articles
Questions related to SRM Institute of Science and Technology, Chennai
Showing 3033 out of 3033 Questions