Director Interview- Manoj Madhavan Kutty, SRM Sonepat
Aspirants aiming to get admission at SRM Sonepat must know about the college, its facilities, placement statistics before joining the institute. To help the students, Careers360 conducted an interview with Manoj Madhavan Kutty, Administration & International Relations, SRM Sonepat.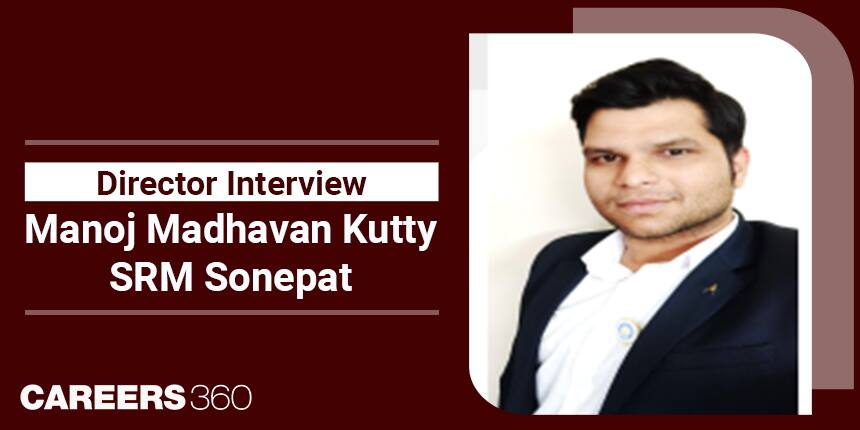 Manoj Madhavan spoke about the SRM Sonepat admission process, infrastructure, internships, placements and much more. These details about SRM Sonepat will help the students in making a well-informed decision of choosing the college. Read the full interview of Manoj Madhavan Kutty, SRM Sonepat below.
Careers360:Tell us something about the SRM Sonepat; when it was set up?
Manoj Madhavan Kutty: SRM University, Delhi-NCR, Sonepat is a thriving campus where brilliant, committed, and creative people come together to learn, work, live, and achieve. SRM University, Delhi-NCR, Sonepat was established under the Haryana Private Universities Act 2006 as amended by Act 8 of 2013. SRMUH offers over 65 courses in the field of engineering, management, commerce, science & humanities, hotel management and law. SRMUH follows industry 4.0 oriented curriculum and pedagogy for the holistic development of the students.
SRM University Delhi NCR, Sonepat has an established Incubation center, which is approved by MHRD and therefore follows the nomenclature: Institution's Innovation Council (IIC). At the Incubation center we provide an atmosphere to the students for learning by doing on the most advanced technologies. Students are trained from the basic level of technologies to an advanced level by providing necessary technical support, space, monitoring, training, networking and other benefits. Student's project ideas are funded and are monitored at different levels on their performance. Technical fests and project based competitions are held at campus level to promote the competitive spirit among the students. The selected teams are encouraged to participate at national / state level competitions such as hackathons and innovation summits, etc. Incubation center also organizes technical competitions such as the Science Olympiad which is open to all nearby schools and colleges to facilitate innovation among young minds. The selected students are invited to the campus for advanced level training.
Following are the training and workshop conducted for the academic year 2019-20
1. Arduino hands-on training.
2. Workshop on Remote Car making.
3. IoT with NodeMCU - hands-on training.
4. Workshop on Drone Making.
Students from the Incubation center have participated in the following national level competitions and their achievements are tabulated.
| | | |
| --- | --- | --- |
| S No | Event | Achievement |
| 1 | Participated in Science Exhibition held at Central University of Haryana, Mahindergarh | Received 3rd prize and consolation prize |
| 2 | Toycathon 2021 | Won the finals of the national competition out of 14000 participants. |
| 3 | Participated in Innovation Punjab Summit held at Chandigarh | Received strong attraction in the summit |
Careers360: What is the vision and mission of SRM Sonepat?
Manoj Madhavan Kutty:
Vision
SRM University Delhi-NCR, Sonepat, Haryana aims to emerge as a leading world-class university that creates and disseminates knowledge upholding the highest standards of instructions in Medicine & Health Sciences, Engineering & Technology, Management, Law, Science and Humanities. Along with academic excellence and skills, our curriculum imparts integrity and social sensitivity to mould our graduates who may be best suited to serve the nation and the world.
Mission
To create a diverse community campus that inspires freedom and innovation.

Promote excellence in educational and skill development processes.

Continue to build productive international alliances.

Explore optimal development opportunities available to students and faculty.

Cultivate an exciting and rigorous research environment.
Careers360: Tell us something about the SRM Sonepat admission process?
Manoj Madhavan Kutty: Admission process at SRM University, Delhi-NCR Sonepat Campus is based both online and offline. Students applying for admission have to appear in the online entrance exam. And before exams students can register for seats.
Applicants must clear the SRMHCAT, a common test for UG, PG, and PhD aspirants conducted every year. The University follows UGC guidelines when it comes to eligibility. For instance, the university accepts at least 50% marks in the previously qualified education to even apply at SRM Sonepat. The screening process involves the SRMHCAT score followed by GDPI. Students can also benefit from the scholarships being provided to the deserving based on a rank-based counselling system like the way it is done in IP, DU, or IITs. JEE, CLAT, SAT, NCHMCT council exams are also accepted. A range of scholarship schemes which is based on merit, means, sports, domicile (for Haryana students) including our exclusive #SRMcares COVID-19 scholarship
Careers360: What kind of infrastructure can students expect at SRM Sonepat? Please elaborate?
Manoj Madhavan Kutty:
World-Class Infrastructure

Air-Conditioned Classrooms, Hostels

Hi-Tech Course-specific and integrated laboratories

Well-equipped traditional and digital library

Auditorium and Conference Halls

Transportation

Safe and secured Hostel

Indoor & Outdoor Sports

Hi-Tech laboratories for continuous practice and experimentation

SRM-Siemens Centre of Excellence (SSCoE), SRM-BOSCH Centre of Excellence (SSBoE)
C4D Laboratory
A special centre for Drug, Design Discovery & Development, C4D laboratory is engaged in developing new drugs, vaccines for effective health management.
Careers360: There is a lot of stress that is being made with regard to interaction with the industry as well as companies that recruit. What are the steps being taken by SRM Sonepat in this direction?
Manoj Madhavan Kutty: The steps for the same are as follows:-
Arrangement of Expert Lectures

Webinars for students from the higher officials of the Companies (CEO, CXO Level)

Industry visits for students to gain the knowledge of real time work in industry.

Live Projects for practical knowledge

Mentor Mentee Program

Industry oriented Program in collaboration with IBM, Xebia and TCS.

India's First University powered by NASSCOM'S Future Skills platform- an online learning solutions.
Careers360: Internships are now mandatory as per AICTE guidelines. Does SRM Sonepat help students with this? If yes, how?
Manoj Madhavan Kutty: Yes, we are having contacts with more than 500 companies for the internship and we coordinate with the companies for the internship of the students. We provide internships to the 2nd year and 3rd year students for 04 to 06 weeks as per the norms of university. We also provide internships to the final year students in their last semester. They can join as interns in the company and the company provides them an appointment letter after the successful completion of their internship after six months.
Careers360: Please share placement statistics with information on the average package, highest and lowest package, number of students placed and details of companies that have recruited SRM Sonepat students?
Manoj Madhavan Kutty: The details are below-
| | | |
| --- | --- | --- |
| Highest Pay Package | Average Pay Package | Minimum Pay Package |
| 12.5 LPA | 5..11 LPA | 3.5 LPA |
Total No of students placed: 186
Companies are as follows:
| | |
| --- | --- |
| SNO | Name of the Company |
| 1 | Cognizant |
| 2 | Goldman Sachs |
| 3 | Dell Internship |
| 4 | Merkle | Sokrati |
| 5 | Practo |
| 6 | Royal Enfield |
| 7 | Nagarro |
| 8 | TekSystems |
| 9 | JusPay |
| 10 | Virtusa |
| 11 | Unthinkable Solutions |
| 12 | Codenation |
| 13 | TCS Digital |
| 14 | Texas Instruments |
| 15 | Hexaware |
| 16 | PayPal |
| 17 | TCS NQT |
| 18 | Quantiphi |
| 19 | Hansa |
| 20 | Comviva Corporate |
| 21 | NI Systems India |
| 22 | LendingKart |
| 23 | ICON Resources |
| 24 | HashedIn |
| 25 | Actolap |
| 26 | Bank of America |
| 27 | Coforge (NIIT) |
| 28 | Allied Analytics |
| 29 | Posterity Consulting |
| 30 | Siora Surgicals |
| 31 | Accenture |
| 32 | Mad Educators |
| 33 | Med Play |
| 34 | Servetel |
| 35 | Berger Paints |
| 36 | Phone Pay |
| 37 | TCS |
| 38 | Allied Analytics |
| 39 | Vinove Software & Services Pvt Ltd |
| 40 | Posterity Consulting |
| 41 | SRVA |
| 42 | Pagarbook |
| 43 | Pinclick |
| 44 | Bisleri |
| 45 | Deloitte |
| 46 | NTT Data |
| 47 | JK Technosoft |
| 48 | HCL |
| 49 | Vodafone GET |
| 50 | Nokia |
| 51 | Tech Mahindra |
| 52 | Hitachi ABB Power Ltd |
| 53 | NCR Corporation |
| 54 | Inszoom |
| 55 | Exposes Data Labs |
| 56 | UpGrad |
| 57 | IDS Infotech |
| 58 | CVENT |
| 59 | Adloid |
| 60 | Timex Group Precision Engg Ltd |
| 61 | Digital Web Analytics & Optimization (DWAO) |
| 62 | Lido Learning |
| 63 | KPIT |
| 64 | Fiat Chrysler Automobile |
| 65 | Cvent |
| 66 | Akash Education Services |
| 67 | Tata Consultancy Services |
| 68 | SBI Life |
| 69 | Hawkins |
| 70 | Akash Education Services |
| 71 | Mahindra Holidays & Resorts Pvt Ltd |
| 72 | One Direct |
| 73 | IDFC Bank |
| 74 | JISA Softtech |
| 75 | Skiify |
| 76 | IBM |
| 77 | Open Text |
| 78 | Cvent |
| 79 | Newgen |
| 80 | Virtous |
| 81 | Aditya Birla Health Insurance |
| 82 | Tata AIG General Insurance |
| 83 | Quest Global |
| 84 | SAR Group |
| 85 | Eleation |
| 86 | Xpressbees |
| 87 | Byjus |
| 88 | Quick Ride |
| 89 | Growth Arrow |
| 90 | The Solar Labs |
| 91 | MasTree |
| 92 | DE Shaw |
| 93 | Bajaj Capital |
| 94 | Amex India Pvt Ltd |
| 95 | PWC |
| 96 | Kickstart |
| 97 | UAS International |
| 98 | Capital Via |
| 99 | Tenovia |
| 100 | Mansukh Securities & Finance Pvt. Ltd |
| 101 | Vinove Software & Services Pvt. Ltd. |
| 102 | Hansa Solutions |
| 103 | Sharda Motors |
| 104 | Digilicious |
| 105 | KEN 42 |
| 106 | Allied Analytics |
| 107 | Quick Ride |
| 108 | Online Sales. AI |
| 109 | ShubhiTech Internship |
| 110 | Omics Group |
| 111 | Vinove /Value coders |
| 112 | GAV Public School |
| 113 | OLA Cabs |
| 114 | OLA Cabs |
| 115 | Finesse |
| 116 | Thomson Digital |
| 117 | Lead Squared |
| 118 | Vedantu |
| 119 | APC Air System Pvt Ltd. |
| 120 | NCR Corporation Pvt Ltd |
| 121 | Trigent |
| 122 | AI Hackathon |
| 123 | KPIT |
| 124 | Number Theory System Pvt Ltd |
| 125 | Immortal Technologies |
| 126 | EPAM |
| 127 | JMAN Group |
| 128 | Bitwise |
| 129 | Outlook Group |
| 130 | Algorithmics |
| 131 | Shipping Karo |
| 132 | Insellers |
| 133 | Reliance Retail |
| 134 | Smartserv |
| 135 | 123 Startup |
| 136 | Infelearn |
| 137 | Curious Fly |
| 138 | Unschool |
| 139 | Servetel |
| 140 | Wiley-mthree |
| 141 | Mu Sigma |
| 142 | TCS |
| 143 | Tata Technologies |
| 144 | SIB Infotech Ltd |
| 145 | Planet Spark |
| 146 | We Make Scholars |
| 147 | Edwisor |
| 148 | Bridge i2i Internship |
| 149 | Expert Grads |
| 150 | Nomad Maniac |
| 151 | Upgrad |
| 152 | Posterity Consulting |
| 153 | K12 Techno Services Pvt Ltd |
| 154 | Mission Ed |
| 155 | Hivo Technologies |
| 156 | Byjus |
| 157 | Hansa Solutions (Special Drive) |
| 158 | Max Bupa |
| 159 | BTM Financial |
| 160 | Zykrr |
| 161 | Accenture |
| 162 | Paytm |
| 163 | Coforge |
| 164 | Upgrad |
| 165 | Zone Media Pvt Ltd |
| 166 | Digital Web Analytics Optimization |
| 167 | Byjus |
| 168 | Upbringo |
| 169 | Codalien Technologies |
| 170 | Nomad Maniac |
| 171 | ILC Group of Companies |
| 172 | Mediology Software Pvt Ltd |
| 173 | Whitehat Junior |
| 174 | Bluebird Solar Pvt Ltd |
| 175 | Zone Media Pvt Ltd |
| 176 | Whitehat Junior |
| 177 | Extramarks |
| 178 | Bank of America |
| 179 | JP Morgan |
| 180 | Trans India |
| 181 | Congruex |
| 182 | Finoit |
| 183 | ZF Automotive |
| 184 | Lido Learning |
| 185 | Pinclick |
| 186 | Avacend Solution |
| 187 | Vinove |
| 188 | OmniTech |
SRM University, Delhi-NCR, Sonepat Updates and Articles
Questions related to SRM University, Delhi-NCR, Sonepat
Showing 40 out of 40 Questions