Instrumentation Technology


Instruments play a vital role in each aspect of human life. You can never think of any activity without the application of instruments. With the expansion of knowledge, man wants to invent and innovate wide range of devices to maintain a comfortable life. After the Industrial Revolution, the many manufacturing and industrial sectors in the world gained a new impetus with the implementation of the science of instrumentation and control.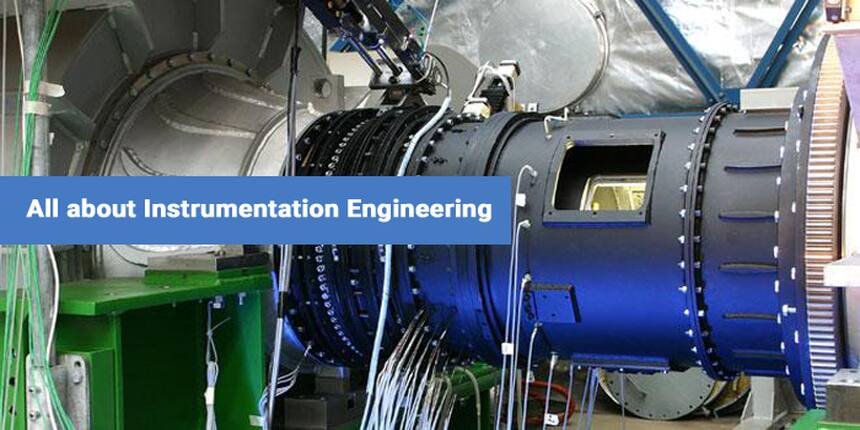 Instrumentation Engineering is defined as the art and science of measurement and control of process variables within a production, or manufacturing area. It is one of the brightest fields in engineering today. As an independent discipline, it deals with measurement, control and automation of processes.


The present industrial world has accelerated the use of instruments in a larger scale. The rate of technological obsolescence has been extremely high. There must be harmony among the researchers, academicians, industries and the society to meet the fast growing discipline. The industries and research organizations working frontier areas are in need of highly skilled and scientifically oriented manpower. After globalization, the industrial sectors have become more concerned with process control, optimum utilization of resources & higher level of automation. To handle these challenges, Instrumentation engineers are in high demand.


In recent times, Instrumentation Engineering has become one of the most coveted fields. If you look at the educational landscapes, students are becoming more oriented to enroll themselves with reputed colleges and universities to start their career journey with Instrumentation Engineering.
Curriculum
The curriculum of Instrumentation engineering focuses on electricity, electronics, fluid power, motors and controllers, programmable controls, robotics, interfacing technology, instrumentation and automated machine processes. It also provides the student with technical knowledge and skills necessary for gaining employment as an instrumentation technician in maintenance, diagnostics, engineering, or production in automated systems.


Eligibility
To become eligible for admission to B.Tech/BE in Instrumentation Engineering courses in IITs, NITs and IIITs, candidates should have scored at least 50% marks with Mathematics, Physics, Chemistry as compulsory subjects in 10+2. Thereafter, the eligible candidates need to qualify JEE (Main), and subsequently JEE Advanced, for admissions to IITs. Regional institutes have their respective State-level examinations for admitting students to B.Tech/BE courses in Information Technology.


Personal skills required for pursuing Instrumentation Engineering
Troubleshooting skills

High level of numeracy

Excellent communication skills

Interpersonal skills

Basic computer skills

Organizational skills

Analytical skills
Core Subjects
Engineering Mathematics

Electrical and Electronic Measurements

Control Systems and Process Control

Analytical, Optical and Biomedical Instrumentation

Basics of Circuits and Measurement Systems

Transducers, Mechanical Measurement and Industrial Instrumentation

Analog Electronic

Digital Electronics
Higher Education
After completion of B.Tech/BE, one can also opt for M.Tech/MS in various specializations. For M.Tech/MS degree courses, candidates are selected on the basis of GATE score. However, candidates with exceptional performance in their qualifying degree may be offered direct admission in some institutes. Many engineering colleges also offer M.Tech/MS programme in Information Technology with different specializations. PhD programmes are another option. The IITs and NITs are among the top premier institutes that offer M.Tech courses in Instrumentation Engineering.


Job prospects
The job opportunity for instrumental engineers, both in India and abroad is enormous. Among all these engineering domains, Instrumentation Engineering occupies an important place because of its interdisciplinary nature. It also provides exciting career opportunities in various segments, including Biomedical, Nuclear and Aerospace applications.


Instrumentation engineers are highly required in various sectors, including manufacturing and process automation, system engineering, consultants, embedded systems and electronic circuit design. Almost all process & manufacturing industries have a separate instrumentation department, which is managed and manned by the instrumentation engineers. In the process industry, automation has become a buzz word, and it is the primary job of instrumentation engineers. The scope for instrumentation engineers in sectors like avionics, aeronautical and space science sectors is increasing day by day.


According to TimesJobs.com, Bengaluru tops the list offering 26% of the jobs in instrumentation in India. Other cities offer: Delhi NCR- 15%, Mumbai - 14%, Chennai - 12% and Pune - 11%. Remaining jobs are scattered all over other locations. Instrumental Engineers are required in various sectors including railways, construction, telecommunications, automotive, aerospace, marine, materials & defence engineering, environmental agencies and others.


In addition, many concepts such as Distributed Control System (DCS), Programmable Logic Controllers and Supervisory Control and Data Acquisition (SCADA) and virtual instrumentation have doubled the need of instrumentation engineers. For designing, building, testing and repairing electronic and mechanical components, instrumentation engineers are required for carrying out various processes in an industry. Apart from core sectors, instrument engineers can work with a software and hardware company also.
Indian companies like National Aluminium Company Ltd. (NALCO), Gas Authority of India Ltd. (GAIL), Hindustan Petroleum Corporation Limited (HPCL), Indian Oil Corporation (IOCL), Steel Authority of India Limited (SAIL), etc require instrumentation engineers for their respective instrumentation departments. In addition, many top-notch companies in the world, including Emerson Process Management, Invensys, Honeywell Process Solutions, ABB, Siemens Energy & Automation, Schneder Electric are also in need of instrumentation engineers for various project requirements.


Job Profile
Senior Instrumentation Engineer

Senior Engineer

Principal Engineer

Consultant

Chartered Engineer

Instrumentation Specialist
Top Institutes:
Top Recruiters
GE

Navayuga

Texas Instruments

National Instruments

ABB

Invensys

Suzlon

Larsen & Tourbo

Robert Bosch