Interview with UGI Professor K.S. Dubey
The transition from a transport business to education has seen the United Group of Institutions gain a strong foothold in the education world over the past years. The group currently has 9 institutes offering varied programmes. Prof. K.S. Dubey who is entrusted with the educational leadership at the group's institutions talks to Careers360 in an exclusive interaction about the facilities and opportunities provided to the students. Read the full interview with UGI Professor K.S. Dubey to know about the United Group of Institutions including the placement highlights, scholarships, infrastructure, skill enhancement programmes offered by the institutes, etc.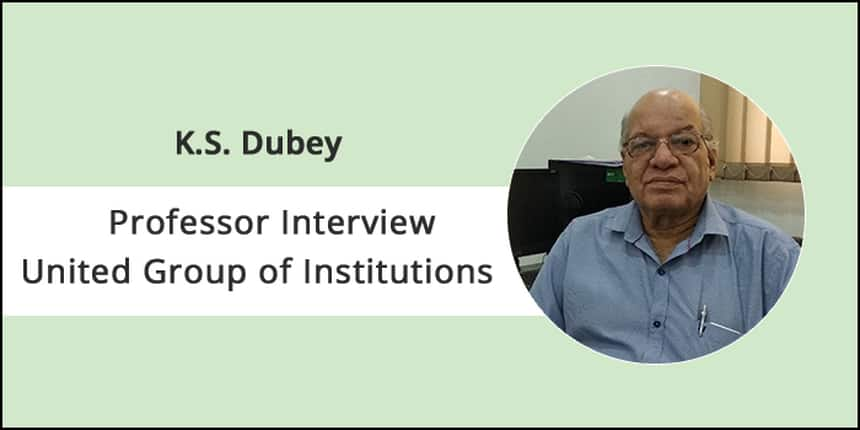 Careers360: What was the turning point and vision that made the transition of the group from transport to education?
K.S. Dubey: The United Group, founded by late Shri Shiv Ram Das Gulati in 1951 transited from a transport business to education, services, transportation and journalism with an emphasis on computer education. Now, with 09 well established institutes in Allahabad and Greater Noida, over 11200 students and more than 750 faculty members, the United Group of Institutions is poised to reach the next level providing the best education with a vision of creating a workforce of professionals with analytical skills who can dream a better world and transform the dream into reality.
Careers360:  Out of the 09 institutes of the group, which is the oldest and which is the new one? Have there been any change in the way they have been designed in terms of facilities and infrastructure as the tendency to progress always starts at some point?
K.S. Dubey: Out of the 9 institutes of the group, the oldest institute is United Institute of Management, Allahabad which was established in 1997 and the newest United College of Education, Greater Noida which is established in 2018.
Yes, there have been lots of changes in terms of facilities and infrastructure mentioned below:
Students Accomodation with basic amenties

Food Courts

Sports and Recreation Activities

Medical Facilities

Wi-Fi

Transport
Careers360:  What is the faculty-student ratio in various courses of the institutes? What are the parameters looked at by the management when the faculty is recruited? 
K.S. Dubey: Faculty- student ratio in various courses of the institutes is 1:50 i.e. for 50 students 1 faculty is there.
Faculty recruitment has its foundation on the basis of
Knowledge of and enthusiasm for subject matter

Skill, experience, and creativity with a range of appropriate pedagogies and technologies.

Involvement with and contributions to one's profession in enhancing teaching and learning.

Lastly Good communication skills, Self-confidence, a Positive attitude, Diligence and  Sincerity & Dedication
Careers360:  Internships are now mandatory as per the latest AICTE guidelines. How do you help the students with this aspect? Also, industrial visits are essential for students' especially technical ones during their course of study. How do you support them in this? 
K.S. Dubey: Industrial tours are regularly organized time to time to bridge the gap of practical exposure & to allow gaining first-hand information of the Industry. Students get an opportunity to plan, organize and engage in active learning experiences both inside and outside the classroom. They also gain an insight into the real working environment of the Industry. 
Students are encouraged to visit trade fairs like 'Elecrama', 'The Auto Expo' etc to keep in touch with the latest trends in their respective areas of specialization. The students are required to handout a written submission about their visits. Recently UGI signed a MOU with SPHERE MI for the "centre of excellence" to provide industrial exposure and to adapt the corporate, to provide industry orientation training and practical knowledge to the students.
Careers360: Brief us with the placement highlights. Kindly give us details of the average placements course wise with details like the minimum package, maximum package, companies that recruited etc. 
K.S. Dubey: At United Group, the Corporate Relations Center (CRC) functions more than just placing students. While our students are annually recruited by Infosys, TCS, Wipro, L&T and other industry giants, we go a step further. We ensure that every student is 360 degrees employable rather than just providing employments.
Some steps in this directions involve sessions on Aptitude and Personality for 2nd year students, placement preparation based on past experiences and sessions, mock tests with dedicated tutorials. The student library is equipped with books to help with not just the subject but also Quantitative analysis, Reading Comprehensions and Verbal Reasoning. Skills are honed with group discussions and team activities. There are summer training sessions too. Counselling sessions are also part of the exercise. Finally, there is the actual Interview simulation before all the events. We have a collaboration with INFOSYS for hosting Campus Placements and LEARN programme.
Leading companies have been recruiters at our campuses and the placement packages are as follows
Minimum package= 2 lac per annum

Average package= 3.5 lac per annum

Maximum package= 12 lac per annum
Careers360: There has been mention of a global tie-up with Asian Institute of Technology, Thailand for academic exchange programmes. Are they only restricted to summer training programmes and workshops or are there others too? 
K.S. Dubey: Our international academic collaborations are aimed at providing an umbrella for innovation, integration, information, technology and industrial partnership to everyone. The MoU with Asian Institute of Technology (AIT), Bangkok, Thailand, is the first initiative and has had more than 500 students participating in 'Summer Education Workshop' at AIT & Missouri. AIT collaboration provides an exchange platform for the students, faculty members with joint research projects, joint cultural programs/projects and joint conferences.
Careers360:  In the same vein collaboration, Missouri University, Columbia, USA has also been mentioned. The first batch was scheduled in 2017. What is the nature of this MOU? Give us details of the eligibility and the nature of the programme, duration etc. 
K.S. Dubey: The MoU with the Missouri University, Columbia, USA, provides with a framework for a partnership agreement ensuring close cooperation and coordination of efforts concerning training, exchange of experts and scholars, participation in joint conferences etc. At the University of Missouri, 15 Unitians participated in an exclusive 3-week summer program, which provided them exposure to the best of the facilities Missouri University had to offer.
Careers360:  What is the United Innovation Centre and United Startup Cell? What is the role of students in this? How do they benefit? 
K.S. Dubey: Innovation Centers at UGI are newly established units aiming towards nurturing the innovative ideas of scientifically and technologically-driven young minds and encourages UGI scholars for research project/proposal submissions. The prime objective of these Innovation Centers is to explore and enhance the creativity and innovation skills of UGI scholars and to pursue research in science and technology with a societal impact. The Center is equipped with state of the art facilities for research and development. Other facilities required for projects like Internet, Printers, Software, Circuit Components, Fabrication support etc are also provided at the center.
Careers360:  What are the various scholarships offered to new entrants? Also, give details of other scholarships awarded in the various institutes?
K.S. Dubey: Scholarship are offered for mostly all programmes. Each scholarship programme carries a certain eligibility criteria and a specific amount awarded to the student who is eligible for the same
B. Tech Merit Scholarship which is for students with more than 75% in PCM in class 12 carries an amount of Rs. 20,000/- per year. The scholarship continues throughout the four years provided the student maintains the 75% clause throughout B.Tech.
Shiv Jyoti Scholarship is also for B.Tech aspirants.  This scholarship offers Rs. 5,000 to Rs. 50,000 to aspirants with UPSEE General Rank between 1 and 10000
MBA Merit Scholarship is open to aspirants based on their UPSEE/MAT/CMAT/CAT/ graduation marks. Students who have scored above 70% or the specified ranks may apply for the scholarships whose amount ranges from Rs. 10,000 to 20,000.
There is the B.Pharma Merit Scholarship and the BBA/BCA Merit Scholarship too.
Careers360: Tell us about the Employability skill enhancement program at UGI. Is it mandatory for students to participate in these or do they have to enroll as per their need and interests? 
K.S. Dubey: The Employability Skill Enhancement program (ESEP) offers students a set of 'transferable skills' that are generic across all employment sectors. The fact is that these students will need a mix of skills required which is catered to by the programme.
Some instances are
GATEWAY to 'GATE (Graduate Aptitude Test in Engineering) which is open to aspirants appearing for the exam.
Verbal Ability Program (VAP) that looks at improvement in English Proficiency/Communication and Aptitude along with the other Soft Skills. Here students work upon their Intelligence Quotient (IQ) covering Numerical, Analytical and Reasoning skills along with English Proficiency and also their Emotional Quotient (EQ) covering their Attitude, Communication, Interpersonal and decision-making skills
Campus Recruitment Training (CRT) – This is a training lead by outsourced professional trainers to unlock students' verbal, numerical, analytical and logical skills.
Technical Trainings (TT) – Incampus 'Technical/Industrial Trainings' for different streams/branches lead by outsourced trainers having industry experience   
Careers360:  When students choose a college, what are the parameters you would advise them to look for?
K.S. Dubey:. Students should check for infrastructure, placement statistics, global exposure, Industry Tie ups, Scholarships, Award and Recognition, facilities offered.
United Institute of Technology, Allahabad Updates and Articles
United Group of Institution opens B.Tech admission 2018 – Cand...
02 Apr 2018
United Group of Institutions B.Tech Admissions 2016 is availab...
10 May 2016