How to prepare for NATA in 6 months?
If you nurture dreams of becoming an architecture engineer, the game starts with NATA, the nation's premier entrance exam for admission to B.Arch course. The national-level exam, however, is no easy pushover, as the competition is intense. COA has also recently come out with a new set of guidelines, mudding things a little bit and adding a bit of twist to the tale. Speaking of preparation, one would ideally need a year or so to cover the entire syllabus of NATA. But if six months is all you have, you will need to fire on all cylinders from the word go and be ready to soak up all the pressure that comes your way. The process definitely is not going to be a joyride, but if you know how to prepare for NATA in 6 months, you can ride the wave.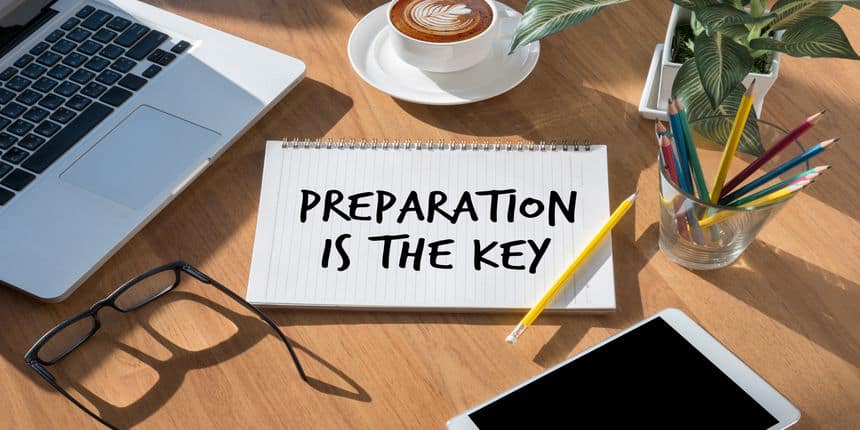 NATA in a Nutshell 
Full Name

National Aptitude Test in Architecture

Conducting body 

The Council of Architecture (COA), constituted by Government of India, conducts NATA.

Purpose 

Admission to B.Arch program

Who accepts NATA scores 

All recognized institutions in the country 

Mode and Type of Exam

The 3-hour long paper has two parts:




Part A is Objective Type and conducted in Online Mode

Part B, a Drawing Test, is to be answered on A4 size paper 

Application Mode

Online

Validity of NATA scores

Valid for the current academic session only
What is new in NATA 2019
Change in Exam Pattern - The Drawing test of NATA 2019 will now be of 120 minutes, while Aptitude test has been reduced to 60 minutes. Earlier both parts were of 90 minutes.

Eligibility Criteria - Chemistry and Physics, along with Mathematics, have been made compulsory subjects. The aggregate minimum marks in the three subjects is 50%.

Additional Changes Proposed - Along with the above two changes, there are also plans to conduct centralized counselling so candidates don't have to do college hopping. Centralized counselling will also ensure there is no unfilled seats, as seats left vacant in a college after accommodating local candidates will be allotted to other state candidates.    
Other entrance exams for B.Arch admission in India
Name of Exam

Conducted for

Description

Architecture Aptitude Test (AAT) 

Admission to B.Arch course offered by the IITs, viz:



IIT Roorkee 

IIT Kharagpur




To be eligible to appear in the AAT exam, the candidate needs to first qualify:




 JEE Main (Paper I) and then

JEE Advanced

JEE Main (Paper II)

Admission to B.Arch course offered by NITs and SPAs, and other participating institutes of JEE Main.

-

UPSEE

Admission to government and private institutions in UP

-
Did you know - Unlike engineering courses, there is no provision for Lateral Entry at any stage of B.Arch course, notwithstanding the qualification of the candidate. 
NATA 2019 - Calendar of Events (Tentative dates only)
Start of NATA Application Form - 3rd week of January 

NATA 2019 Exam Date - Last week of April

Declaration of Result - 3rd week of May 
Mantras to tame the devil called NATA
Some of the problems that candidates normally encounter during their preparation is they start at a brisk pace, but lose steam mid-course. Then there are others who do all the hard work, but still feel like they are not exam ready. What are the solutions to these myriad problems? Though this article on How to prepare for NATA in 6 months, Careers360 brings you the answers to these questions and more. 
Put in place a study plan
This is the easiest part of the preparation phase, so you may be be tempted to go overboard and overplay your hands. To give you an example, you might take some take some chapters lightly, and just allot only a few days to complete thinking you would just skim through. But then when you start the topic you realize you have opened a can of worms that can't be dealt with easily. Then on other occasions, you underestimate your ability and allot more days and time than is required. So, it is important to have a balanced view of your ability, the difficulty level of the exam, and how much time will be needed to complete the syllabus.
Also, you shouldn't be rigid with the plan. If something unexpected comes along, or you feel like a little tweak will help in your preparation, don't hesitate to make the necessary changes. 
Get familiar with the exam pattern
Until last year, the 3-hour long exam consisted of two parts  - Part A and Part B - of equal duration (90 minutes each). However, COA has announced some changes to the exam pattern of NATA. Part A which comprises Mathematics and Aptitude subjects will now be of 60 minutes duration, whereas Part B will be of 120 minutes. So, you will have more time to answer questions in the drawing test. 
It is recommended that you go through the exam pattern carefully, so that there are no surprises on exam day. 
Pick your books wisely
Books that use simple language but without diluting the crux of a concept and treat the subject matter in detail are recommended. Now if you instead choose a book that uses all kinds of complex and bombastic jargons, it will suck out preparation time as you expend valuable energy trying to decipher the language rather than the concept. Don't fall on this trap. 
Also, good books will have fewer errors and contain ample sample questions and illustrations that make learning easier and fun, while also keeping you engaged. 


Book suggestion for NATA Preparation 
Author

Books

Ar. Shadan Usmani

NATA & B.Arch Question Bank (Entrance Exam)

NATA & B.Arch Complete Self Study Material: Entrance examination 

GKP

NATA (B.Arch) Guide Bachelor of Architecture Ent. Exams

Surendra Kavimandan

B.Arch Entrance Exam Guide: Entrance Examination (Popular Master Guide)

P. K. Mishra

A Complete Self Study Guide for B.Arch
Take notes during study
Taking notes during study can serve many purpose simultaneously - it will help you stay focused, jot down the important points, and help you build a study material that is portable and a gist of what contains in those bulky books. That these notes are custom made by you adds to its potency as it address your strengths and weaknesses. 
With the notes at your disposal, you don't have to go through endless pages of texts to revise a few points, something very valuable as you approach the exam.
Considering how effective notes can be, it is important that proper due diligence is given when preparing them. Along with notes, flash cards are also very useful tools that can help in preparation, by improving retention ability.  
Optimize time by cutting out the chaff
With only six months in the bank, the last thing you could afford is waste it away practising topics that carry little to no weightage. Yes, you need to also devote time for less important topics, but you must be smart with them. See if you can couple these topics with other topics or if they can be dealt with by solving a specific set of problems. Another thing is sometimes the candidates goes on solving the same type of problems again and again. Now this will not serve the purpose, as questions in the exam will be diverse. 
As for textbooks, they also contain many irrelevant stuff. If you feel like they are not relevant or you can do without them, skip them.  
Revision - A stitch in time saves nine
A cornerstone in NATA preparation, timely revision is something all candidates must stick to religiously. Everytime you complete a topic, make provisions for revision. The frequency and time gap between revisions will obviously vary depending on the topic and your ability. The general trend is the time gap is smaller at the start, which can be increased as you master the topic. 
The notes you have prepared can come in handy for fast revision in the last few days leading to the exam. So, when preparing notes, this angle should be kept in mind.
Along with drawing skills, work on your creative skills
Architecture, probably more than any engineering discipline, requires you to have an imaginative bent of mind. So, you must not be hostage to groupthink, but come out with your own unique ideas. In fact the drawing test is designed to test the candidate on a number of parameters like drawing, imagination, and observation skills. So, being conservative isn't always going to cut ice, as unorthodoxy may be rewarded. 
To give wings to your creativity, you must have an open mind, accept that a problem may have more than one solution, and be ready to accept healthy criticism from peers and your teachers. Go through previous years' question papers, figure out what kind of imaginative prowess is expected of you. 
Get match ready by taking mock tests
If you happen to follow cricket, you may heard legend Sunil Gavaskar piling on the Indian team for not playing enough practice matches before start of the test series against England and South Africa. He opined that though the Indian team was having net sessions, it couldn't make up for the exposure and test offered by practice matches. If you don't know what practice matches are they are games played against local teams. So, in other words despite all the net sessions the Indian team wasn't match ready and so lost badly.
What Gavaskar said about practice matches also applies to mock tests.
If you go on studying, and don't take mock tests, you wouldn't know exactly whether you are exam ready or not. Mock tests, on the other hand, will give you an exam-like environment, with the clock ticking away, as you struggle to complete the paper on time. The more mock tests you take, the more confidence you carry to the exam; you also learn how to get out of a hole, if you get stuck into one, and pace the exam.
Sample and previous years' question papers of NATA are great practice material and could also be used for mock tests. 
Keep your spirits high
During the course of your preparation, there will be many testing times - like you may get stuck with a problem that refuses to move, on another occasion some topics will be still left untouched while time is running out, etc., etc. In these difficult moments, keeping your head is the most vital thing. That's because if you lose your head , then things can only go from bad to worse. So whatever the problem is, first thing to do is take stock of the situation and then calmly decide what kind of patches it will need. 
Also, it is equally important not be downcast because your energy levels will go down the tube if your spirit tanks. But how to keep your spirits up - one way to do is to stay in the present, have realistic expectations, and be true to yourself.
You may also like to eat healthy, sleep your full quota of hours, and drink enough water. All these will help the cause to keep you in a good enough mood. 
If you follow the tips listed above, you should get a very definite roadmap as How to prepare for NATA in 6 months. And please don't be hesitant to throw in a few ideas of your own to the mix, if it could help further the cause. 
Questions related to NATA
Showing 3539 out of 3539 Questions